How To Get More Sales With Optimized Product Webpages
All roads lead to your product pages. They are, arguably, some of the most important pages on your entire site.
You've already attracted and educated prospective buyers, you've had positive interactions with them — now they're on your product page, on the verge of transitioning from "prospect" to "customer." But will your product page, as it is, secure the conversion?
Luckily, as with all things in the digital realm, your product pages can be optimized. There are several best practices for product pages that will help you to increase conversion rates — here are three that you can implement immediately:

Design With Your Buyer's Behavior
Some buyers who land themselves on your product pages will be engineers. As you know, engineers are notorious for wanting clarity — they want to easily and clearly find all relevant product information, so they respond well to bulleted lists.
Design engineers are also focused on:
Form, fit and function

Evaluating products to determine the best available solution

All information about a product to make the best decision

Product brochures, sizing charts/dimensions, performance curves, graphs, CAD files, standards, specifications, certifications, product options/configurations, etc.
While simplicity and clarity are essential, your product pages must provide all the necessary detailed specs that prospects' design projects require. Product pages with more built-out content can preemptively answer common questions and are simply more aesthetically pleasing.
Optimize your product page with your buyer's job focus and behavior in mind and make sure all product pages have the same design layout. A product page with no "standard" content can be imposing or off-putting to buyers without technical backgrounds (or those investigating new products for the first time).
Use High-Quality Imagery To Sell Products
Pages with relevant images get more views (by nearly 100%), increase page time, and ultimately increase conversions. This is particularly true in industrial B2B scenarios — careful visual inspection of a product, crucial to purchasing engineers, can only be achieved online via large, high-resolution images that can be moved and zoomed in.
Put some serious consideration into 360° view capabilities, especially if your products are geometrically complex ones. The more literal visibility you provide into your products, the more conversions you'll get.
Read More: How CAD Models Drive Lead Generation
Need An Online Product Management Platform That Is Built For Manufacturers?
(With Built-In CAD & BIM Data To Generate Qualified Leads)
Create Clearer CTAs
Your call to action (CTA) — your "Order Now" or your "Add to Cart" button — is a major player in conversion rates. If a potential customer has to search for a purchase CTA, they will not place an order with you — they'll leave your page, find a similar product on a competitor's site, and order that one.
Your CTAs should encompass many things:
They should be intelligently placed, above the fold, and ideally near your product price information.

They should be large enough to be prominent and easily identifiable but not so large as to become the page's focus.

Ideally, they should be colored in an aesthetically pleasing way that fits

your brand's

or website's color scheme to draw attention.
Read More: Even more ways to increase clicks on your manufacturing website.
Finally, don't be afraid to experiment — it can take some trial and error to get placing, color, and size fully optimized. (And we can help you with that!)
An Order Optimization Page That Increased Visitor Registration Rates by 46%
Purchasing products or services online requires either a quote request process or an e-commerce store, and there are different opportunities for optimization depending on which method your website uses. Let's review how one manufacturer optimized their product pages to get more online registrations.
The Idea
In the case of a manufacturer of cleaners and assembly lubricants, registered website users can access an e-commerce store to purchase products online.
It's normal for e-commerce customers to leave during the purchasing process for various reasons; in fact, within the conversion rate optimization (CRO) sphere, it's referred to as "shopping cart abandonment." We wanted to make it easier for users to register when ready to order.
The Test
Variation A (The Control):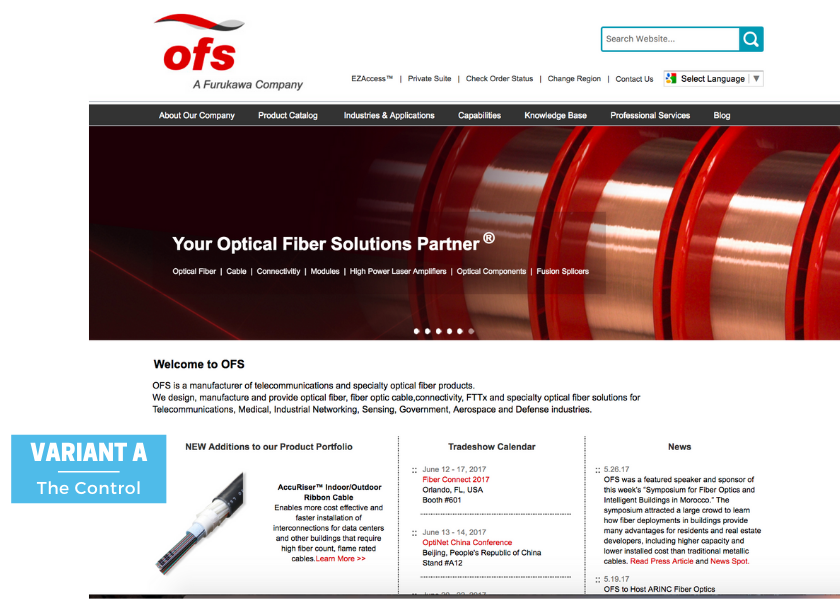 Originally, a website visitor interested in purchasing a product online had to complete the following steps:
Press the "place an order" button
Click the hyperlink "register" on the "place an order" page
Complete the form on the registration page
Choose products to order
Variation B (The Treatment):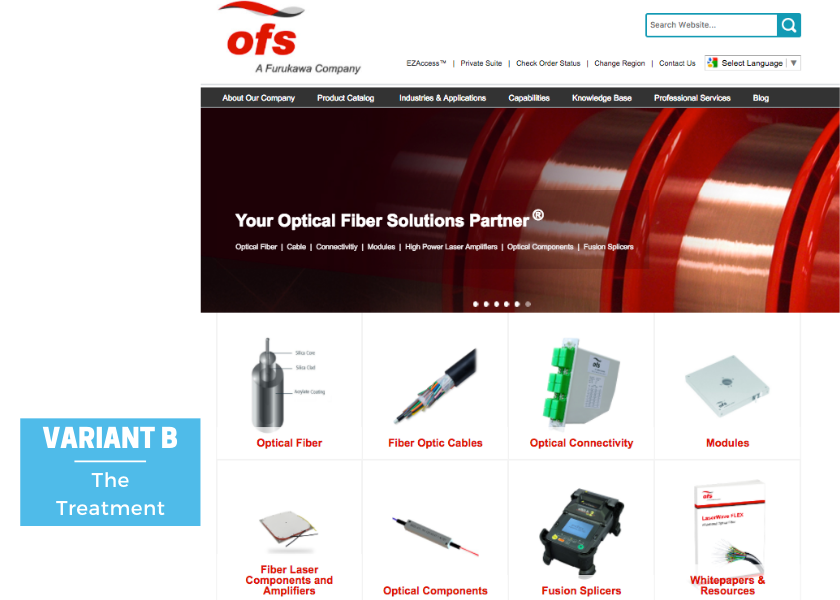 We cut out the second step, which required users to click onto a separate registration page. As you can see in the Variation B screenshot, the registration form is embedded directly on the order page. Users interested in placing an order can complete the registration process without visiting another page, reducing friction.

The Result
So, how did this embedded form test improve the user registration rate?
| | | |
| --- | --- | --- |
| Metric | Variation A | Variation B |
| Website Sessions Included in the Experiment | 230 | 245 |
| Successful Registrations (i.e. leads from your website interested in buying products) | 34 | 53 |
| Conversion Rate: Visitors-to-Registered Users | 14.78% | 21.63% |
By optimizing the online order process and reducing the amount of steps the buyer had to take, we increased the conversion rate of a website visitor turning into a registered user by 46%!
Learn More: A/B Testing Examples For Manufacturers
Get A Health Check On Your Website
Though important, these three landing page optimization tips are, frankly, just the tip of the iceberg. There are anywhere from 10 to 100 different best practices that you should consider when designing and implementing product pages — everything from the inclusion of safety logos/trust seals and customer reviews, to live chat support and navigation tracking tools.
Oriental Motor offers an extensive product line-up of about 50,000 that provides an optimal motion system, such as AC motors, speed control, position control, mechanical motion and thermal management requirements. In addition to a dynamic online product catalog, their product pages feature videos too — a crucial online content component manufacturers can benefit from to increase website engagement and online sales.
See More: 6 B2B eCommerce Website Examples To Help You Sell More in 2021
To take your website optimization tests further, we recommend a great (free!) tool that can help called Hotjar. This tool is relatively simple to set up and will give you access to user recordings, heat maps, and more. The methods you pick depend on your company, your products, and the tests that prove your efforts. And partnering with an industrial marketing agency can help you take the headaches out of learning how to use new digital apps and tools.
Thomas is the leading industrial resource that has connected buyers to suppliers for more than 122 years. Contact us to learn how our product solutions help you get spec'd and purchased again and again. We also offer a free digital health check that lets you see exactly what you can improve online to get more customers.
Did you find this useful?