Breaking the Glass Case: Generating Interest from New Industries in Custom Manufacturing
Recently I attended IMTS 2014 on behalf of Thomas and had the chance to speak with many custom manufacturers looking to grow their businesses. During one of these conversations, as an attendee was describing his product, I asked if he had it on display in the glass case at the office.
"How'd you know we had a glass case in the office?" he asked. But when you've been to as many custom manufacturing shops as I have, you know to expect one of two things — a table in the back covered in custom pieces, or a glass display case in the front filled with them.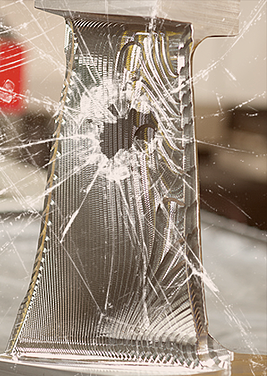 For those in the maker movement, there is no greater pride than seeing the success of something that you created. But sometimes, those glass displays can put more than just products into a box — they can confine the entire company.
Of course, it's important to track which products are most popular so that you know where to direct the most attention in your manufacturing process. But it's important not to lose sight of your potential as a custom manufacturer.
Just because your main priority is stocking a sufficient inventory of triple offset butterfly valves, that doesn't mean you should write off a potential customer who is looking for a manufacturer of pneumatically actuated quarter-turn valves.
But to really build your business, you'll have to do more than react to customer demands as they present themselves to you. You have to know who is interested in buying your products, and how to get their attention. To do this, it's imperative for manufacturers to get their businesses online. If you don't already have a website, that's priority number one. If you're not marketing your website effectively, that's the next course of action.
But how do you market an industrial company online?
Of course, my first response is to get yourself listed on ThomasNet. This is a free supplier discovery platform that is seen by millions of visitors each month. Creating a profile is a quick and easy way to get found by people who are already searching for your products and services.
Another tip is to establish yourself as a credible source of industry information by putting out regular blog posts about things that matter to your business. You can discuss trends going on in manufacturing, case studies involving customer successes, internal events, and other topics that are relevant to your company (and your audience). The more content you create, the more opportunities you have to be found by people looking for these subjects online.
Getting started with social media is another way to connect with potential customers.
Start by posting content that your audience might find interesting. You can also look for companies you want to work with, in addition to those you already have a relationship with. Don't go for a hard sell on any of the social media networks — this is about building visibility first and foremost. Your main goal should be to let people know who you are, what you do, and how you can help them. You do this by starting conversations, not by pitching products.
At the end of the day, there's no one-size-fits-all approach to industrial marketing. Each business requires its own blend of tactics, which is largely influenced by the audience they're trying to reach. For a company just starting out, figuring out how your branding influences the buying process is a good first step. Read up on how businesses are positioning themselves to get noticed and drive sales. Then you can implement these concepts in your web design, social media efforts, blog writing, and all other marketing materials.
Did you find this useful?