Digitizing Our Buildings & Facilities: How To Create Intelligent Environments
Businesses are transitioning to LED lighting in the 5.6 million commercial buildings in the United States. And, in many regions, the addition of solar solutions for energy independence is also underway.
The number of lighting fixtures that can be connected inside and around these buildings creates significant opportunities to impact and optimize the business occupying the space with the addition of sensors and data analytics.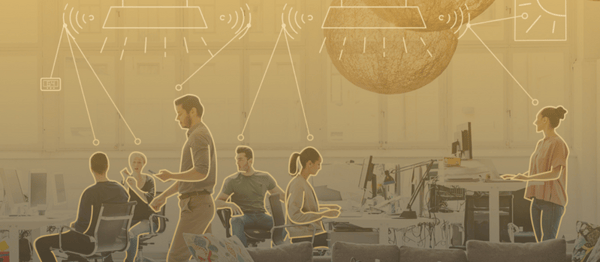 While the immediate goal of LED retrofits is often energy efficiency and improved space appearance, there are long-term business productivity gains that result from creating connected intelligent environments.
The Internet of Things
It's no secret that IoT is growing by leaps and bounds – one estimate from Gartner puts total consumer and commercial spending on IoT at nearly $2 trillion in 2017, with businesses on pace to employ 3.1 billion connected devices this year.
What this means is the demand for data is more important than ever. Increasingly, we're seeing a preference for cloud-based over on-premise solutions. A Software Advice survey found that 88% of buyers preferred on-premise solutions in 2008; six years later, in 2014, 87% preferred cloud solutions.
With the industrial internet growing at such a rapid pace, forward-thinking organizations will prioritize managing data and making it more actionable.
Advances In Distributed Energy Technologies
Advances in distributed energy technologies are reinforcing the need for businesses to create connected facilities. In other words, businesses waste money if they fail to make conversions to energy-efficient technologies.
Consider the following:
The cost to install solar has dropped by 60% since 2010.
Today, LEDs are produced at one-tenth the cost as one decade ago, while delivering 20 times the capabilities.
The resulting imperative is for businesses to explore alternative energy sources (i.e., solar) and more efficient lighting options – the cost of waiting is too big.
Disruptive New Business Models
Every day, disruptive new business models crop up. What is increasingly clear is that the market is clamoring for a holistic solutions provider that looks across a building or facilities environment with a lens to energy efficiency + sensor-enabled networks + software delivering business productivity + financing + more.
What Is An Intelligent Environment?
Given the above trends, industrial companies need to act now to digitize their facilities and future-proof their businesses for the multitude of changes ahead. In short, they need to create intelligent buildings.
But what is an intelligent building?
The term, first coined by the Intelligent Buildings Institute in the 1980s, is "one which provides a productive and cost-effective environment through optimization of four basic elements: structure, systems, services and management, and the interrelationship between them.
Current, powered by GE, takes this one step further. At GE, we have a long history of creating industry-leading industrial machines. We are now focused on being a digital industrial company that connects machines digitally to leverage big data analytics, helping our customers get insights and optimize their businesses.
At Current, we start by delivering energy efficiency through our LED, solar, and digital technologies. With electricity prices continuing to rise and with an average of 30% of energy wasted in commercial buildings, energy is a ripe opportunity.
Given that lighting is ubiquitous in its placement throughout the inside and exterior of a building, it's a prime starting point to drive energy efficiency through LED retrofits and sensor-enabled networks.
The best part of this equation is that LED energy efficiency savings are just the tipping point for cost savings overall. By setting up intelligent environments that leverage sensor-enabled networks, businesses are paving the way for future innovation and cost savings.
How Do We Create Intelligent Environments?
To get a better understanding of how businesses can create intelligent environments, let's take a look at an example of an intelligent environment created at one of Current's client sites.
The world's largest tire and rubber company wanted to reduce energy consumption and maintenance costs at their 1.4 million square foot tire distribution center in Jacksonville, Florida.
First, we deployed 925 GE Albeo™ ABV high-bay LED fixtures to enable the customer to decrease their wattage per fixture by 51% — and increase fixture life by more than 3 times (100,000 hours vs. 30,000 hour life of their existing fluorescent fixtures). This upgrade also means fewer fixtures in the facility and better light distribution in the aisles.
Next, we implemented GE's Daintree wireless control system, which provides the building with specified zones for dimming schedules, as well as exhaust fan controls for even more energy savings.

Together, these smart enhancements resulted in a 60% reduction of annual lighting-related energy consumption and significantly lowered maintenance costs, giving the company more control of their lighting and aligning to their sustainability goals.
This is just the company's first step towards creating an intelligent environment. The customer has not only reduced their energy, they've put sensor infrastructure in place that will allow them to build on their investment with additional solutions that will further enhance their operational effectiveness.
The possibilities are endless — from better inventory management to tracking an order as it moves from pickup to shipment — and other hidden cost-saving opportunities that the sensor-enabled network will reveal within the building.
Final Thoughts
For industrial companies, digitizing buildings and facilities is no longer optional in today's rapidly-evolving digital landscape: It's critical to driving business productivity gains to catch up to or stay one step ahead of industry peers.
Staying one step ahead of the competition means these companies must harness data and analytics about how their facilities are operating — and determine how and when to deliver energy efficiency savings and improve their business processes.
Did you find this useful?