Advertising On Thomasnet.com: Does The Thomas Network Really Work?
If you tried to replicate all of the supplier evaluation activity on the platform that happens in a single month, it would take you 7.5 years — without sleeping.
The industry's most trusted sourcing platform at Thomasnet.com hosts more than 500,000 North American suppliers and brings millions of buyers each month. In fact, every second, a supplier is evaluated by a buyer on the platform.
That said, you might still have additional questions about the platform and how it works — we understand, especially about the results we deliver to manufacturers and industrial companies like yours.
So, in this post, we'll be sharing some additional insight and answers on how Thomasnet.com really works.
What is Thomasnet.com?
Thomas has been serving the industry for more than 120 years as the number one resource for the industrial marketplace.
Originally founded in 1898 as the Thomas Register, the company has always aimed to support B2B the suppliers who need to reach them.
Now, as part of Xometry, the data, platform, and technology solutions keep small job shops and Fortune 100 giants thriving in the constantly evolving industry. The team is comprised of manufacturing marketing strategists, engineers, and supplier content gurus who work together to help grow your business.
Manufacturers And Industrial Companies Who Advertise On Thomasnet.com
"We started our internet marketing with Thomasnet.com at the suggestion of our largest customer, Boeing. They assured me that Thomasnet.com was where their engineers went first to find information on suppliers.
We are a very conservative company. Our sales have gone up exponentially compared to our increases in our ad budget. Because we manufacture and sell specialty coatings and composites, we are always looking for ways to be in front of decision makers when they need our products. Thomasnet.com is an efficient and effective way for us to do that. We have added customers every year and increased our sale per customer at the same time.
Thomasnet.com is perfect for companies that do not have national sales forces. Thomasnet.com acts as our sales force."
"California Heating Equipment started with a [Thomasnet.com] media category program which has brought CHE over 5 million dollars in business and opportunities with major aerospace manufacturing companies.
We are currently working with two major aerospace companies on over 3.6 million dollars in manufacturing which is a direct result of our Thomasnet.com program. I am looking to expand the program with Thomas in the future.
The money I have spent with Thomasnet.com is providing a 3500% return on our investment."Currently we have attributed the 200% increase in CHE sales as predominantly attributed to our internet marketing program we developed with Thomasnet.com.
"U.S. Continental started using Thomasnet.com in July of 2014 as our primary pull marketing strategy, and now we receive at least one qualified lead daily.
In 2016, 74% of our new customer sales were generated by the Thomasnet.com program."
"Thomasnet.com has been and continues to be extremely important to the marketing of our company. This program has resulted in increased sales and exposure of our company in the marketplace.
I would recommend Thomasnet.com to any company seeking increased sales and exposure."
"Thomasnet.com has been a worthwhile venture for our company by substantially increasing our brand recognition and allowing those that need the products and services we offer to connect with us in a real way.
We are now well known in the region as well as national marketplace and have been able to secure business that we would never have been considered for in the past."
A Thomasnet.com Listing Can Work For You
Tiodize, CHE International, U.S. Continental, Standard Wire & Cable Co., and Blisterpak — as well as tens of thousands of other manufacturers and industrial companies — have all increased leads, sales opportunities and revenues by advertising on Thomasnet.com.
Getting started on the platform is free — but every advertising opportunity is unique, just like your business, so we'll work with you to create a program that fits your budget and meets your business needs.
The most successful businesses are those that have their website, advertising campaigns, videos, and emails all aligned with the same messaging that helps their buyers get their jobs done. Digital marketing is not a one-and-done approach. Your buyers needs are changing and it's important to update your online tactics to meet those needs too.
We can help — contact us for a free Digital Health Check to see exactly what you need to get more customers online and to engage with our 1.4 million active registered buyers and procurement managers on the platform, get and/or claim a company profile here.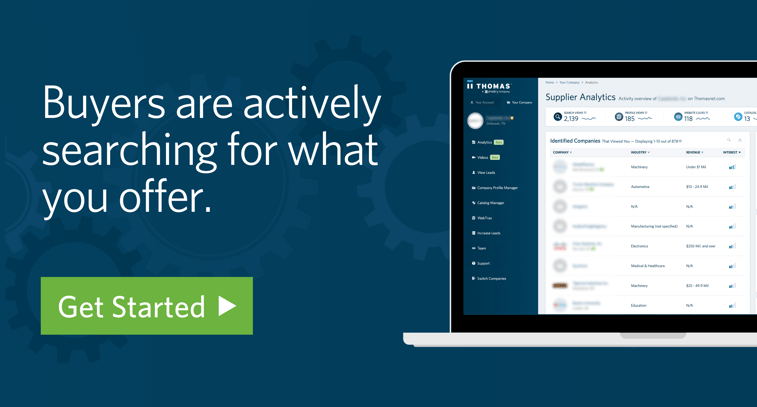 Did you find this useful?