Thomasnet.com® Industrial Buying Engine™: Industrial Sourcing Made Easy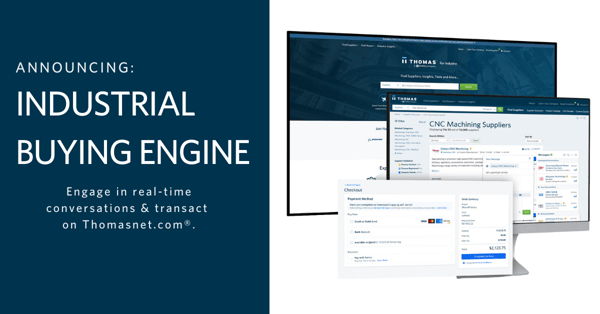 We are excited to share the launch of the Industrial Buying Engine, a unified solution for you to connect with, evaluate, and buy from more than 10,000 top suppliers in the USA and Canada within one powerful ecosystem. With this new platform, you can:
1. Connect:

Centralize Supplier Communication Through Messaging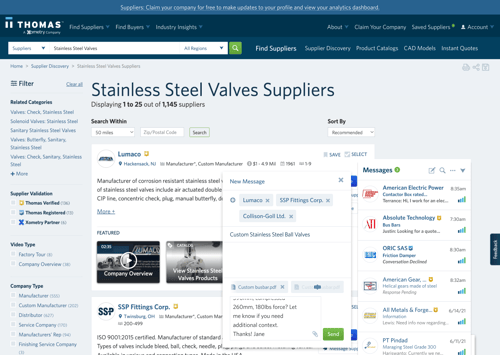 Verified buyers with a Thomas Account can simultaneously communicate with multiple suppliers across the platform to discuss and quote projects in real-time. Simply use the "Message Supplier" button on the supplier search page or supplier profile to initiate a conversation. To save time, you can contact up to 5 suppliers within a single message.
2. Evaluate:

Streamline Supplier Discovery and Relationship Management Through Project Builder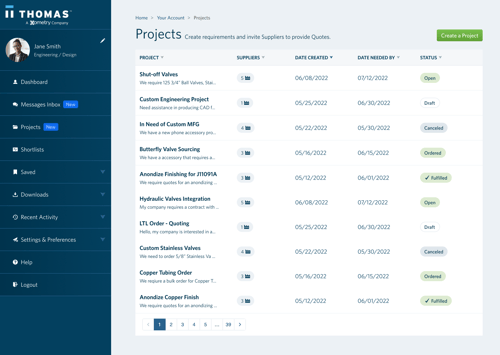 Project Builder organizes all of your buying briefs into one convenient, simple-to-use application that summarizes your quote requests, corresponding supplier responses, and quoted prices for easy analysis and comparison. Track projects by suppliers, conversations, important dates, and even live project statuses with dynamic feedbacks from suppliers you opt in to work with.
3. Buy:

Expedite The Buying Process With Our New In-Platform Check-Out Tools

Get your job done faster by eliminating the red tape of negotiating terms with the ability to buy from more than 10,000 suppliers.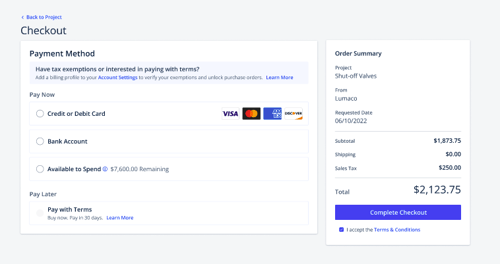 Take full control of your sourcing process from project submission to checking out, with multiple purchase options available, on Thomasnet.com. After submitting a project proposal, a supplier can accept your proposal and submit a quote to you. From there, you can transact on Thomasnet.com and complete the purchase step using any of the following options:
Xometry billing profile (and get a line of credit)
Credit or debit card
Bank account
Available spend from a Xometry Advanced Card
Protection and Control
To help you rapidly access a resilient supply chain network of thousands of verified vendors and pinpoint your lead generation efforts, you can curate and control those suppliers with whom you connect. The Industrial Buying Engine allows you to initiate, reject, accept, and close conversations to give you more complete control.
Start Using the Industrial Buying Engine Today
To take advantage of these new powerful features, start searching for a product or service on Thomasnet.com. Or if you're new to Thomas, a Xometry Company, sign up for a free account and then get started sourcing.

For more information, visit our Help Center.
Did you find this useful?