Educating The Future Of Robotics
Millennials in the manufacturing and supply chain industries are garnering a lot of attention, not to mention a lot of headlines. From how milliennials search for jobs to their growing influence on the supply chain, millennials get people talking.
However, we wanted to talk about the generation that will follow the millennials — Generation Z. Members of this generation are still in classes, developing their interests, and laying the foundations for their futures many of which will be in STEM fields.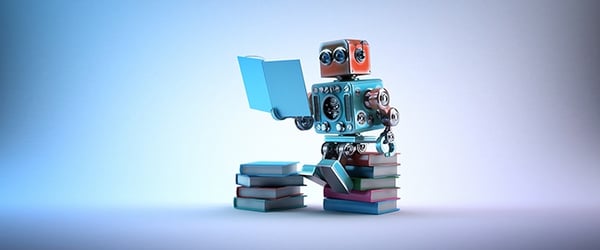 In order to achieve success, these talented students must have strong mentors to guide them along the way. When THOMASNET sponsored the Seaford High School Robotics Club, we found such a mentor in faculty advisor Nick Isgro, and we recently spoke to him about STEM education, the FIRST Robotics competition, and what it's like to teach the next generation.
Read our conversation below.
ZS: Can you tell me a little about your position at Seaford High School?
NI: I am a Technology Education Teacher at Seaford High School. I teach Principles of Engineering, Robotics, and Photography.
ZS: How did you become the faculty advisor to the Robotics Club?
NI: I heard about FIRST Robotics from a friend of mine. I went to the competition and I realized that Seaford High School had to have this program. Through various fundraisers and sponsors we were able to get a team.
ZS: Has STEM (Science, Technology, Engineering, Math) influenced you throughout your life?
NI: STEM has been a huge influence throughout my life. In high school, I took every technology class that I could take. I loved working with my hands and problem solving.
ZS: What is it like shaping a team of students who are coming together during their free time to accomplish a single goal?
NI: FIRST is a very rigorous and demanding event to be involved with. We have six weeks to complete a robot from scratch. We generally spend upwards of 250 hours completing the robot. It is a very hectic six weeks, but it is incredibly rewarding to see students spending their spare time learning and building a robot.
ZS: So, tell me about the team!
NI: This year the students chose the name Mechanized Mafia in order to stand out from the competitors. Our team is comprised of 33 students and two mentors. We meet every day for six weeks, as well as once a month in the offseason. Students choose their own jobs. These jobs range from PR, the Build team, the Programming team, the Electrical team.
ZS: Describe the challenge given to the robotics team — what does the robot need to achieve? What parameters must the team follow?
NI: This year the robot must pick up boulders from the ground and shoot them into a castle for points. The robot must also be able to go over and through defenses such as a drawbridge and rough terrain. At the end of the match the robot will latch on to the castle and climb up two feet off the ground.
ZS: When is the contest?
NI: The contest will take place at the Mack Center in Hofstra University. It will take place on March 31, April 1, and April 2.
ZS: What do you think the students are getting out of the experience?
NI: The students are getting great experience in engineering. They are learning to problem solve. It takes a lot of perseverance in order to deal with the excessive amount of constraints that are involved in this competition.
ZS: And finally, what are you getting out of the experience?
NI: It is very satisfying to see students stay at school until 6, 7, 8 o'clock at night to do something STEM related. In the past two years, we have had four students go to great engineering schools such as MIT, RPI, and Stevens Tech and major in engineering. FIRST robotics has played a large role in inspiring these students to become engineers.
For more STEM updates, industry news and business tips, subscribe to our newsletter.
Did you find this useful?