Boost Your Industrial Marketing Efforts With Evaluation Driven Retargeting
Do your new customers choose you on impulse? Of course they don't. By the time you hear from a prospect, they've typically gone through a significant supplier discovery and evaluation process. We understand, and that's why we created Evaluation Driven Retargeting.
In an industry in which supplier evaluation and selection can take weeks or longer, this can be the competitive advantage you've been looking for.

How Evaluation Driven Retargeting works:
So what exactly is Evaluation Driven Retargeting and how can it help your business? Retargeting is a form of online advertising that uses cookie-based technology that can follow your audience anonymously all over the web. With our Evaluation Driven Retargeting, you are able to keep your brand in front of the THOMASNET.com audience even after they leave the platform.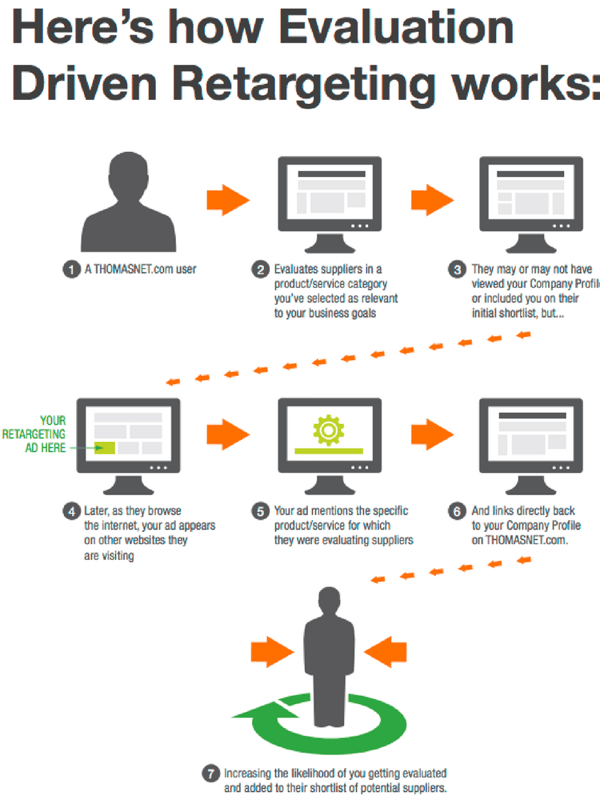 Here's how these targeted users might view your ads while they are online: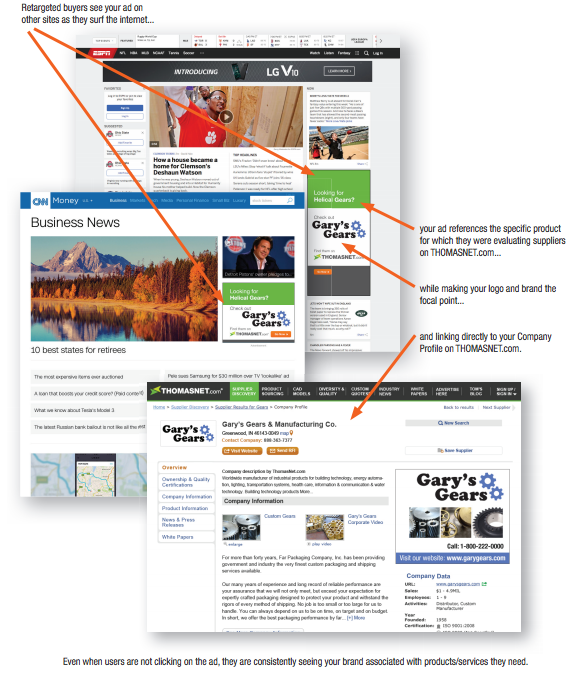 By using our Evaluation Driven Retargeting, it will help you:
Promote your brand to a highly targeted segment of THOMASNET.com's powerful buying audience when they are elsewhere on the internet

Stay in front of your best prospects throughout their supplier evaluation and selection process

Gain a unique marketing advantage over your competition

Increase your likelihood of getting found, evaluated, shortlisted and contacted by serious buyers



Retargeting built for manufacturing
There are a lot of companies trying to sell retargeting solutions – search engines, tech companies, consultants, you name it. However, while some products are better than others, none have been proven effective for manufacturing and industrial suppliers – until now.
At THOMASNET.com, we've been helping suppliers connect with buyers for more than 100 years, and we've leveraged that intimate understanding to develop Evaluation Driven Retargeting, built specifically for industry.
"We have a very long sales cycle, and Evaluation Driven Retargeting helps keep our company and products top of mind for the decision makers that are doing the research on the internet for their applications. The whole concept is the most powerful thing to come out in the last 5 years. It's so precise, especially for industrial products. It takes the consumer side of marketing and makes it work for the industrial world."
— Ralph, Marketing Manager, Aerzen USA Corp.
Retargeting that hits the

bull's–eye
Typical retargeting programs include wasteful spending, because they'll retarget anyone that comes to your site. This could include existing customers, competitors, accidental traffic – in other words, people who are not actively looking for a new supplier like you.
With Evaluation Driven Retargeting, your ad only retargets THOMASNET.com users that visited our platform, and viewed pages that indicated they were evaluating suppliers that do exactly what you do.
In other words, you're only spending to reach a potent, distilled audience of serious buyers relevant to your business goals. Even better yet, your ad will retarget buyers in the categories that matter most to you – whether or not they found or viewed your information on THOMASNET.com during their initial visit. Your ad could be your first introduction to a key new customer.
"I have used other retargeting products, but when I heard of the retargeting program from THOMASNET.com, I jumped on it ... It's made a huge difference, the reports show over 3 times the engagement compared to our previous retargeting efforts. My belief is that partnering with THOMASNET.com has yielded significant ROI over the other retargeting products on the market"
— Hayden, Vice President - General Manager, Industrial Plastic Supply
Get set up for success
Evaluation Driven Retargeting can help you get more out of your digital marketing dollars and connect with more buyers in more places on the internet. In fact, it's already helped many of our clients do just that.
Did you find this useful?