Industrial Sales Insights From Amy Kim, Thomas' New Chief Revenue Officer And A Former Google Sales Executive
The industrial space and the digital world are converging at a rapid pace. Technologies like artificial intelligence, the IoT, and the cloud are changing the game on the shop floor.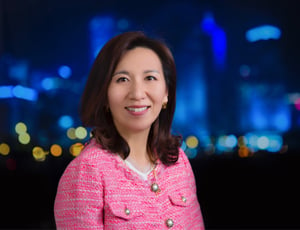 At the same time, the way manufacturers go to market, sell their services, and connect with new buyers is going through a digital transformation as well. Old tactics like cold calling and word-of-mouth are proving increasingly ineffective, as buyers grow ever-more sophisticated in how they evaluate suppliers and navigate the long and complicated buying cycle.
At Thomas, we help manufacturers and suppliers navigate this convergence every day. We provide tools, solutions, and insights to help them harness the power of digital technologies in order to grow their businesses.
But, perhaps even more importantly, we also provide expertise. Throughout North America, our team works hand-in-hand with our customers, offering a unique and unparalleled blend of industrial experience and digital knowledge to educate them, empower them, and position them for future success.
We know how important it is to have the right mix of expertise in order to traverse the industrial and digital worlds. And perhaps nobody exemplifies this mix as well as Amy Kim, our new Chief Revenue Officer.
Before joining Thomas earlier this year, Amy helped manufacturers penetrate new markets as the founder of Net To Net. Prior to that, she served as Head of Global Sales — Strategic Partners for Google. She has also held numerous leadership, sales, and product management positions with leading companies including Microsoft, Siebel Systems, PeopleSoft, and Accenture.
Amy is well versed in industry, technology, and sales, and she recently sat down to share some of her unique insights with us.
Opportunities Abound In Manufacturing
After leaving Google in 2015, Amy sought out the next great opportunity for her career. She found it in manufacturing.
"I'm very interested in product manufacturing in general," Amy recalled. "So in order to learn more about it, I sent myself to the largest international import-export fair — the Canton Expo.
"It is a three-week event, with presenters from the industrial sector all the way down to consumer goods. Over 22,000 manufacturers, from China and around the world, came together and demonstrated their products, and it was a physical meeting platform for buyers and sellers."
The energy — and the opportunity — were palpable.
"While at this expo, I recognized the tremendous amount of activity happening in the manufacturing market overall, and within the industrial manufacturing sector in particular," she said. "And so, after being exposed to the market opportunity, I came back ignited to start my own company and to partner with companies in the manufacturing sector to help them streamline their supply chain and help them grow."
That's when she founded Net To Net.
Leveraging Technology For Growth
At Net To Net, Amy developed software and technology designed to help manufacturers identify and penetrate new markets. At Google, she helped businesses understand how to leverage technology at an enterprise level. And, here at Thomas, Amy is helping manufacturers and suppliers leverage digital solutions and technologies to attract buyers and generate revenue.
There's a lot that technology can do, and Amy urges manufacturers to embrace the potential.
"Technology can help companies do one of two things — either streamline the business to create operational efficiency or find ways to impact the top line."
While both applications are important, it's imperative for companies to leverage technologies that grow revenues — and not just cut costs.
"When I look at what's happening in the industry, specifically with globalization of manufacturing, companies are being forced to become more competitive," she said.
While being "more competitive" traditionally meant making products cheaper, technology can, and should, be utilized to generate a market advantage in the first place.
"Technology allows manufacturers who are used to thinking in the traditional way — of being in the shop, building something, and selling it to someone who is interested — to think more outside the box in order to create sustained demand and build awareness," Amy said.
Never Lose Sight Of The Customer
While technology can help you build and grow your business, Amy believes that the foundation of any industrial and sales strategy should be meeting the needs of your customers.
"When you know your customers and you know what their needs are and you're able to articulate the value of your products to the customer based on their needs, I think the sales process overall becomes extremely easy," she said. "So the key thing is not to just promote your products, but promote your products to the right audience that could actually see the value you can deliver."
This can be accomplished through smart content marketing, persona targeting, and account-based marketing.
"Having that kind of intelligence, and these kinds of tactics, around your approach to sales is going to be critical," Amy insisted.
It's also imperative for suppliers to understand what buyers go through on a day-to-day basis.
"It's extremely critical to understand the buy cycle and [for manufacturers] to put themselves in the shoes of their buyers," Amy said.
Just offering a great product or service isn't enough; you need to align those offerings with the needs of your buyers.
"There's a school of thought that says, 'If you make great products, they will sell on their own,' but I don't believe in that," Amy said. "Even the best products have failed miserably, and there's tons that we never even heard about, and the reason for that is because they weren't marketed correctly."
Be Where Your Customers Are
It's no secret that Google is the dominant player in digital search and advertising. Amy knows this better than anyone else.
However, she also understands that Google is a consumer-oriented platform, great for the general population, but not optimized for the industrial space.
"When an end-user in the free world of Google, or even on Facebook and Twitter, searches for something like pumps, they are not able to decide what type of user this is," Amy explained. "So the results will be much more consumer oriented. That makes sense because the consumer population is far greater than the business population."

On the contrary, "when companies make B2B purchases, they actually don't do it on the free web," she continued. "They will go to a professional platform to make their purchase decisions.
"That's why, when customers approach me and say, 'Well, I can promote my products on Google. Why would I promote it on Thomas?' my response is that they don't have a captive audience with Google. Having a captive audience also increases the conversion rates because you know that these users are specifically there for B2B."
Understanding the difference between a captive audience (like the one on Thomasnet.com) and a transitive audience (like those on search engines) is crucial to establishing your marketing strategy.
To that end, while SEO is probably the most widely adopted digital marketing strategy for manufacturers, Amy cautions manufacturers not to put all their eggs in one basket.
"I think most companies are already doing some form of SEO," Amy said. "But it really should be a component of your strategy — along with your website, and PPC, and leveraging Thomasnet.com."
"Just look at how the internet is growing," she continued. "Even today, it's growing at a double-digit rate, which means it's going to be extremely hard to exclusively leverage SEO to manage your relevancy. Plus, the competitive landscape and algorithms are changing in real time, so trying to cater to that manually is almost an impossible task."
Make An Impact — And Hire People That Want To Make One, Too
One of the things that drew Amy to Thomas was the chance to help manufacturing companies and the people that work within them. Before joining the team, she heard stories about a company that was on the brink of closing its doors before landing a lucrative contract through the platform. She also spoke with job shop owners who were able to purchase new equipment and scale their businesses with the extra revenue generated from Thomasnet.com.
"When you hear personal stories like that, and there are thousands more, it really kind of gets you to pause and reflect on what we're really doing and what we're really impacting," Amy said.
Amy advises companies to think about the impact that they are making — on the local economy, the environment, the job market, livelihoods, etc. — and to work that into their messaging. Businesses want to do business with companies that take social responsibility seriously.
In addition, when building out your own sales organization, Amy suggests looking for people who can embrace the social impact of your business; people who can think beyond their commission and bonus structures.
"We all work very hard to achieve life goals, and some of these goals are more monetary than others," Amy said. "But high-performers are not only driven by money, and if you look at true high-performers across different functions, it always comes back to impact. They are the people that think, 'What contribution can I make to the sale of a product, or to the growth of the company, or, at the end of the day, to somebody else?' Those are the people you need on your team."
Look For Opportunities On The Horizon
One of the main challenges holding American manufacturers back, according to Amy, is a reluctance to seek out new buyers in new geographies. Companies that aren't actively looking to expand are likely leaving money on the table.
"I think one of the things that I want to really get our customers excited about is the international growth opportunity," Amy explained. "U.S. exports have actually been increasing every year, and overall they have quadrupled in size in the last 25 years. There's a lot of press around the growth of imports from countries like China and and a lot of fear around globalization, but there are opportunities for manufacturers in the U.S.
"There are many, many countries that are far behind in technology as well in the development of products, and they are dying to find ways to become more competitive by importing great products from the U.S."
Don't Be Afraid To Ask For Help
There's a lot that goes into growing industrial sales, especially in this new digital landscape. However, it's important not to lose sight of what you're great at — manufacturing.
If other things get in the way, whether it be human resources, accounting, or yes, marketing, you should consider outsourcing those tasks and leaving them to the experts. This approach typically costs less than hiring, training, and employing in-house resources, and you can see results a lot faster.
"Manufacturing companies traditionally, and especially in the industrial manufacturing space, have not conducted marketing in-house," she said. "Hence, they've really not invested in marketing resources to help them gain more market awareness."
"But I think things are changing, and companies are recognizing that if they want to start gaining awareness, share, and revenue, they'll need to utilize marketing."
"If they can't afford to build their own teams, or if they just don't want the headaches, Thomas can really step in and help establish a digital presence and get their marketing efforts off the ground."
Did you find this useful?