Leah Williams: Making An Impact On The Future Of Industry
At just 25 years old, Leah Williams has already made a profound impact on industry. In her role as a Supply Chain Analyst at Northrop Grumman, she has implemented improvements, driven successes, and taken home her share of awards as well.

But she isn't done. She aims to take her career "as high and as far as it can go."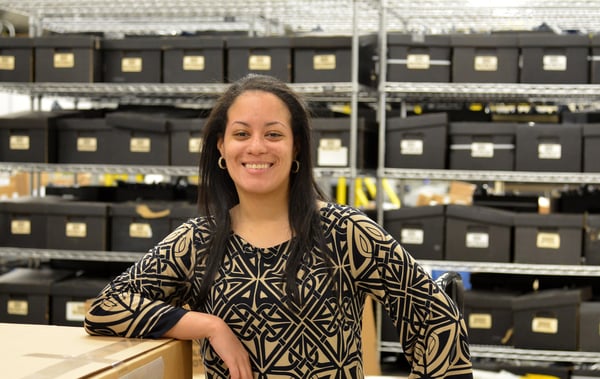 Recently, we had the opportunity to speak with Williams about her early success, her future goals, and her outlook on industry.
HBCU & Beyond
A proud graduate of Delaware State University, one of America's top Historically Black Colleges and Universities, Williams incorporates the lessons she learned on campus into her daily life.
She says, "Delaware State's motto is 'Make your mark on the world,' that's something I definitely try to live by, I want to continue to grow and have an impact on a national and international level."
While in school, Williams interned with Northrop Grumman where she not only fell in love with the company, but the supply chain field as well.
After graduating, Williams was offered a coveted spot in Northrop's rotational program, which consisted of three, 9-month long assignments that allowed her to gain exposure to different parts of the company – as well as different job responsibilities.
During her first assignment, Williams worked in the Global Supplier Diversity Program, where she received the Star Award for overall excellence. Now, she is in a full-time position as a Supply Chain Analyst, and she is excited about the work she does every day.
"If I have a career where I can say I made a difference with my co-workers, I was able to inspire the next generation, and provide for my family, I'd be happy," she said.
Success In The Face Of Adversity
Williams's hard work has resulted in multiple accolades and awards. For example, she was recently named a 30 Under 30 Rising Supply Chain Star by Thomas and the Institute for Supply Management, and she was also recognized by The International Association of Top Professionals as the Top Supply Chain Analyst of the Year.
While it may seem like Williams's life has been a continuous stream of success, she is no stranger to adversity. When she was 22 years old, Williams was diagnosed with Crohn's disease, an autoimmune illness that causes inflammation in the digestive tract. "Crohn's is definitely one of my greatest struggles," she said.
Williams believes one of the most difficult aspects of her illness is the fact that it isn't visible, and that's something she urges others to keep in mind.
"You never really know what someone is going through, they could be struggling or in pain, and trying to push through their day," she said. "I always tell people to have empathy."
Ultimately, Williams does not let Crohn's hinder her from achieving her goals, "I encourage others with the disease to keep fighting. We can still live a normal life and be successful."
The Supply Chain of Tomorrow
Technology has had an enormous effect on supply chain in the last couple of years, and Williams thinks that automation will continue to shape the industry well into the future.

"A lot of manual processes will no longer be done by people, employees will have a more strategic role," she said.
However, when it comes to building relationships between buyers and suppliers, technology will play only a small part. To forge stronger relationships, it will take a shift in the way people work together.
"The better we work with suppliers, the stronger we will all be. It is important to treat suppliers as partners and not simply as customers," she said.
Do You Know A NextGen Standout?
Do you know a young professional like Leah who is making an impact within their companies and on industry overall? Share their story and tell us why they should be recognized as part of The NextGen For Industry — a Thomas Recognition Program.
Did you find this useful?