A Chat With Dan Kaskinen, Rising Supply Chain Star Megawatt Winner
In 2014, Dan Kaskinen sat in the audience of ISM2014 and learned about a brand new program launched by THOMASNET.com and ISM called the 30 Under 30 Rising Supply Chain Stars Recognition Program. Three years later, Dan has not only been named a Rising Star, he's this year's Megawatt winner.
"When I was chosen as a winner, I was really excited and so appreciative," he said. "I had the chance to meet a few of last year's winners, so knowing how impressive they were made me really appreciate winning the award."

We got the chance to catch up with Dan and learn more about his supply chain career, his advice for success and the future of the industry. Take a look at what he has to say: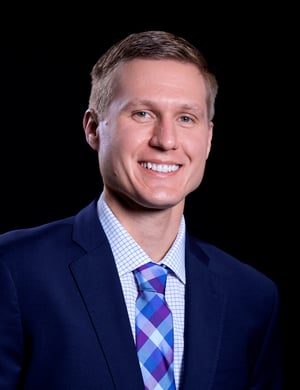 Dan never predicted that he would end up in supply chain. In fact, he always wanted to work in the automotive industry, and he pursued an automotive major in college. While in school, he gained his first exposure to supply chain management, and he was intrigued. Later, after graduating college, Dan started an automotive management trainee program where he fell in love with the supply chain aspects of his position.
"I really enjoyed solving problems throughout my organization and seeing my work make an impact," he said. "Every step since my rotation has me more involved in supply management and procurement. It made me realize that I wanted to focus on supply chain moving forward in my career."
A Day In The Life Of A Strategic Sourcing Manager
Today, as a Strategic Sourcing Manager, Dan develops strategies for his team solves problems for his organizations. One of his favorite initiatives? Developing an internal process for supplier bid management, which also turned into one of his most challenging projects.
"At my prior job, I decided that my group should be involved with one of the capital equipment purchases for our facilities," Dan recalled. "Receiving all the bids was very unorganized and no one cleaned it up because it was an intimidating venture to get involved with.
"Once I decided to involve the Purchasing team and committed to making the project successful, I received a four-inch tall stack of bids and was told 'good luck' with a laugh and a look like I was crazy."
But Dan was not deterred.
"After flipping through all of the bids and realizing there was no easy way forward, I exploded the project," he said. "I tracked down every person involved in the construction and bid process and created a standardized template to decipher each supplier's offer. The template allowed us to compare all bids across all locations from an executive overview level with the ability to drill all the way down to a line-item level comparison.
"When we were finally done, that four-inch tall stack was thoroughly understood by all involved and we were able to confidently select the best business partner for the company. The template went on to become standard operating procedure for all suppliers to fill out as part of the bidding process and is used internally as a calculator for budgeting future projects. It was hard work, but it was certainly worth it."
---
"Be curious, don't be afraid to ask questions & never stop learning." - #SupplyChainStars Winner Dan Kaskinen
---
Succeeding In Supply Chain
So what can up-and-coming supply chain professionals do to have successful careers like Dan? He believes you need to have the courage to ask questions.
"Be curious, don't be afraid to ask questions and never stop learning. It might seem simple but the deeper I am in my career, the more I notice most people are hesitant to say they need help," he said. "If you don't know something, acknowledge it and find someone who knows the answer. There's usually an expert hiding somewhere. I think people respect you if you admit you don't know the answer."
While you might not have all the answers, Dan notes young professionals shouldn't let this stop them from starting new projects.
"Being a self-starter is the most important skill to succeed, not only in supply chain, but in any career," he said. "I'll pass on one of the best pieces of advice, 'If you don't know where to start, just begin.' Keep in mind that starting something brand new isn't going to be easy. If it was, it would have been done already."
Dan also encourages supply chain professionals to think holistically when it comes to their job. It might get them farther than they think.
"Supply chain is not only a good opportunity to purchase products and services for a business, it's also the opportunity to do well for your business," he advises. "I think some people get too focused on their function and don't look at the business as a whole. Try to keep the good of the company in mind instead of your specific task or your department. It will really help you along the way."
The Future Of Supply Chain
The supply chain industry is changing rapidly, and Dan is making sure he stays up-to-date with the latest technology. He also has a few predictions of where the supply chain industry is heading.
"I think [artificial intelligence] will give us some insights into what we're buying and when we're buying it," he said. "Although there are niches that have this information, I predict all industries will have this data and it will be consolidated into one spot."

Dan also has a feeling that the industrial marketplace will become more localized and autonomous.
"On-demand manufacturing will most likely grow as customers' needs for timely orders increase," Dan predicts. "Large factories in one location that rely on transporting goods will also diminish.
"With the help of 3D printing, there will be smaller manufacturers that produce locally, which will cut down the time of transportation. Once these micro-factories are established, I see a delivery network of autonomous transportation that is done through drones and self-driving delivery vehicles."
What Will Entice The Next Generation Of Supply Chain Managers?
The talent gap in supply chain is massive, and that's one of the reasons why we created the 30 Under 30 Supply Chain Stars Awards program. So what can organizations do to get the younger generation into supply chain? Dan thinks these companies need to challenge millennials.
"Organizations should challenge the next generation," he recommends. "Tell them that this is an industry that is about to be flipped on it's head. If they want to change the entire future of the supply chain industry, there's a seat at the table for them."

Did you find this useful?