75% of Marketers Agree: Inbound Marketing is the Strategy of Choice
If you've been following this blog for a while, you know that we're big fans of inbound marketing. You've probably also noticed that we typically post content on Fridays to coincide with our Industrial Marketer newsletter. Today is Tuesday. Why are we messing with the flow?
State of Inbound 2015
Today, HubSpot released their 7th annual State of Inbound survey, which pulls together data and trends from marketers around the world to gauge what's working and what's next. This year, nearly 4,000 marketers participated in the survey, with a majority of respondents coming from small to mid-size businesses. In addition, 65% of respondents represent customers in the B2B space. With this information in mind, the results of the survey seem to perfectly reflect our primary audience in the industrial sector. Therefore, we decided to spread the word and make sure that all of our readers are up-to-date on the latest marketing stats.
Who Uses Inbound Marketing?

According to this year's survey, 75% of marketers worldwide are taking advantage of inbound marketing techniques. The method is especially important to SMBs with between 25 and 200 employees, and is six times more likely to be the primary marketing strategy for companies with fewer than 25 employees. Why is this the case?
Outbound marketing (paid advertising, cold calling, direct mail, etc.) requires a substantial marketing budget. Larger companies bringing in higher revenues will typically have more money to put toward their marketing campaigns. Conversely, smaller businesses – like local machine shops, metal stamping companies, and injection molders – are often strapped for cash for any non-essential work, including marketing. Because inbound marketing centers on organic attraction and conversion, it's a much more approachable option for these types of companies.
Industrial B2B companies aren't the only ones benefiting from inbound marketing, though. Across the board, from retailers to nonprofit agencies, creative leaders are seeing the advantages of inbound marketing over outbound campaigns.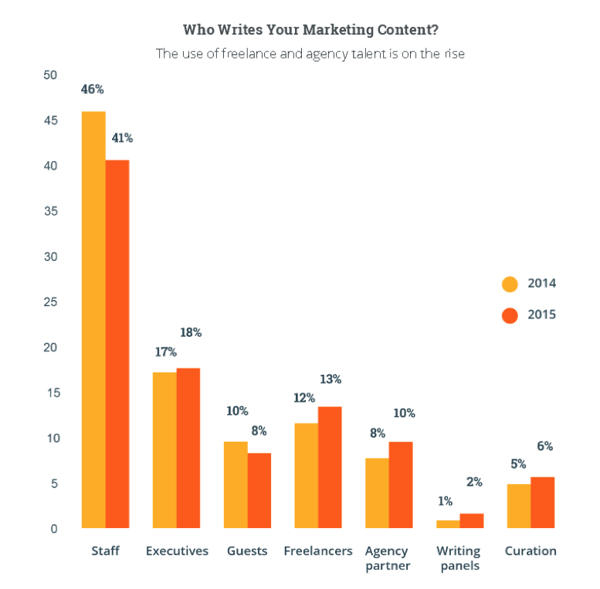 Where Do You Find Marketing Content?
Adopting an inbound marketing strategy isn't as simple as writing some blogs and sharing them in your networks. It requires constant attention and new content, along with a slew of supporting activities like linkbuilding, social media management and promotion, email blasts and nurturing campaigns, data tracking, and more.
To stay on top of all of these tasks, more companies are turning to outside help in the form of freelancers and Agency partners. Though the growth seen over last year is modest, there's still a noticeable trend towards less overburdened staff and more expert assistance.

What Are the Results of Inbound Marketing?
You get what you pay for, right? Well, while the rule applies to most things in life, it doesn't necessarily apply to marketing. When HubSpot asked companies which marketing practice produced the greatest Return on Investment (ROI), every single respondent was more likely to see higher ROI from inbound marketing than outbound. Meaning that even though an SMB has a meager to non-existent marketing budget, it can still see greater results than its high-rolling competitors.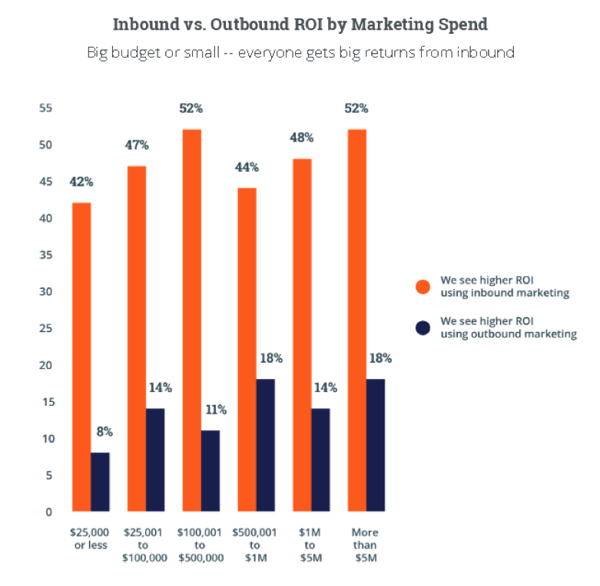 What Are the Next Steps?
We already drank the Kool-Aid, and our own inbound marketing efforts have been paying off. But that's not enough for us. We want you to see the same success! To guide you along the journey, we have a steady stream of content with best practices you can implement in your own marketing — subscribe to our newsletter now to stay in the loop.
Did you find this useful?