7 Marketing Blogs Worth Your Follow
In the constantly-changing landscape of today's digital world, it's important to stay current with industrial marketing trends. Factor in the growing number of marketing agencies, each offering their own (in some cases … questionable) advice, and it gets increasingly difficult to discern the useful marketing guidance from the rest of the distracting industry chatter.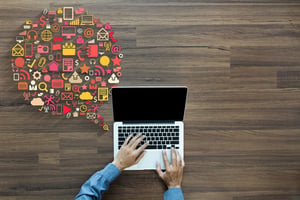 To help you better determine where your reading time would be best spent, our Thomas Blog team curated a list of our favorite marketing blogs below; their quality content, helpful insights, and spot-on advice can give you the advantage and content marketing inspiration you need to keep your industrial business ahead of the marketing curve.
1. HubSpot Blog
As one of the top marketing blogs — and the OG of inbound marketing and marketing automation — HubSpot is the leader of the pack when it comes to marketing knowledge. Divided into three distinct blogs, including Marketing, Sales, and Service, Hubspot provides frequent, carefully tailored content covering a diverse range of topics. By addressing common marketing challenges, offering how-to guides, and contributing insights on current trends or timely news stories, their blog is an extremely valuable resource for employees even beyond your marketing team.
2. IMPACT Blog
While they specialize in digital marketing and strategic consulting, Impact's blog offers more than just marketing best practices and input on industry trends. The real highlight of their blog is their collection of podcasts and shows, including The Impact Show, Creator's Block, and MarketHer, which offer fresh perspectives on broader subjects like women in business, career growth, team management, and adaptation to company-wide changes. By providing an array of different content types, such as infographics and videos in addition to standard blog posts, Impact ensures their content is accessible to any blog visitor.
3. Moz Blog
As SEO becomes an increasingly critical element of any marketing plan, Moz Blog serves as a go-to resource for marketers looking to improve their rankings and develop agile plans for adapting to newly implemented algorithm updates. Written mostly at an intermediate level, with some expert content for readers who are looking for more detailed insights, the blog offers step-by-step guides, interviews with industry leaders, and even "Whiteboard Friday" posts, which are hand-illustrated whiteboard lessons from the Moz team that guide readers through useful SEO tricks and tools.
4. MailChimp Blog
The world's largest marketing automation platform, MailChimp is best known for their email tools – but they also produce a helpful blog! Featuring content based directly on customer stories and reader feedback, it's easy to relate to the company's biweekly posts. The blog, which is aimed toward beginners, offers a useful if slightly limited mix of how-to guides, corporate leadership input, and company announcements, such as new feature launches or office expansions.
5. Unbounce Blog
Based in New Zealand, Unbounce offers tools for marketers to build and test custom landing pages and other conversion rate optimization elements. Their blog, which publishes posts on everything from pay-per click and product marketing to website optimization and design, delivers detailed case studies, instruction guides, and even design templates for readers to apply to their own marketing campaign challenges. If you're out of ideas for conversation rate optimization tests, looking for product marketing tactics, or just seeking some marketing inspiration, Unbounce's blog is a great place to start.
6. SocialBakers Blog
As the only blog on this list completely dedicated to social media, the SocialBakers blog is the perfect resource for marketers looking to enhance their social presence or target specific audiences through carefully tailored campaigns on particular social platforms. While SocialBakers sells an AI-powered social media marketing suite, they offer plenty of free advice to readers with their optimization, marketing, advertising, event, analytics, and how-to posts.
7. Copyblogger
Copyblogger, a free resource offering content marketing education and insights, is a great resource for the writers on your team to stay inspired and up to date on industry trends. Instead of incessantly reminding you about the importance of original content or guilt-tripping you about your post frequency (as many other blogs tend to do), Copyblogger's blog posts revolve around why content is such an essential component of a successful marketing plan and how to craft unique, engaging content week after week, post after post.
Looking For More To Read?
Searching for a few more resources to fuel your next marketing campaign or inform you about breaking industry trends? Sign up for The Thomas Industry Update to receive weekly updates direct to your inbox, or keep checking the Thomas Blog for diverse, actionable, and solutions-focused content across a broad range of marketing topics.
Did you find this useful?