Growing Procurement Engagement and Employment
I have the coolest job, and no one knows it.
As the director of Profit Improvement & Procurement at Hudson's Bay Company (Saks Fifth Avenue, Hudson's Bay, Lord & Taylor, Home Outfitters), a lot of people — from merchandising to asset protection — come to my office. When we chat about what procurement team does and accomplishes, the other teams are blown away.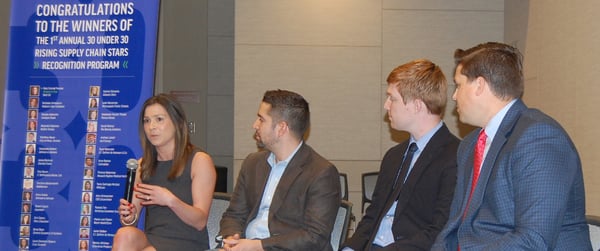 You might have a similar experience. Whatever facet of supply chain or manufacturing you work in, you understand all there is to offer, but there are plenty of people who don't. It's interesting to consider how little the "outside world" knows of what it's like to work in supply chain — in fact, I used to be one of them.
I fell into this industry by chance. After graduating from Villanova and studying management and international business, I took a job in China because I wanted to work in that business landscape. I got some exposure to RFPs and proposals that other companies and countries were running. Eventually, I was recruited by a headhunter and hired into my first full-fledged procurement role in the US.
Now, I can see lack of awareness in young job seekers and students. Despite the multitude of opportunities that are in supply chain, many Millennials aren't aware. There are opportunities to impact the businesses they work for as they continue to grow, evolve and change. We need to echo this to the younger generation. There's not enough advocacy happening at the school level — even with ISM chapters all over the country partnering with local universities and speaking at events.
Another important thing to consider: Once these younger workers stumble into the industry (however that may be), we need to keep them. I think a great start to shunning complacency in a company is a rotational program. Moving younger workers to different kinds of capacities at a company is smart, and it likely will prevent them from seeking opportunity elsewhere. Hudson's Bay has a great rotational program. Analysts have the ability to interact with senior leadership and make an impact as they rotate through different departments such as marketing, HR, supply chain/distribution, travel and IT.
Whether young professionals want a career in supply chain or procurement, if we can deploy them within the organization, we can find out what they really want to do — then we're planting procurement professionals in the organization.
So my thoughts on this are two-fold: Let's get the word out about our industry, and let's retain those driven younger workers seeking more opportunity and responsibility. I'd love to hear your thoughts on what you and/or your company is doing to grow the next generation of industry workers — feel free to comment below or connect with me on LinkedIn.
Did you find this useful?