How Can Your Business Become More Environmentally Friendly?
Since the Industrial Revolution, we have been a major source of stress on the planet. From deforestation to oil spills, the damage totals to the tune of $1 trillion dollars — 6.2% of national GDP. And that's just in the U.S.
Which is why we stand to also make the greatest difference and lead the cavalry of change. We're talking about making a significant and measurable impact and reestablishing a balance in nature. And we are well on our way. In fact, Trucost reported the number of companies involved in natural capital initiatives grew 85% in the last year. So what can you do?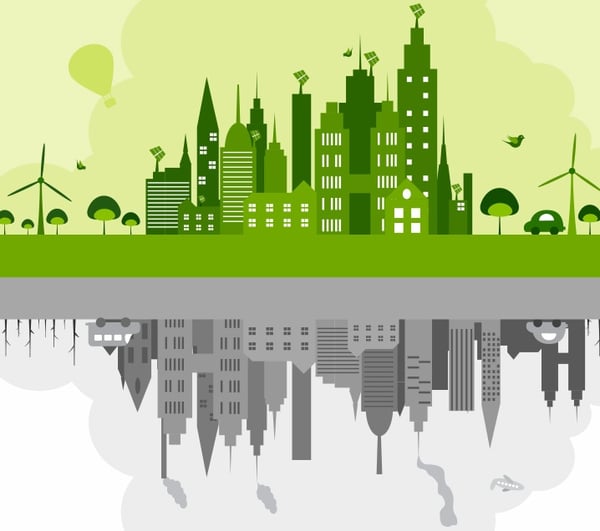 Know Your Basics
These changes are all about what you can do starting right now in your own shop. Keep efficiency in mind when using machines. Not in a room? Turn the lights off. Recycle paper and plastic. These are small everyday changes that don't contribute greatly to the cause, but certainly fall into the "every little bit helps" bucket. Regular monitoring of your resources can help you begin thinking sustainably, easing you into bigger and better changes.
Know Your Supply Chain
We mean really know your supply chain. Evaluate business practices and see if they fall in line with the new, more environmentally conscious you. Are your suppliers ISO 14001 and LEED certified? These certifications are great foundations for the environmentally friendly and a good indicator of a supplier's practices before ever asking a question. Questions like:
Do they have recycling and waste treatment programs?
Do they employ renewable energy and energy efficient systems?
Are they exploring bio-plastics, 3D Printing, or other environmentally friendly methods of production?
Measuring vendor performance is not a historically simple job, but do what you can — any change is a good change. Additionally, the more you arm yourself now the better prepared you are when the time comes to source a new supplier.
Know Yourself
You definitely cannot hold your supply chain to a standard you do not meet yourself. The same questions are applied, plus the added layer of control you have over your actions. You can do the research and installation of solar panels, wind turbines, or other energy conservation technology. You can enact a reshoring policy, lessening transportation and fuel usage in favor of local manufacturing, helping the environment and the economy.
Additionally, your product development can make a shift to greener pastures. Do the products you're producing have less of an environmental impact as your competitors? Is less energy being used to power your factory? Is the material your using biodegradable? How about non-toxic? How can you weave sustainability into your product design?
Know the Bottom Line
The great thing about all of these questions is that any change made will likely result in cost savings. A reduced supply chain of certified and trusted vendors is definitely cheaper than a wide variety of vendors you use sporadically. Local deliveries equal lower distribution costs. Less energy, water, and waste are less of your profit funneling into bills. In this case, less is most definitely more.
We'd love to hear about what you're doing to add "green" to your business — let us know what you're up to by commenting below. And if you're looking to add a couple new environmentally minded suppliers to your supply chain, head over to Thomasnet.com to start your search.
Did you find this useful?