Three Ways You Can Help Close The Skills Gap
Manufacturing is one of the main contributors to economic growth in the U.S. and Americans know its value. In fact, 83% of Americans believe manufacturing is important to America's prosperity. Unfortunately, young professionals are currently less interested in the manufacturing industry.
According to Deloitte, two million manufacturing jobs will go unfilled in the next 10 years. This shortage will in turn create a void for many manufacturers as they struggle to find people with the right skills to keep their businesses alive.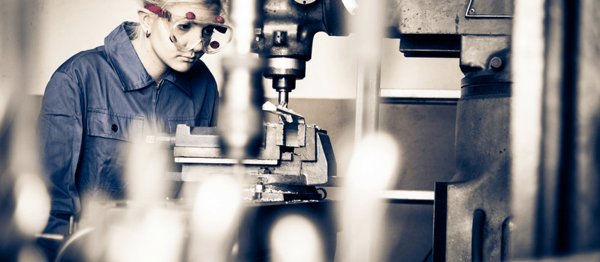 So what can shop owners do to close the skills gap? Below are three ways to help:
Be Active In The Manufacturing Community And In Your Local Area
If you want talented young professionals to work at your business, you'll need to put yourself out there and get the word out. Head to career fairs at community colleges and vocational schools in your area to let the younger generation know that you are hiring. It might be an opportunity they never thought of before. National STEM initiatives, such as Manufacturing Day, are also great ways to engage with the younger generation and look for local initiatives in your area. "If there isn't an effort to promote manufacturing, start it," Karen Norheim, Executive Vice President of American Crane encourages. "Go to a local high school and offer plant tours and do some grassroot efforts to get more people interested in the manufacturing industry."
Start Training The Next Generation
One of the best ways to teach the next generation is by taking matters into your own hands. It's becoming less common for shop owners to find hires with the skill set they already need. Get ahead of the curve by finding hires with potential that you can train. Your new employees would be learning from someone familiar with your business, making the transition from a seasoned professional to a trainee easier.
If you have the funds, start an apprenticeship program. "Manufacturers need to consider starting structured apprenticeship programs, which combines structured, paid, on-the-job training with classroom learning," said Nicholas Wyman, CEO of the Institute for Workplace Skills and Innovation. "The on-the-job learning will ensure critical 'know how' developed by the existing workforce is not lost as older workers march into retirement." The time is now to invest in a program as the U.S. government plans to expand apprenticeships across the country.
Value Your Younger Staff Members
The work doesn't end once you get those younger staff members through the door. You have to create an environment that would encourage them to stay in the manufacturing industry. Make sure your younger colleagues know how impactful they are at your company and in the entire manufacturing industry. "You have to create an environment at your shop that will attract people to join your team and also retain the young people you already have," Karen mentioned. "We want all of our employees to feel like they can have a say and we try to be good stewards to our employees by investing in them. These efforts are paying off. We have a low turnover and employees are recommending people to join our team."
Making these changing to your shop will not only impact your own business, but impact the talent throughout the entire American manufacturing industry.
Did you find this useful?