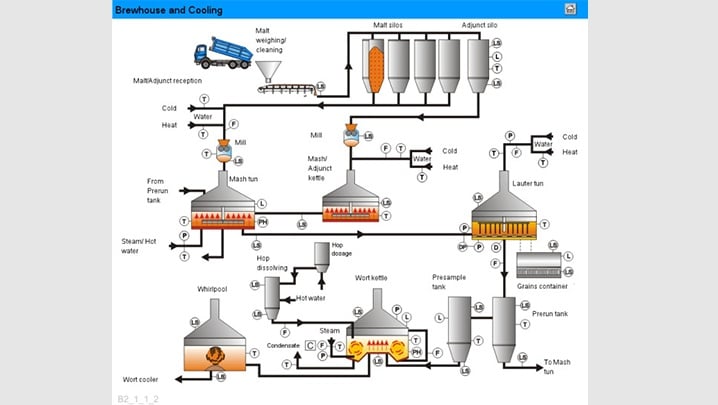 A microbrewery brewhouse and cooling system. Diagram is marked with potential placements of automated tools for temperature (T), flow (F), level switching (LS) and pressure (P). (Photo courtesy of Endress+Hauser)
Craft breweries and other small brewing companies are a growing and competitive market. Many face new challenges every day when striving for quality, consistency and increasing production demands.
Automating the measurement of various brewery processes can offer a solution to these challenges, enabling smaller breweries to achieve production and quality targets more efficiently. They don't necessarily need large and complex system, such as those used by large commercial breweries. By automating a few key processes, small breweries can see a huge difference.
Temperature Measurement
Brewing processes typically require precise temperature measurement and temperature management at many points throughout the process. An array of compact food and beverage thermometers installed at crucial points throughout the brewing system can offer easy-to-check temperature readings at a glance.
Flow Monitoring
Automated flow meters are ideal for managing wort transfer flows, foundation water, lautering or yeast recovery and pitching. These devices will enable precisely controlled flow rates and detailed measurements.
Level Control
Level switch tools can be useful throughout the brew house and cooling system.
Different level switch models will vary in what liquid or part of the process they can be used for, but generally will offer reliable measurements unaffected by the brew media's properties, flow, turbulences, gas bubbles, foam, vibration or build-up.
Other parts of the brewing process are also suitable for automation, including liquid and gas pressure and weighing scales.
High quality hygienic automation tools will save time and effort, exceed industry hygiene requirements, and stand up to industrial wash-down conditions, requiring only minimal maintenance and recalibration once installed.
For more information on automation solutions for microbreweries, check out the full article Can Small Breweries Use Automated Process Measurement? at ENGINEERING.com.