B2B Marketing Lessons From Social Media Week New York
Social media is a valuable channel for B2B marketers. However, it's also a medium that is constantly changing, evolving, and growing, which makes it difficult for many companies to keep up.
Last week, the world's top social media experts — along with leading brands and thousands of marketing professionals — gathered for Social Media Week New York City to discuss the latest trends, challenges, and best practices in social media marketing. While a lot of the discussion centered around B2C, there were plenty of lessons to be learned when it comes to B2B social media as well. Here are some of key takeaways from the conference: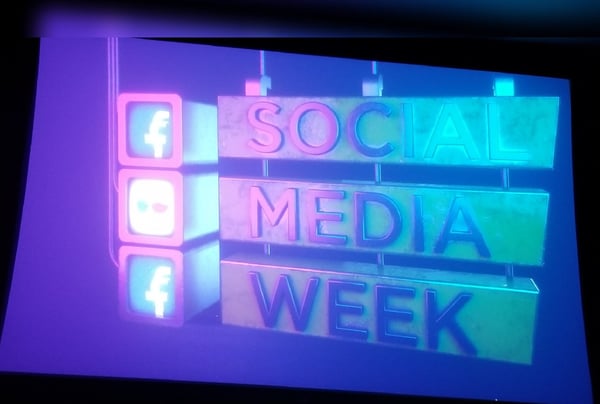 Listen To Your Customers
Many companies utilize social media as a means to push out their messages. However, far too few companies are using social media to listen to what their customers are actually saying. That's a big missed opportunity.
Every second, your customers and prospects are engaging in conversations on social channels, following events, and interacting with people and companies that are important to them. By understanding where your customers are, and what they are talking about, you can gain a better perspective and fuel more genuine conversations.
How can you do that? Start by listening to what your customers are saying about your company with social listening tools. As Talkwalker CEO Todd Grossman explained, not having a social listening tool is tantamount to ignoring your customers.
"Imagine being a company and your phone is ringing … and you don't pick up," he said.
Simply engaging your followers, replying to comments, and answering questions can lead to positive business results. Jenny Wolfram, CEO & Founder of BrandBastion, showed that these tactics can boost website traffic and conversions, as well as improve sentiment about your company.
Doing Good Is Good For Business
Companies want to work with other companies that are committed to making a difference and that embrace "social purpose." According to 214 CEO Trace Cohen, brands that are purposeful have growth rates 2.5 times greater than the competition.
In today's hyper-sensitive business and political climate, customers expect companies to take a stand. "Brands can no longer be bystanders regarding today's issues," saud Laura Kline, Executive Vice President at Weber Shandwick. She cautioned, however, to align with causes that are true to your company and your values — don't get behind a cause because it's popular or trendy; find a cause that really matters to you and your customers.
Video, Video, And More Video
The importance — and dominance — of video was a theme that echoed throughout the event. Jason Hsiao, Animoto Chief Video Officer, was able to sum it up perfectly.
"The play button is the most compelling call-to-action on the web right now," he said. If you are not utilizing video marketing, you are missing out on a ton of traction.
If you aren't doing so already, you should be leveraging video across all of your channels and properties — your blog, website, emails, and yes, social media accounts. It's the single best way to build trust with your audience and drive business results.
However, too many companies think of video as an item on the do-to list. Instead, you need to "learn to speak the language of video," according to Hsiao, understanding what works, what doesn't, and how to best engage other people.
Hsiao also offered different types of content that are perfect for videos:
Thought leadership pieces
How-to guides
Interviews and question- and-answer sessions
Blog teasers
Company announcements
Event recaps
Company overviews
Explainer guides
Product demonstrations
Customer testimonials
Emotion Is The Core Of Great Content
Whether you are sending an email, crafting a landing page, writing a social post, or publishing an ad, success will come down to whether or not your message sparks an emotional response.
We see "emotion-driven advertising" a lot in the B2C world, where campaigns are designed to make people laugh, cry, think, and even empathize. But there's plenty of emotional capital at stake in B2B marketing, as Mike Romoff, Head Of Global Agency and Channel Sales at LinkedIn, reminded the attendees.
"We think about consumer marketing being so emotionally driven … but in reality, the decisions you make in your business can make or break your career," he said.
When developing content, strive to go beyond product specs and capabilities in order to connect with the person on the other end of your message. Try to understand the challenges and goals of your buyers, and be as helpful as you can.
Get To Know What Your Kids Already Know
Facebook, Twitter, and LinkedIn have been the dominant social media networks for B2B companies for years. However, the landscape is changing.
Instagram is the fastest-growing social media platform in the U.S. in terms of user acquisition, and many B2B brands — including MailChimp, IBM, and General Electric — have used it to great success. It's also booming in popularity among millennials — the very same people who are stepping into leadership roles in the supply chain.
But Instagram isn't the only social platform surging in popularity. Snapchat is, by far, the most utilized form of social media for Gen Z (those born between 1995 and 2014). Not worried about Gen Z? Well, you should be. The generation is bigger than Baby Boomers and Millennials, comprising 25 percent of the U.S. population. More importantly, according to Kate Lewis, SVP and Editorial Director of Hearst Magazines Digital Media, Gen Z will account for 40 percent of all consumers by 2020.
Should you ditch the Big 3 social networks and focus on Instagram and Snapchat? Absolutely not. However, it couldn't hurt to get familiar with the platforms that your newest customers — and your future customers — engage with every day. Think about it, ten years ago, companies that embraced Facebook, Twitter and LinkedIn early got a leg up on the competition. This is your chance to gain an advantage and establish your presence on these newer platforms.
Stay Ahead Of The Latest Marketing Trends
As a manufacturer, it can be tough staying up-to-date on the latest changes in industrial marketing. Fortunately, The Industrial Marketer can help you keep pace. Sign up to get your weekly dose of industrial marketing insight delivered straight to your inbox.
Did you find this useful?