This Is Where Your Buyers Are Struggling — And Where You Can Help
No matter how much you love what you do, there are going to be individual aspects of your job that prove frustrating. Maybe it's because they take a lot of time to complete, or come with a lot of pressure, or perhaps there aren't clear best practices for accomplishing the task.
No matter the reason, it can make your job — and your life —a lot more frustrating.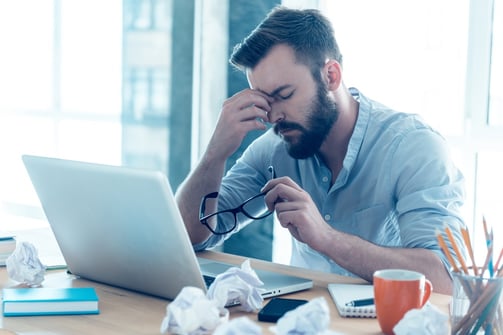 But what if someone came along and was able to help you knock these terrible tasks off your to-do list. Wouldn't you want to give them a hug — or maybe, your business?
Your buyers have a lot of these kinds of tasks on their plate. As a supplier, you can help them tackle these challenges and position yourself as a valuable partner in the process.
We recently teamed up with Strategyn, a leading B2B research firm, to conduct one of the most comprehensive studies of B2B buying behavior ever. Through the study, we were able to identify those tasks that frustrate buyers the most, as well as the areas of opportunities for suppliers to step up.
Here's what we found.
The 3 Biggest B2B Buying Challenges In the Industrial Buying Process
Before we delve into the challenges that drive buyers nuts, we want to provide a little context.
We typically think of B2B buying as a six-stage process, as follows:

However, through our research, we were able to identify 15 individual steps that comprise this process: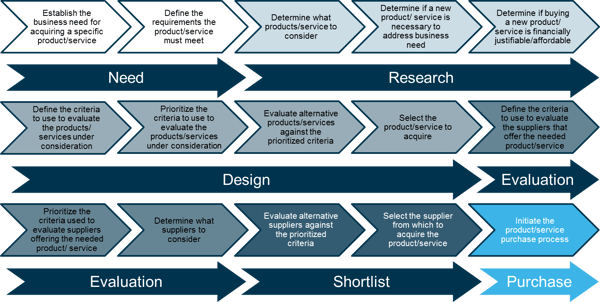 This is a pretty detailed look at the process that your buyers go through, but it's actually just scratching the surface. We were able to break these steps down even further into 225+ individual tasks. Then, through a comprehensive survey and one-on-one conversations, we were able to assign three separate scores to each task:
Importance score: How important the task is for the buyer to complete.
Satisfaction score: How satisfied buyers are with their ability to complete the task. The lower the satisfaction score, the more frustrating the task.
Opportunity score: The opportunity for improvement, based on the how important the task is and the delta between the importance score and the satisfaction score.
Here are the tasks with the lowest satisfaction scores (on a scale of 0—10):
4.1: Determine when the product/service will be needed to fulfill the business need, e.g., maintain inventory levels, meet a deadline, etc.
4.2: Monitor a supplier for potential legal issues, e.g., their ethics, their contracts, etc.
4.4: Monitor new regulations in a market, e.g., trade, environmental, human rights/labor, etc.
The 3 Biggest Opportunities For Suppliers
Using the same methodology, here are the tasks that present the biggest opportunities for suppliers (10.2 being the biggest opportunity):
10.2: Determine how frequently the product/service is required to fulfill the business need
9.8: Define the shipping-related requirements the product/service must meet
9.4: Compare an existing supplier's offerings with a new potential product/service
Get To Know Your Buyers Even Better
If you want to learn more about the buying process, the challenges your buyers face, and the opportunities that you can take advantage of, download our eBook, Meeting The Needs Of Your Buyers. In addition to taking a deep dive into our study, this insightful resource also offers strategic tips that you can use to set yourself apart at every stage of the buying process.
Did you find this useful?