Thomasnet.com® Buyer Experience Updated with Thomas Account Features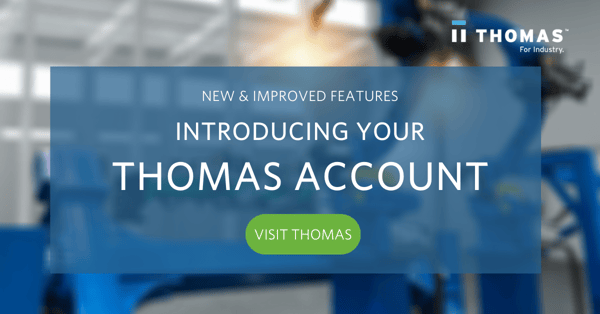 At Thomas, we understand that having an easy way to search, evaluate, and connect with top suppliers is key to getting your job done. After speaking to thousands of industrial professionals, we are excited to launch the new Thomas Account to meet your sourcing needs. Thomas Account is equipped with a suite of free and powerful sourcing tools that make supplier discovery a breeze, plus an intuitive dashboard to help you organize important information, including ways for you to manage your data and privacy settings.
Streamlined Registration and Control of Information
We've made it easy to personalize your user profile and update your security settings to create a custom experience on Thomasnet.com. In your profile, you can edit your job function, company details, buyer and/or supplier status, and add your photo.

To control the flow of information, you can manage your privacy settings and update your email subscription preferences.
Powerful Tools to Increase Buyer Efficiency and Productivity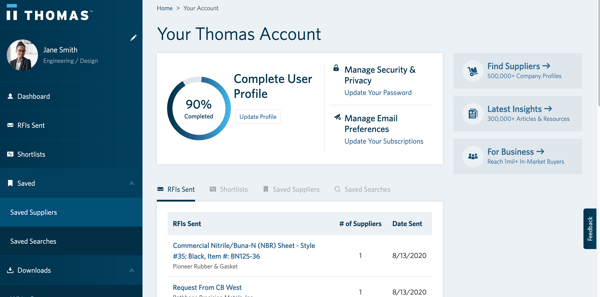 The new Thomas Account leverages powerful sourcing tools to create a more streamlined buyer experience. Here's a quick overview of the features on Thomas Account:
Access Recent Search and Supplier Evaluation History
We're all a little busy, so on your Thomas Account we've provided access to all of your recent searches and supplier evaluation history, so you can easily reference your past searches or recently viewed supplier profiles with a few clicks. We've even added featured suppliers to connect you with the most sought-after companies.
Quick Access to Your Saved Searches and Suppliers
With more than 500,000 North American supplier profiles on Thomasnet.com, our advanced filters identify the right supplier for your sourcing requirements. Save your search query with all filters applied, such as location, certifications, and ownership/diversity status so you can get back to sourcing quickly. You can also save individual supplier profiles for later review.
Create a Shortlist of Suppliers
Shortlists are a great way to organize suppliers by objective. When identifying potential suppliers for a project, add them to a shortlist to have easy access to company information, a quick way to send a request for information, or to download their structured data into a CSV file to be used in your own procurement system.
Databased List of Request For Information (RFIs)
We keep track of all of your communication with suppliers in one convenient place. When you contact suppliers directly on our platform through a request for information, you'll receive verification that your RFI has been delivered for peace of mind.
Archive of Downloaded White Papers and Supplier Summary Reports
We understand the effort that goes into your supplier research. We offer free supplier summary reports and in-depth, expertly-written white papers to help inform your buying experience. All downloaded documents are kept in your Thomas Account for reference.
Your Thomas Account Dashboard
Thomas Account organizes the above information into a convenient dashboard to help save you time and get your job done. This new feature provides an at-a-glance look at your recent activity on Thomasnet.com and a hub to access all account services. You can browse saved shortlists, recent searches, viewed suppliers, and more.
Start Using Thomas Account Today
Already have an account? Visit Thomasnet.com to search, evaluate, and connect with over 500,000 North American suppliers and log in to complete your profile and experience the newly streamlined toolkit designed for you.
And if you're new to Thomas, sign up for a free account to gain access to 10 million+ CAD files, 500,000+ North American suppliers, 300,000+ white papers, and structured supplier data points so you can shortlist companies with the certifications, diversity status, and location you need.
Did you find this useful?