Talking Toys with K'NEX Product Designer Heather Croston
This holiday season, we hope that you're considering gifting STEM toys to the children in your lives. Here at Thomas, we always admire toys that teach, but have you ever wondered how these wonderful toys were designed in the first place?
If so, then today is your lucky day. We had the pleasure of sitting down with Heather Croston, Product Designer at K'NEX Brands. We covered STEM, toy design, and introducing children to engineering. Read our conversation below.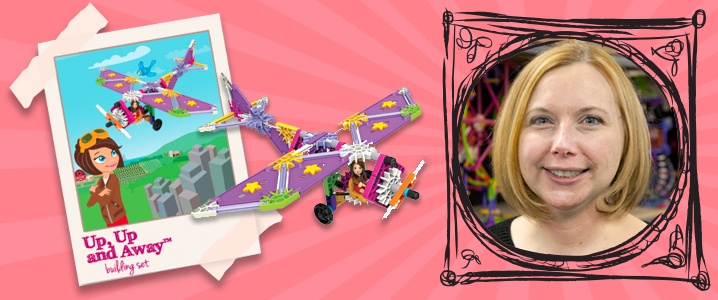 ZS: How did you come to be a Product Designer for K'NEX Brands?
HC: I started working for K'NEX a few years after graduating from the University of the Arts. My concentration in school was Jewelry and Metalsmithing. K'NEX is very sculptural and mechanical so it was a very easy transition to go from making kinetic jewelry and art objects to designing toys.
ZS: Did you play with STEM toys like K'NEX when you were younger? Do you think early exposure to those toys helped influence where you are today?
HC: I've always loved to create and build things. I played with blocks and building sets and often times the play integrated dolls and stuffed animals. I remember at one time wanting a dollhouse and I tried building one myself out of Popsicle sticks and glue.
"Building toys are one of the first tools that we are given to turn our ideas into something real."
From a young age I knew I wanted to be an artist, designer or architect. I didn't know what type — sometimes it was fashion other times it was interior design. For me it was all about coming up with an idea for something, plotting out how to create the thing and then having the confidence (and later skill) to try to create it. Building toys are one of the first tools that we are given to turn our ideas into something real.
ZS: Increasing STEM support has been a huge initiative for manufacturing in the last few years, something K'NEX has been involved in early on. What considerations do you take when developing new STEM products like the new "Mighty Makers" line? Can you describe your process?
HC: The K'NEX system by itself is already STEM based. Through the process of connecting rods and connectors you learn about shapes and geometry. Constructing something that moves requires you to learn about motors, gears and pulleys.
With Mighty Makers we wanted to add a story to make learning more fun and the building process more engaging. When developing a concept I try to think of activities that kids relate to and enjoy and then think of a STEM concept that applies to that activity. I hope that by doing this kids will not only learn a STEM concept when playing with K'NEX but also learn how STEM concepts relate to their day-to-day lives and future dreams.
ZS: "Mighty Makers" is also part of the growing trend of STEM toys targeting girls. What inspires the design for each of the sets in Mighty Makers?
HC: The inspiration for these sets comes from girls! In the beginning of development for this line we asked girls what they wanted to build with K'NEX. We also asked them what they want to be when they grow up. These are the primary inspirations for the themes that I choose. I want to empower them be what they want to be. I also think back to what I wanted to build when I was their age — what my interests were. For example, the house I wanted to build out of Popsicle sticks. For me it was not just about playing house — I wanted to design the house and then build it myself.
ZS: What are your hopes for the future of girls who play with these toys?
HC: I hope that they learn that STEM can be fun and creative. Kids who are great at geometry and mechanisms will gain creative skills. Kids who are highly creative will learn how to construct. Maybe a set like Fun on the Ferris wheel will peak their interest and they will want to learn more about gears, mechanisms and Mechanical Engineering. Maybe they will become an amusement park ride designer!
ZS: How does designing products that will shape the next generation impact your work?
HC: It's exciting for me to design a product that encourages creativity and independent thinking.
ZS: Do the changing generations influence your designs — colors, sizes, specialty kits?
HC: K'NEX is a very classic toy. Many of the subjects that were popular 10 or 20 years ago have come back in trend. Sometimes a popular movie, TV show or video game will influence the toy market. Some examples are dragons, space toys and robots — they seem to go in and out of fashion with kids. Part of my job as a designer is to be in tune with pop culture and trends.
ZS: You must have seen some crazy creations over the years. Do fan builds inspire your work?
HC: It's so fun to see all of the crazy things that kids build out of K'NEX! I do get inspired by their work. I love looking at all of the amazing videos of huge roller coasters and ball machines set to music.
ZS: Any advice for the upcoming "Makers" of the world?
HC: Keep making and keep building!
ZS: From Lincoln Logs to Mighty Makers, K'NEX Brands covers generations of gifts. If you had to gift any K'NEX toy this season, what would it be?
HC: My favorite sets are the Mighty Makers Home Designer and Fun on the Ferris Wheel. It's hard to choose one. For me Home Designer was the concept that was the seed of the idea for the rest of the sets. We took a traditional girl's toy play pattern and looked at it through a different set of eyes.
Fun on the Ferris Wheel is classic K'NEX building. Emily, the character in this set is a mechanical engineer. Every detail in this set was well thought out: from the mechanics and gears of how the Ferris wheel worked, to the story of the character and her mechanical teddy bear friend Cocoa.
Interested in gifting some STEM toys? Start with K'NEX!
Did you find this useful?