10 Stats You Didn't Know About Thomas
Industrial buyers are typically 70% of the way through their purchase decision process before they reach out to a supplier.
If you are a manufacturer trying to grow your business, this is an eye-opening, game-changing stat. It means that the buyers you want to do business with — the ones you need to connect with in order to grow your company — are researching, designing, evaluating, shortlisting, and, ultimately, making their purchase decisions online, all with very limited interaction with your sales people.
How, then, can you forge the connections you need while staying top of mind throughout the long and complex buying process? With the help of Thomas.
Every day, we provide manufacturers and suppliers like you with solutions that put them in front of in-market buyers at every possible touchpoint in the buying process. To prove it, we've got some pretty eye-opening stats of our own to share.
1. Every 2 seconds a buyer, engineer, or other purchase decision maker visits the Thomas Network.
Buyers go to the Thomas Network to source products and services and find a new supplier than anywhere else. Add it up, and more B2B buying activity takes place on our platform than anywhere else on the planet.
2. The Thomas Network has more than 950,000 active users.
With more than 950,000 active users and 500,000+ supplier profiles, the Thomas Network is industry's largest and most active buyer/supplier network. If you are buying or selling in the industrial space, you need to be on Thomasnet.com.
3. Thomas gains more than 10,000 new registered users every month.
We're adding 10,600+ new registered users every month. You are always looking to connect with new buyers, and so are we. Each new decision maker that joins the Thomas Network is another chance to grow your business.
4. 75% percent of our active registered users represent SMBs.
Whether you are looking to land a big fish as a new client or if you prefer to work with small and midsize businesses, we can help you reach your target customers. Seventy-five percent of our active registered users represent SMBs, while 93% of Fortune 1000 companies source suppliers.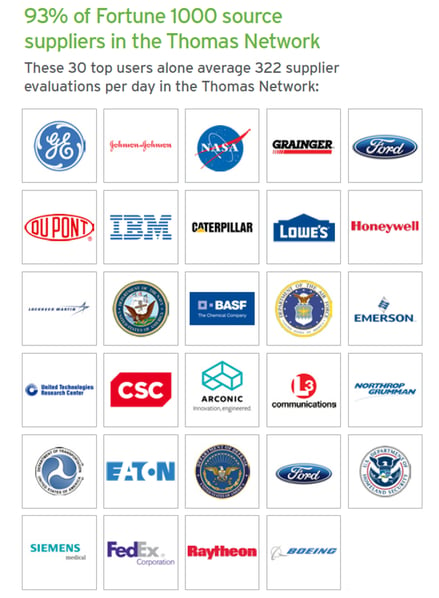 5. More than 1 million supplier evaluations occur every month.
Buyers visit us specifically to gather the information they need to solve their product sourcing and supplier selection challenges. That's why our active registered users perform more than 1 million supplier evaluations every month. These are highly engaged, in-market buyers, actively evaluating suppliers in our network to become part of their supply chains.
6. There are more than 3.5 million pages of industrial content on the Thomas Network.
Buyers need a whole lot of actionable information to do their jobs, and the Thomas Network provides it. There are more than 3.5 million pages of industrial content on the platform, and we make it possible to showcase your capabilities, detailed product specs, quality certifications, catalogs, CAD models, thought leadership, and other critical pieces of information that meets the needs of your buyers.
7. Forty percent of our users are millennials
The decision makers in supply chain are getting younger, as Millennials take on leadership roles and become key decision makers in the buying process. We've been embraced by these Millennials. In fact, 40% of our users are between 18 and 34 years old, and they represent the fastest growing segment of our audience.

8. Thomas Marketing Services has developed more than 5,000 websites.
When your industrial website is able to engage buyers throughout their entire buying process, you're in a better position to achieve the growth you are targeting. The Thomas Marketing Services team has developed more than 5,000 websites, powering Fortune 1000 and small-midsize companies alike. Our experts work closely with our clients to deliver a modern design, up-to-date content, great user experience — and of course, to generate more leads. Check out our list of the 25 Website Must-Haves to increase leads you can try to implement on your own.
9. More than 300,000 active subscribers stay up to date on the industry with Thomas Industry Update.
Every day, our subscribers receive the Thomas Industry Update, a daily newsletter delivering industry news and trends, product announcements, and information on the latest innovations. (Sign up here to receive the updates!) These professionals have opted in to received personalized news specific to the products and services that interest them — and the ones you offer. Many of the subscribers are from multi-billion-revenue organizations!
Did you know you advertise to those subscribers? Many small business manufacturers and industrial companies publish a display ad in our daily email newsletter to increase their brand awareness.
10. Thomas' international network reaches over 150 countries.
If you are looking to reach buyers outside of North America, we can help. Our international network reaches over 150 countries, and we regularly help industrial marketers boost worldwide brand recognition and sales through targeted global publications.
Learn More About How We Can Help You Grow Your Manufacturing Business
Now that you've got the numbers, get some more details about all of the Thomas products and services that are engineered to work together to help you grow your business. Oh and bonus fact #11! Did you know that listing your business on Thomas is free? Download our Media Kit and find out how we can help you build a custom targeted Thomas program.
Did you find this useful?