Thomas Index Report: Hurricane Harvey
To help buyers and suppliers stay ahead of the latest shifts and emerging trends, we constantly analyze the industrial/B2B buying activity taking place at Thomasnet.com, where every 2 seconds a buyer evaluates a supplier. This powerful, proprietary data fuels our Thomas Industrial Index.
This week we take a look at sourcing in and around the Houston area in the aftermath of Hurricane Harvey, with our data adding some insight into the sheer magnitude of the disaster. Here's what we're seeing:
It's no surprise we're seeing huge increases in the sourcing of products and services related to recovering from the effects of Harvey. While the trends we cover here are specific to the Houston area, our early data is showing similar results in Florida in the wake of hurricane Irma.
To capture the data for this week's Index, we looked at sourcing activity on Thomasnet.com from users within a 250 mile radius of Houston zip code 77001. We analyzed the data from the two weeks immediately preceding Harvey's landfall, and compared it with the data from the two weeks immediately following the storm. The contrast was striking.
Pre-landfall, the top categories being searched by users in and around Houston were:
Machining

Contract Manufacturing – Military

Metal Fabrication

Steel

ASME Code Pressure Vessels

Contract Manufacturing

Stainless Steel
After the storm, sourcing trends changed dramatically, with huge spikes in product/service categories related to dealing with the devastation of the area's infrastructure: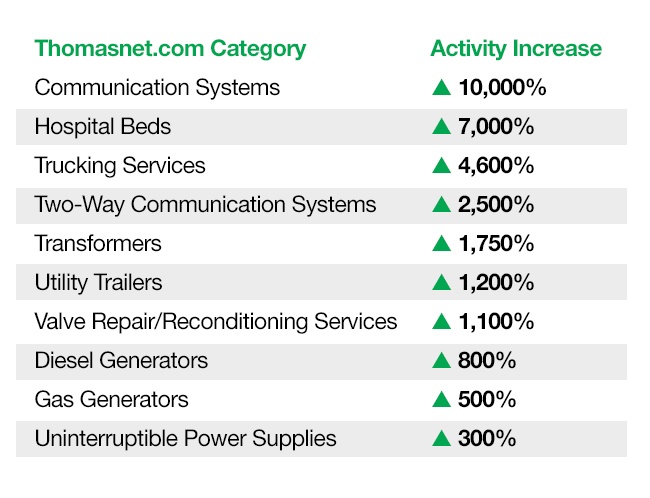 Our data also showed huge upward trends in sourcing related to cleanup efforts in the Houston region: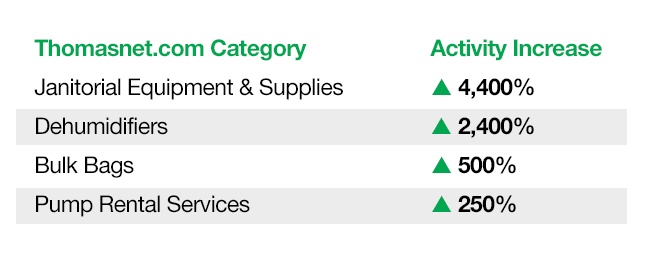 With so much of the region's homes and buildings needing repair and/or replacement, we also saw significant sourcing increases for building supplies: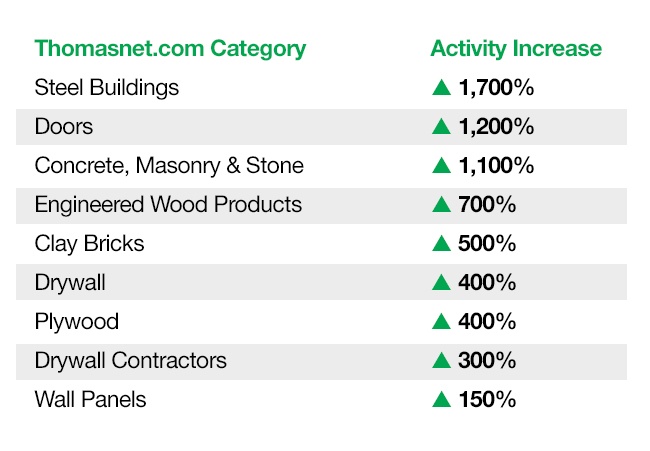 Resources for Affected Suppliers
Our thoughts are with all those affected by the hurricane, including the nearly 60,000 industrial suppliers in Texas and Louisiana who are listed on the Thomasnet.com platform.
If you're a supplier in that area, and your facilities, machinery or equipment have suffered from flooding or other damage, there are a number of resources that may be available to you, as listed here by Houston's Office of Business Opportunity, or here by the SBA's Louisiana District Office.

Did you find this useful?