Engineer Q & A – Schlumberger Engineer Among Women Fueling the Future of STEM
If you were on Twitter at all this week, you may have noticed a number of posts discussing the importance of women in STEM careers. And if you were online on Tuesday specifically, you likely saw that #AdaLovelaceDay was trending across the Twittersphere. The day is meant to celebrate a woman who is largely remembered as the first computer programmer. To further commemorate the advances women have made in technology and engineering, we've chosen to highlight a female engineer in our next Engineer Q & A series installment.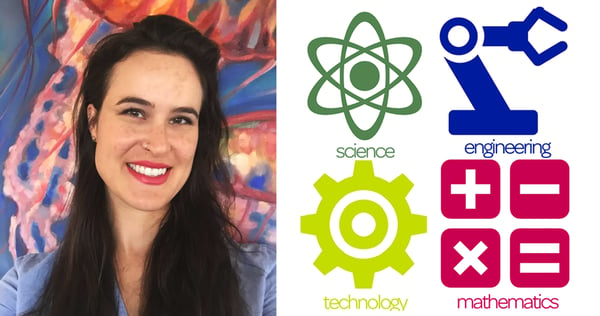 Caroline Abadie is an Engineer for Schlumberger, an oilfield services company.
Earning her B.S. in Mechanical Engineering from the University of California, San Diego, her first job was a summer internship at NASA's Ames Research Center. Fast forward a few years, and Caroline found herself working as a General Field Engineer for open hole wireline field operations covering oil and gas wells in south Texas. From there, her responsibilities continued to grow. Eventually she would manage over 20 other field engineers and operators as Engineer in Charge of wireline logging operations in the oil sands of norther Alberta, Canada.
RB: What led you to engineering and the oil and gas industry?
CA: I always had an affinity for math and science growing up. I decided to major in Mechanical Engineering because of the wide range of job opportunities available that could have significant and positive real-world applications. I didn't actually plan to have a career in the oil and gas industry, but took the opportunity when it presented itself, because the field engineer job seemed interesting, unique, and challenging.
RB: What are some of the greatest challenges you face as Engineer in Charge?
CA: The most challenging part of my role as an Engineer in Charge was organizing and tackling an extremely large and varied amount of tasks, ranging from scheduling my employees' days off, to auditing crews in the field, to inputting HSE and service quality reports, to speaking with clients on a daily basis. There were so many tasks on my list that it was impossible to complete them all, so I had to learn to prioritize.
RB: What has been your greatest career highlight so far?
CA: My greatest accomplishment in my career so far has been my promotion to General Field Engineer. This promotion involved verbal and written tests, a research project, and presentations.
RB: What do you want other people to know about the oil and gas sector?
CA: I encourage others to take the time to really learn about the oil and gas industry, especially since it has a bad reputation in popular media and is often misrepresented there. The world relies very heavily on oil and gas for its energy consumption, making this industry important to each of us.
RB: What do you wish you knew when you were just starting out in your career?
CA: Be prepared to work very, very hard. And long hours. It's not always fun.
RB: Any advice for students, or other people interested in this line of work?
CA: This field is not for the faint-hearted. It is very demanding, fast-paced, and volatile, but it is rewarding, challenging, and you will learn a lot. Perseverance is key.
RB: In the time you've been working, have you noticed any major industry shifts due to new technology or other factors? How do you keep up with these changes.
CA: I have witnessed several new software and hardware implementations. My company provides training and resources to adjust to these changes, but it is up to the individual to be proactive and use these resources.
RB: What's your biggest source of stress at work?
CA: I'm often presented with a problem or a situation that I haven't seen before, and I don't know how to proceed. I use my knowledge and the resources available to me the best I can, but since these decisions can have lasting impacts on employees and clients, making them can be very stressful.
The engineering field certainly presents a range of challenges and opportunities. For workers in this industry though, there's no place they'd rather be. There are so many examples of work being done that has direct impacts on everyday life, even if most people aren't aware of what's going on behind the scenes. Just like Caroline is responsible for making sure your morning commute is properly fueled, innumerable engineers are responsible for making sure each part of your day goes exactly as planned.
To get more content like this directly into your inbox, sign up for our newsletter.
Did you find this useful?