Women in Manufacturing — Q&A with Wyoming Machine Co-Presidents Lori and Traci Tapani
A family business that has diversified their company to ensure long term success. A women-owned sheet metal fabrication manufacturer whose co-presidents are active in the community. Role models for men and women everywhere, operating in a changing industry while staying true to themselves.
Meet Lori and Traci Tapani, Co-Presidents of Wyoming Machine. After ownership of Wyoming Machine transferred from their father, they have run the gamut of owning a business, initiating innovation and change, and being active and positive forces in their industry. We were thrilled to have grabbed some of their time, so check out our discussion below.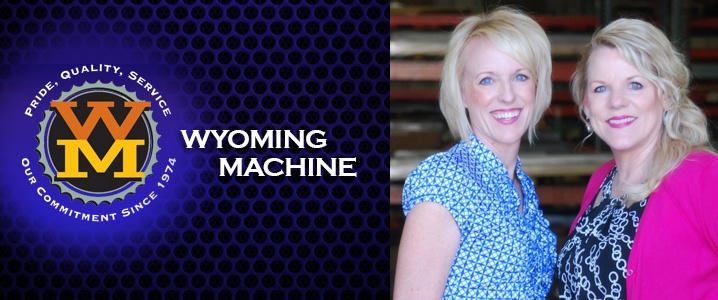 ZS: Hello! There are so many facets to Wyoming Machine, but let's start with your history. You have quite the story.
LT: Our father founded the company with partners in 1974 and he primarily did machining. As the company grew, he moved out of machining and into sheet metal fabrication. As the company grew through the 80's, the partners left the business and our father bought them out. Then, in the early 90's, he brought in a team of advisors who got him thinking about succession planning.
At the time, Traci and I had both graduated from the University of Minnesota, Carlson School of Management. I had a degree in Accounting and Traci was working in International Trade and Finance. We were invited to a meeting with our father's attorney, an insurance agent, and an accountant. At that meeting we were told that our father wanted to give the company to us. Over the course of 6 months we transferred out of our careers and came here.
We only worked with our Dad for a short period of time. After about three years, he wasn't coming to into the office any longer. After another year, he never came to work. Now he restores antique Harley Davidson's, took up scuba diving and under water photography.
ZS: Do you guys have a specialty or a bulk of business in one industry?
TT: Currently, many of our customers are equipment manufacturers. That equipment is utilized across a number of different industries.
LT: Within that, we have a big presence in agriculture, construction, and mining. We also have customers in commercial service machinery, packaging equipment, computers, and electronics. Not as heavily as others, we handle aerospace and defense work as well. When you're a company like we are, sometimes you are dealing with customers who go up and down business-wise. Overtime, we have focused on being diverse. Many fabricators only have 4 customers who make up 80% of their business, but for us that number is more like 16.
LT: We are also embarking on a project called Economic Gardening. It was started by the Edward Lowe Foundation, and it's an economic development concept that has counties and cities invest in Stage 2 businesses (companies that are not startups). We were selected by our county to work with the national team that does market research, and they're looking at us and what we do and giving us ideas on how we can grow.
ZS: With so many industries and lines of work, is there anything you've been particularly proud of?
TT: Often times, because we have such a diverse customer base, we get the chance to see our products show up in places we didn't expect. For example, one of our customers manufactures plastic cards used by hospitals for identification. We found one of the machines we built for them on the front desk of the television show ER. Another time, we were at Penn State touring their labs. They had a piece of equipment used for testing metal that we manufactured. It's super fun to go to places all around the world and see the stuff that you make.
LT: One of our greatest claims to fame is something we manufactured for one of our customers who make custom fire trucks. We produce components for them, and they make rescue vehicles for airports, the giant 6-8 wheelers that can pierce through an aircraft on the runway. Well, a couple of years ago, one of the vehicles we worked on for them showed up in the film Transformers 3 as Optimus Prime. We have nephews, and when you're an aunt that helped make Optimus Prime, you are cool.
ZS: Do you find that being a women owned company has benefited you in any way? Are there negative misconceptions that you have had to overcome?
LT: We had an unconventional childhood. We could cook dinner, bake a cake, and use a sewing machine, but we could also fire up a chainsaw and cut down a tree like nobody's business. And it sounds funny when you say it, but we didn't know life any other way. One day our dad came up to us and said "I think it's important that you know how to plan and make a sidewalk with cement, so if you marry somebody who doesn't know how to do it, you can." We had many experiences growing up that few girls in our era had.
But when we came into the business, we were naive to the fact that there weren't many women in metal fabrication. We would go places and no one would sit near us. We were at an industry event where they were talking about technology and looking at equipment and they had a networking lunch. We set our stuff down at a table, and everyone moved. No one sat with us until it was the last possible option. But I think over time we kept doing things that we thought were right for our business, and we finally got to a point where it wasn't about us fitting in. Once we got there, things started to turn around for us.
It's amazing to see how many women are doing these types of jobs now. Traci was a chair of the National Fabricator & Manufacturers Association Foundation Board and people in manufacturing know we care about our industry. So it's a completely different world now.
ZS: Any advice to any other women owned manufacturing businesses?
TT: We want women to know that if this is a field you're excited about, keep the course. What Lori and I found was that if you allow yourself to be who you are and not try to fit in and be somebody you're not, that's when things will come together. Once we came to grips with that, life got a lot easier.
ZS: Can you talk about the next generation, and bringing younger talent to the company, especially women?
TT: That's something Lori and I have been actively involved in. Part of what we try to do is get out in the world, so young women can see women actually working in these careers. We're trying to be role models; taking any opportunity we can to speak to young women. A message Lori and I bring is that even if you can't see yourself in a field primarily dominated by men, you can bring every aspect of yourself and be successful. You can still be an artist or an athlete, and all of that can fit into this career. If you decide to go into manufacturing, you're not just that. You are still everything else that you are, and you can find a lot of success and fulfillment in these groups if all the math, science, engineering, and hands on work is appealing to you.
What can we expect from Wyoming Machine in the future?
TT: I think Lori and I are going to continue to find ways for our small manufacturing company to innovate. We plan to grow, but yet also understand we're never going to be a huge manufacturing company. We want to find ways for manufacturing to be viable for small manufacturers and have a place in this world where we can compete and add value. We believe in the importance of American manufacturing, and it's something we want to be a part of long into the future. It's a vital part of our economy and we can't let it go.
Did you find this useful?