5 Signs Your Industrial Marketing Efforts Aren't Working
In today's digital-driven world, industrial buyers expect brand and product information to be easily accessible, and they prefer to self-educate online rather than speak to a salesperson over the phone.
This makes it critical to establish an engaging, strategic digital industrial marketing plan for your company. Without one, it can difficult to meet the needs of your prospects and, in turn, pretty impossible for you to generate the leads you need to grow your business.
If your digital marketing efforts aren't producing results, or if they have grown a little stale, it might be time to reevaluate your efforts. Below, we've outlined five tell-tale signs that your marketing efforts are falling short and how to get back on track.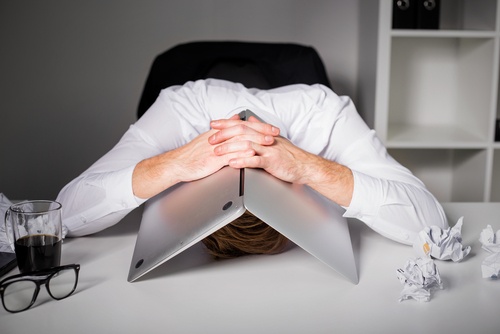 You're Ashamed Of Your Website
Your website is the digital reflection of your business. If you don't like the way it looks, then imagine how your visitors feel.
Studies show that most website users form an opinion about a company within seconds of landing on their sites. You only have that small sliver of time to convince them you are the right potential partner. If you don't, you risk losing them to your competition.
Take an honest look at your site and ask yourself if you would do business with you. Does it inspire confidence, or does it inspire you to want to crawl up into a ball and pretend it doesn't exist?
You've Got Nothing Useful To Offer
An attractive website can get visitors to click around, but that doesn't mean much if you don't have quality content that can help convert those visitors into leads.
Whether in the form of blogs, eBooks, calculators, white papers, or checklists, content should directly assist your users, offering them valuable, easy-to-understand information that will help them on their buying journey or help them solve a problem. If your content is irrelevant, outdated, confusing, or overly promotional, site visitors are not likely to engage.
You're Not Making Use Of Metrics
It's impossible to gauge the success of your marketing campaigns if you aren't measuring their impact. Unfortunately, many industrial and manufacturing companies do not have any tracking and reporting mechanisms in place.
At a minimum, you should take advantage of free tools, such as Google Analytics, to track basic web statistics – visits, bounce rates, most popular pages, and other insights.
However, these basic reports can only go so far. As an industrial marketer, you don't really care about traffic or page clicks. No, what really matters to you is leads and revenue.
At Thomas, we provide our advertisers with access to a suite of reporting and analytics tools that provide enhanced visibility into their digital marketing. These tools include:
Visitor Activity Reports: Shows the names and locations of companies that looked at your profile on the Thomas Network. Unlike basic analytics reports, which can include bot traffic, Visitor Activity Reports showcase only real, verified buyers who are looking for the products and services you offer.
Web Traxs: Reveals the names of companies visiting your website and how they got there in the first place.
Call Tracking: While your website may be generating phone calls, you probably aren't keeping track. Our Call Tracking solution tracks phone inquiries generated by Thomasnet.com, giving you a better, more comprehensive understanding of your ROI.
Website Proxy Tracking: This leading-edge technology helps you track all of the activity your website generates from Thomasnet.com. Detailed reports can show you who emailed you as well as individual conversion actions, like filling out a form, submitting an RFQ, and placing an order.
Your Social Media Accounts Are Stagnant
Many industrial marketers are still not making use of social media. But industrial sales and marketing are centered on building — and maintaining — strong, meaningful business relationships, and social media platforms can greatly facilitate such connections.
LinkedIn, for instance, allows for ongoing discussion between industry professionals and provides an ideal platform for sharing useful content, industry experiences, and general tips. Taking the time to connect with users and offer valuable advice can go a long way in establishing yourself as a thought leader in your field. Interacting regularly on social media allows you to get a better sense of what your audience values and what they're seeking from a supplier.
Posting frequently not only showcases your knowledge and expertise, it also helps keep your company top-of-mind. Users looking for the latest, most up-to-date information aren't going to bother browsing through a dormant account, so it's critical to remain current in your social media output.
You're Not Generating Any Leads
This is the most tell-tale sign that your digital marketing efforts are not working. If your lead generation activity has fallen flat – or worse, declined – in recent months, then it's probably time to reevaluate your digital marketing strategy.
The team at Thomas Marketing Services can work with you to create a highly customized digital marketing campaign, tailored to your specific needs and goals. To discuss your options or learn more about the benefits of a multifaceted digital marketing strategy, we're on hand to answer any questions you may have.