9 Tips to Writing Subject Lines That Work for Manufacturers
The job of a subject line is simple: Get the reader to open the email.
On average, 33 percent of recipients open emails based on its subject line, so it's incredibly important to get it right — because even the most enticing email in the world won't matter if the reader ignores it.
There's plenty of insight and data across the web on best practices for email marketing, but here are a few key tips to help you write an attractive subject line that will not only draw in your readers, but your buyers and prospects.
1. Go Easy On All Capitalization
Contrary to what some of history's most prolific spammers believed, writing a subject line in all caps will not guarantee an open. In fact, a subject line with all capitalized letters may appear as spam.
While one or two fully capitalized words alone won't get caught by email filters, it does edge you closer to the dreaded spam folder. Capitalization can be a powerful tool to draw attention where desired, but with great power comes great responsibility. Use it sparingly and professionally — capitalizing as you would a title is the an unofficial industry standard.
Studies have also suggested capitalizing the first letter, like in a sentence, works as well and sometimes maybe even a little better than other styles.
Effective Subject Line Examples:
[2021 DATA] See The Latest Industrial Trends
NEW VIDEO: Roll-forming tutorial
Zero Waste Is The Latest Consumer Trend [REPORT]
2. Use Numbers
People naturally like lists, data, and numbers. Perhaps it's the promise of information diced into easily digestible snippets or maybe it feels like zeroing in on the most important aspects of a given topic.
Use numbers when you can, but if you're highlighting a statistic, make sure it's clear enough for the reader to understand.
Effective Subject Line Examples:
Read The Top 5 Reasons Why Lists Work

See The 7 Ways To Improve Your Website
4 out of 5 manufacturers use videos to increase leads
22% of our buyers prefer this recycled material
69% of manufacturers are likely to reshore due to COVID-19
3. Personalize The Message
Personalization in the subject line can be quite a contentious topic.
One study from MailerMailer suggests that including names in the subject line may actually be detrimental to open rates. However, the data scientists at MailChimp say that personalizing subject lines to include the recipient's full name can positively impact open rates.
Aside from names, location is another convenient and beneficial personalization to include in the subject line. The good news is location personalization is universally considered a best practice!
Consider tying in current events when relevant to your subject and your audience's needs, too.
Effective Subject Line Examples:
Larry, here are our top downloaded CAD designs
Discover East Coast's Top Templates For Designers
Bob, see the reasons why buyers like you prefer to source locally
608 Of Your Manufacturing Peers In Your Region Downloaded This
4. Create A Sense Of Urgency
While people don't like to be yelled at in all CAPS, they do respond well to time-sensitive material.
Be unique, and make sure you're describing something that's actually in the email. The fear of missing out can be a powerful motivator. Keywords like "Urgent" or "Breaking" can positively impact open rates. Similarly, creating a deadline for an offer can also improve your click-through rate.
Don't go overboard on punctuation. While we know your buyers may get excited over your latest prototype, please hold yourself back from using triple exclamation marks or you'll appear less professional.
Effective Subject Line Examples:
Last Chance To Take Advantage Of New Customers 5% Off Discount
Just released report! The State Of The Food & Beverage Industry
5. Keep It Short
Your recipient doesn't have a lot of time or patience. Keeping your subject line short and to-the-point is instrumental in establishing a good first impression with the recipient.
The ideal subject line lays out the point of the email and sets the expectations for when the reader opens it. This should all be accomplished in 50 characters or less. The sweet spot appears to be between 28-39 characters.
Get to the point or risk losing the reader.
Effective Subject Line Examples:
Let's connect on social
Discount code after completing our survey
eBook: How To Choose The Right Hoist
6. Offer Your Readers Something
People love something new and shiny — perhaps even something discounted or free.
Did you just put together a new eBook that showcases your subject matter expertise? Good news, your potential buyers probably want to hear about it. Hit them with a downloadable offer right in the subject line to pique their interest in what the email may contain. Put what you have directly on the table, and don't beat around the bush.
Not only will adding an offering to your subject line persuade someone to open your email, but it's more than likely going to drive them to your website for lead generation as well.
Effective Subject Line Examples:
6 Ways To Reduce Accidents On The Shop Floor In 2021
Video: All You Need To Know About CNC Machining
The Complete Guide Of Specialized HVACs
7. Using Call-To-Actions In Your Subject Line
Subject lines are similar to CTAs in that the language should inspire someone to click your email and open it. Using action-oriented words can help reinforce a sense of urgency and excitement that should come when receiving something new in your inbox. Language that includes a verb is more clickable and engaging than a line that is solely a descriptor.
Effective Subject Line Examples:
Download our Product Datasheet Library
Take a sneak peek at our latest guide
Read This Week's Top 10 Trending Stories
8. Engage Your Audience With Exclusivity
Are you a speaker at an upcoming webinar? Did you just launch an updated product? People love being included in something exclusive, even if it is an event open to all. Make your readers feel special because the outcome can be pretty powerful when trying to increase open-rates.
Effective Subject Line Examples:
You're Invited: Our First Virtual Networking Event This Year
An exclusive invitation for our favorite customers
Restock Alert! Limited Quantities Of Our High Performance Adhesives
9. Ask A Question
Questions give your readers a reason to explore your message further. They offer an instant dialogue, increasing the likelihood of opening your email.
However, don't write a question in the subject line of your email and let that stand alone as the whole email message. B2B emails are not text messages.
Effective Subject Line Examples:
What are our most popular components?
Painted Vs. Unpainted Panels: Which Would You Choose?
Is your website generating leads for you?
How Effective Are Your Emails?
According to MailChimp last year, the average open-rate for an email in the manufacturing sector is 20.5 percent.
Finding the best email subject lines that work for your business involve some testing, so be patient. When you find a subject line that works, stick with it. It's important to remember that many factors go into email engagement rates, like the timing of your send, who the email is from, and the design of your email.
Testing helps identify what you can improve on, and your best-performing content to implement the tactics that will be the most engaging and generate high-quality leads.
STATS: Check out our Industrial Marketing Benchmarks blog to see how your email efforts compare to the rest of the industry
If you're struggling to increase your engagement rates or you've hit a hard writer's block, refer back to the audience you're trying to reach.
Establishing a well-thought-out buyer persona and understanding their needs, challenges, and habits will allow you to more effectively reach your target audience with content that is made just for them, increasing your chances of turning leads into customers.
For example, a design engineer's job is primarily concerned with form, fit, and function. The product data you send to engineers likely wouldn't interest a procurement manager seeking information on the cost, quality, delivery time of your services. Segment your email lists to increase your engagement rates.
Want more marketing tips customized for your needs?
Thomas offers a free digital health check to see exactly how your online efforts can improve to get more engagement from engineers, procurement professionals and MRO managers. Degreed engineers support our industrial marketing experts to understand the audience you're trying to reach and can help you generate high-quality leads.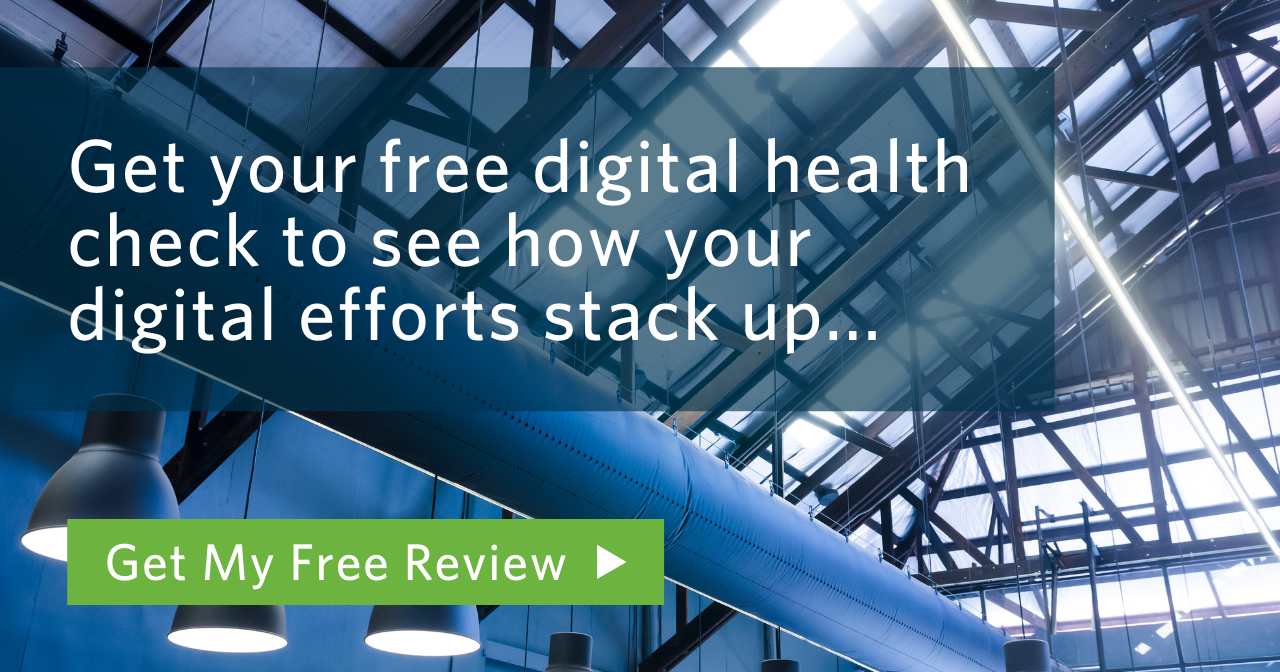 Did you find this useful?