Thomas And BIMobject Kickstart MEP Partnership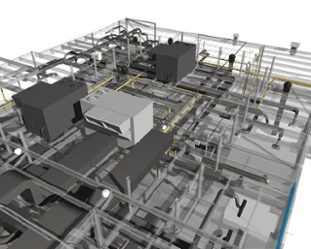 As the commercial construction market rebounds, new projects are being executed using the latest BIM tools. AEC firms have committed to the BIM process and are increasing their demand for manufacturer-specific BIM objects to meet the demands of their projects.
Thomas and BIMobject, both leaders in digital marketing solutions, announced a new partnership to help mechanical, electrical and plumbing (MEP) manufacturers become BIM-ready. With a growing audience of registered users, BIMobject consolidates an audience of AEC professionals that Thomas' manufacturer community is ready to serve.
Our goal is helping manufacturers acclimate to the latest online sales practices and demands for digitized product information. Our company has over 110 years of experience driving leads and promoting awareness for diverse industry professionals; with our recent partnership with BIMobject, we intend to carry on this history of success within the AEC industry.
BIMobject is Europe's largest, most expansive web destinations specializing in content for Building Information Modeling (BIM) solutions—these solutions are utilized to design, build, and manage construction projects of across the globe.
Thomas and BIMobject are known for providing world-class digital marketing solutions to building product manufacturers and their customers – architects engineers and contractors. These industry leaders are excited to join together and focus their efforts on making building product manufacturers BIM-ready in all of the markets and software platforms they need.
According to David Bandi, Director of AEC/BIM Solutions at Thomas, building product manufacturers, especially in MEP face distinctive BIM challenges.
"Products are often highly configurable with detailed performance characteristics and connections," he said. "BIM users in MEP need a variety of file formats and a deeper set of details to commit products to their projects."
The partnership between our two companies will bring innovative technologies and strategies to engineers, fabricators, and contractors. Thomas and BIMobject will enable manufacturers to provide several formats of BIM data. Additionally, manufacturers will be able to generate high quality leads as they broaden their audience through—over 115,000 registered users are accessible through the BIMobject portal.
"We are excited about this new partnership with Thomas," says BIMobject Inc. President Alan Akman. "Our solutions can increase a manufacturer's ROI through extended reach and an ability to capture revenue opportunities from BIM projects."
Contact Thomas today to learn how our partnership can manufacturers gain visibility and market insight through a powerful analytics dashboard and CRM integration. We also invite you to check out our eBook, Becoming BIM-Ready: The Risk of Doing Nothing, to see how leading BPMs are utilizing the latest lead generation technology.
Did you find this useful?