Supporting Women in Manufacturing
A previous WiM Summit keynote speaker, Linda Hubbard, Carhartt president and COO, stands with her fellow team members. This year's summit brings speakers from Lexmark, NASA, Ford Motor Company and more.

There's an alarmingly low rate of women in manufacturing — 27 percent of the workforce, to be exact. As minorities in a big industry, women have sought out a place to find mentorship, support and networking, and they've found it in "Women in Manufacturing."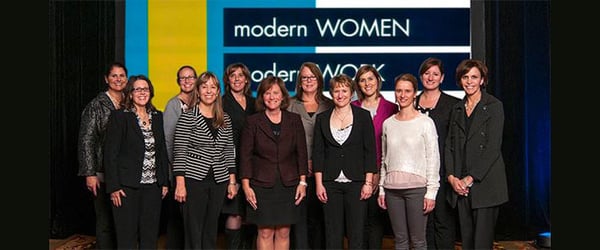 The national organization brings together more than 500 women who want to "share perspectives, gain cutting-edge manufacturing information, improve leadership and communication skills, participate in sponsoring programs and network with industry peers." And according to WiM Minnesota founder Peggy Gulick, there is no better place to do so.
With the annual Women in Manufacturing Summit slated this week, we wanted to sit down with Gulick (who is the Director Business Process Improvement at AGCO Corporation) to talk about WiM, the gender gap, stereotypes and successes — check out our chat with her below.
JS: Let's start off by talking a little bit about Women in Manufacturing and how you fit in: What's your role, and what makes you excited to be a part of this organization?
PG: My name is Peggy Gulick. I work for AGCO. We make tractors.
I joined Women in Manufacturing in March of 2014. Although I did not join to fill a gap, it was immediately obvious that the organization had tools and channels that I had been lacking that fortified my skills and offered critical networking and career advancement opportunities. Realizing the value of the organization, in March 2015, WiM President Allison Grealis sponsored my local team as we chartered the first Minnesota Chapter of Women in Manufacturing.
Women in Manufacturing has significantly broadened my professional world, especially through my ability to network with manufacturing industry peers. The organization has allowed us to host industry leaders, from Senators to passionate laborers, reminding us of our value, limitless potential and incredible impact we are making on the world.
It is impossible not to be motivated by the collaborative energy that ensues when a group of diverse employees, sharing one common goal—to make things—gathers together and discusses the future. WiM has opened doors that have allowed me to hone my skills and share my experiences, inspire and be inspired. When I leave WiM sponsored events, I am empowered, united and centered.
JS: There's a lot of talk about the gender gap in manufacturing. What positive steps are you seeing to bridge this? Why is an organization like Women in Manufacturing an important part of this?
PG: Workplace cultures can both constrain and enhance people's performance and interactions while at work. Knowing that it is ineffectual to stand by and blame culture and society for the gender gap, AGCO takes a stand on orienting the culture towards gender equality, specifically through hiring, supporting and advancement strategies. Our local Minnesota WiM chapter also ascribes to working with young people to open their eyes to career choices that are future-oriented, regardless of their gender. We take advantage of WiM channels and resources regularly to advance our women's power of networking, mentoring and coaching opportunities. The ultimate takeaway from WiM, for us, has been the visible level of confidence building and subsequent career development planning.
JS: Why should women join Women in Manufacturing?
PG: Aside from Women in Manufacturing being the only national directory for women in the industry, Women in Manufacturing is a great way to network, engage with other women in the industry, do business and ultimately support, promote and inspire yourself and other women in the industry.
JS: What is Women in Manufacturing's "goal"?
PG: Great question! I believe there are multiple goals, all built around giving women the tools and support that they need to break the gender stereotype in their individual workplaces. Women in Manufacturing brings awareness while creating alignment and advocacy among the women in its organization.
JS: With so many negative stereotypes and misconceptions about women working in manufacturing, how does WiM work to overcome this?
PG: Women in Manufacturing teaches women to see themselves, and be seen by others, as leaders. Through the organization, women learn to actively and constructively address workplace cultures and policies that can be barriers between how they are perceived and the qualities people associate with leaders.
JS: Are you excited about the surge of STEM education support? Do you think more needs to be done to attract women — especially younger women — to the industry?
PG: I am THRILLED with the surge of STEM education and especially focused initiatives directed towards females in Science, Technology, Engineering and Mathematics. Although women have made incredible gains in education and workforce status in the past decades, progress is still uneven and men still dominate in many of the engineering and science disciplines. Women bring new dimensions of innovation and even competitiveness to these dominantly male lead fields. We also cannot ignore the fact that women's opportunities to excel at professions in STEM will diminish the gap in pay equity.

My eldest daughter, of four, is pursuing an education and career in Astrophysics. I also have a budding Veterinarian, an aspiring Editor-in-Chief and a future POTUS. As a believer in both nature and nurture, my husband and I have given all 4 of our daughters every opportunity possible to follow their passions and enhance their skills. STEM is a critical component to their futures.
JS: Can you also speak to the upcoming Women in Manufacturing Summit? What can attendees expect?
PG: That's easy. High energy, incredible success stories, open doors and both business and personal networks that will last a lifetime. Many women do not even realize the gap between their status/position and their contribution/impact. I can attest to the fact that I was one of them. It took me a few dedicated, get-er-done years at my last company before I realized that I had been giving 100% to the company without any personal aspiration or notable moves to reach the next level in my professional path. By recognizing this and changing my strategy, it became a win for both myself and the company. Presentations and casual discussions at WiM summits remind me of simple practices enhancing work and life balance while also introducing new skills.
JS: Taking a step back here — can you talk a bit about the background of Women in Manufacturing and what projects/initiatives are currently being implemented?
PG: Women in Manufacturing is the go-to resource and support network for women in the field. Through their Community Chapter initiative, WiM connects women at the local level by coordinating events, networking and mentoring. WiM-sponsored events include conferences, plant tours, social events, round tables and speaking events. The Center for Women in Manufacturing is another project that they have been diligently working on. The Center is an online, all-inclusive resource for WiM members, and will be comprised of monthly webinars, their blog, online issues of their IMPACT magazine, numerous educational and training resources, professional contact lists and more.
Their mentorship program is another initiative that is highly valuable for members. The ability to connect with other women, who represent all levels and industries within manufacturing, is incredibly beneficial for personal and professional development. Women join from all around the country for the numerous opportunities WiM provides.
For more information on Women in Manufacturing, visit their website. And look out for the #WiMSUMMIT hashtag this week on Twitter for the latest updates from the summit.
Did you find this useful?