What You Need to Know About Growth-Driven Design
It's no secret the concept of growth-driven design has been shaking up digital marketing, but specifically in our manufacturing and industrial space, it has been a game-changer.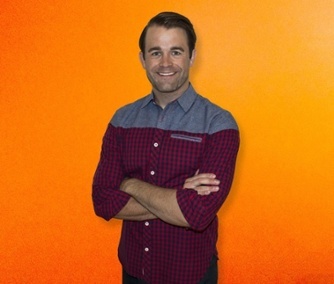 Early adopters have been excited to toss out the rigid, "one and done" process with web design in favor of flexibility, growth and changes based on data and performance.
We discussed the basics and the benefits in a blog titled "What Is Growth-Driven Design?" but thought it'd be good to bring some additional insight. So we thought: Who better to chat with than the person who literally wrote the book on growth-driven design?
Meet Luke Summerfield. He's HubSpot's Partner Program Manager and Growth-Driven Design Evangelist, and he's here to chat about HubSpot principles, web design and his "light bulb" moment.
JS: Can you talk about your first experience with growth-driven design?
LS: While working at a previous company a few years ago, one of my primary responsibilities was trying to improve efficiencies. I noticed we always had to budget extra time and money when designing websites for our clients, and it was the norm for those projects to be out of scope and delivered late.
I saw firsthand all the problems and challenges with the traditional web design model, so we worked to improve the process. Once we had the concept of performance-based updates and website improvements, we started to pitch it, and the reaction was overwhelmingly: "Why were we not doing this before?"
JS: Did you have any previous experience with this mindset?
LS: A lot of the concepts in growth-driven design come from lean software development principles and how startups are built and grown. The terminology can be very technical and software-y, so we wanted to make it a little more marketer- and boss-friendly. For example, instead of saying "minimum viable product" we say Launchpad or Foundation Website.
JS: What was your "ah ha!" moment with this idea?
LS: In talking to a lot of industry people, I realized this wasn't just our problem — it's an industry-wide one that everyone was struggling with. That was the light bulb moment, and it got the gears turning that I could take that idea and run with it.
JS: Why do you think there has been so much excitement around this tactic?
LS: For the marketer, any time the word "website redesign" comes up, whether it's consciously or subconsciously, they think it's going to be a pain in the ass.
Prior to growth-driven design, we had always accepted that's the way things are, but all of those headaches and things we hated about web design are all mitigated or minimized with this system.
We're no longer guessing on what we're doing. We're making decisions based off of user data and user behavior and continuously improving month over month — you don't have to shift your time and energy for effective web design, and it's very appealing to marketers.
JS: What would you say to those companies that are hesitant to invest in updating their websites because of the "if it ain't broken, don't fix it" mentality?
LS: Your founder Shawn Fitzgerald has a great manufacturing analogy for this one: No machine is ever set up correctly the first time; it needs to be adjusted to work at peak performance. Over time, every machine needs testing to ensure ongoing optimal performance and identify required maintenance — and it's exactly the same principles for your website. It can work really well at the beginning, but it's not going to be the best unless you continue to improve.
JS: You've been doing a lot of traveling and speaking on growth-driven design — what's the most interesting reaction or thought you've had about this concept?
LS: Growth-driven design is so similar to inbound marketing in theory. Prior to the widespread adoption of inbound marketing, people were doing email marketing or social media but not creating a coherent playbook. For growth-driven design, people were — and are — doing bits and pieces of testing and analysis on little usability and conversion optimization but not bringing it all together.
JS: Anything else you want to add for our readers?
LS: You've seen the success with inbound marketing — and the playbook for growth-driven design is very similar. It's a methodology and a process that can be applied to all aspects — business or personal. It's kind of a lens to look at the world and approach building something that could be applied to anything.
Want more insight on growth-driven design? Get in touch with someone on our team.
Did you find this useful?