Everything You Need to Know About Manufacturing Day 2016
Manufacturing Day is an annual North American celebration of modern industrial manufacturing, intended to shake off the industry's antiquated reputation by educating and inspiring the next generation of innovators and manufacturers.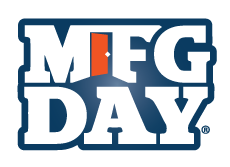 While the official day is typically celebrated on the first Friday of October — this year's MFG DAY is October 7 — companies and communities are encouraged to schedule events throughout the week or even the month to encourage maximum participation and insightful experience. (Last year's event hosted more than 400,000 attendees!)
So whether you're a seasoned engineer hosting an event or a curious student looking to explore what the industry has to offer, MFG DAY has something for you. Here's everything you need to know about this year's activities:
There are over 1,300 unique events, and counting.
Across Canada, the United States, and Puerto Rico, participants can browse a multitude of in-person and virtual events – from talk series' and career expos to shop tours and tech demonstrations – to find one that best suits their manufacturing journey.
Anyone can host an event.
No matter the topic, location, or audience size. By registering your event on the MFG DAY website, the national co-producers will provide you with event planning resources to help your event shine.
It will help change the public image of manufacturing.
Of last year's 400,000+ program attendees, 81% reported being more convinced that manufacturing offers interesting and rewarding careers and 71% said they would spread the word about the industry.
There are scholarships for aspiring manufacturers.
More than 25 different trade schools, universities, and technical and community colleges are offering scholarship opportunities to high school and post-secondary students interested in manufacturing and engineering.
It's government backed.
A number of state, county, and city officials have made proclamations making MFG DAY an official celebration. Visit the map to see if your community is among them.
We're is proud to be a part of the industrial manufacturing industry every day, but we're especially excited to celebrate MFG DAY with a staff party on October 7. (We'll definitely post pictures on social media!)
To learn more about the event and register for the day's activities, visit the official MFG DAY website today.
Did you find this useful?