The Latest On Manufacturing Reshoring
There's been a ton of speculation on the state of U.S. manufacturing over the past few years, especially as reshoring initiatives continue to gain traction across different industries. According to the Reshoring Initiative, an organization that helps U.S. manufacturers pursue and realize the benefits of reshoring, combined reshoring and related foreign direct investments (FDI) announcements are up 2800% since 2010.
Reshoring — bringing operations back to domestic soil — can be hugely beneficial in today's shifting economy and ever-evolving industrial landscape, allowing for simplified supply chains, more reliable delivery timelines, and better process oversight.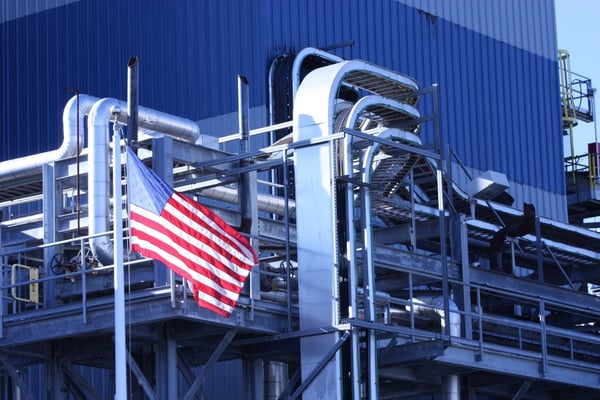 So what's the latest when it comes to the state of reshoring, and what does this trend mean for your business? The Reshoring Initiative took a deep dive in their 2017 Data Report. Here are some highlights:
A Look At Reshoring By The Numbers
In 2017, 90% of all jobs added to the manufacturing sector could be directly attributed to FDI and reshoring initiatives. This uptick may be due in part to anticipation of the corporate tax and regulatory cuts that the 2016 election results made imminent.
This shift occurred relatively quickly: In 2015, the U.S. reached parity between offshoring and returning jobs, and 2016 was the first time since 1970 that the United States reshored more jobs than were lost to offshoring.
Analyzing 2017 results, we see that the number of job announcements due to foreign investments and reshoring has grown at the fastest rate in history.
2017 also saw a gargantuan rise in non-petroleum goods imports, up to $91 billion from the previous year — approximately nine times the increase from 2015 to 2016.
This uptick was likely due to:
A flush economy that was consuming more imports
The increasing cost of offshored goods combined with a U.S. dollar that was slightly down
Anticipation of tariffs
Bringing Jobs Back To The U.S.
Keeping in mind the U.S. trade deficit of $500 billion, an estimated 3 to 4 million jobs can still return to domestic soil.
Here's why, according to Reshoring Initiative:
The "Made in USA" brand value is increasing by leaps and bounds. Buyers are increasingly well-informed; many don't like the idea of supporting factories that exploit the workforce in developing nations, while other consumers seek out U.S.-made goods in the name of patriotism. To meet customers' shifting demands, many retail giants, like Walmart, have made the decision to stock and prioritize the sale of all-American goods.
Wages in developing countries are rising. And navigating delivery times and taxes in these regions can be extremely challenging. In many instances, it's more affordable to make use of additive or automated manufacturing technologies on domestic soil than it is to recruit and maintain an increasingly expensive workforce offshore.
Companies from countries like Germany, where brand USA holds less appeal, are coming forth with significant foreign direct investments, availing themselves of lucrative tax benefits and government incentives.
FDI And Reshoring Highlights
By Industry
In industries dealing with high-volume, heavy minerals, or those involving low-volume, custom applications, offshoring never presented enough benefits to prove worthwhile.
But other industries, like the apparel and technology sectors, have traditionally embraced offshoring. And now companies in these fields are increasingly turning to reshoring initiatives to improve brand perception and capitalize on shifting consumer preferences.
By Technology
High-tech and medium-tech industries are embracing reshoring, generating most of the jobs in the U.S. economy. These sectors are attracted by the promise of better R&D funding and higher pay for the skilled workforce.
By Region
China, Mexico, Japan, Canada, and Spain — the countries that have benefited the most in the era of offshoring — have been seeing companies leave in record numbers.
In the U.S., the South has emerged as the clear winner, welcoming 62% of all the FDI and reshoring jobs over the past seven years.
Learn More
As the industrial landscape continues to change due to changes in politics, technology, and the manufacturing workforce, manufacturers will need to adapt in order to keep their companies ahead.
One way to stay ahead of the competition is developing a strategic, tactical digital marketing strategy that is designed to evolve as your business needs — and competitive landscape — change. If you need help creating one, get in touch with the experts at Thomas Marketing Services.
Did you find this useful?