New York Industrial/B2B Buying Trends
What's trending with B2B buyers in New York State right now? What products and services are experiencing a surge in demand?
To find out, we took a comprehensive look at the buyer behavior data generated on Thomasnet.com to uncover supply chain trends in New York.
If you are a manufacturing company located in NY, or if you provide products or services to companies Albany, Syracuse, Ithaca, or anywhere else within the state, this data can help you better connect with new buyers and put your company in position to grow.
How We Get Our Data

Top 10 Products Or Services Sourced By Users Located In New York
When industrial/B2B buyers in New York visited Thomasnet.com over the last 12 weeks, these were the products and services that they searched for the most: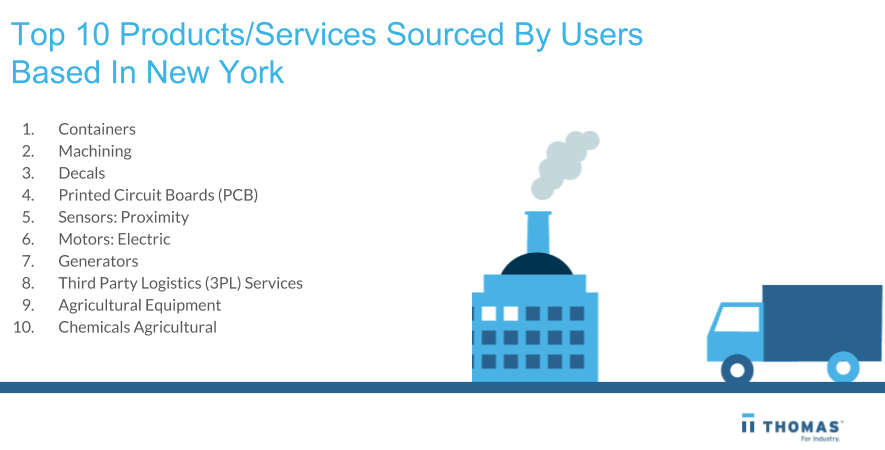 How Does New York Sourcing Activity Stack Up To National Trends?
The supply chain in New York looks very different than the supply chain across the country. Just two of the most in-demand products and services (Machining and Printed Circuit Boards) within the state are also among the most in-demand products and services nationally.
If you are a New York supplier who offers these capabilities, you should look to take advantage of the demand by taking a proactive marketing approach. That means investing in PPC ads, promoting your products and services using video, and making sure that in-market buyers can find you.
If you offer any of the other products or services on the list, then you have a unique opportunity to connect with the local buyers who are looking for a partner like you. Take advantage of the opportunity with targeted PPC ads and smart, industrial-focused retargeting.
Learn More About Sourcing Activity In New York
Want to take a deeper dive into the buying trends shaping New York's supply chain? Download our free report — New York Industrial Buying Trends — to uncover:
Which products and services have seen demand grow the most over the past year
The products and services that are surging right now
National sourcing trends that are influencing the local supply chain
And more
Did you find this useful?