Texas Industrial/B2B Buying Trends
What are industrial and B2B buyers in Texas looking for right now?
As a supplier, knowing the answer to this question can be incredibly powerful. By understanding which products and services are in demand, you can put your company in prime position to connect with new buyers.
Thomas recently examined buyer behavior data generated on Thomasnet.com to uncover supply chain trends in Texas. If you provide products or services in Austin, Houston, San Antonio, or other cities within the state, this data can give you a distinct competitive advantage.
How We Get Our Data

Top 10 Products Or Services Sourced By Users Located In Texas
When industrial/B2B buyers in Texas visited Thomasnet.com over the last 12 weeks, these were the products and services that they searched for the most: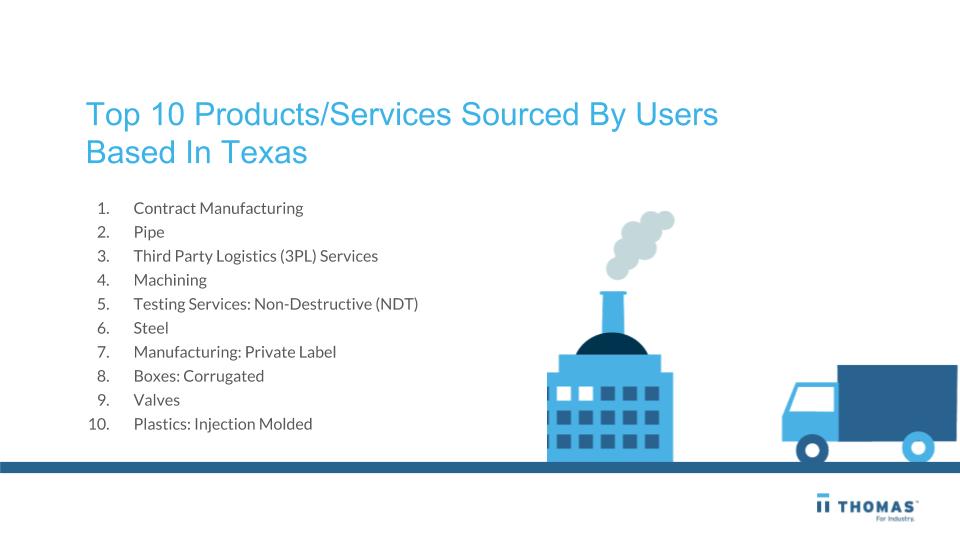 How Does Texas Sourcing Activity Stack Up To National Trends?
Half of the top ten products and services in demand in Texas are also among the ten most in-demand products and services nationwide.
Contract Manufacturing, Machining, Steel, Corrugated Boxes, and Plastic Injection Molding are experiencing a surge both locally and nationally. If you are a supplier with capabilities in these areas, you want to do everything you can to connect with these in-market buyers while they are looking for what you offer.
Along with listing your business on the world's leading platform for product discovery and supplier selection, you may also want to consider a pay-per-lead strategy to get marketing-qualified leads right away, without the need to ramp up your content.
The other five trending categories are exclusive to Texas, which means that they represent unique opportunities for suppliers who are located in the state, as well as for those who service buyers in the area. To target these local buyers, you should explore different advertising options, including PPC and prospect retargeting.
Learn More About Sourcing Activity In Texas
Want to take a deeper dive into the buying trends shaping Texas' supply chain? Download our free report — Texas Industrial Buying Trends — to uncover:
Which products and services have seen demand grow the most over the past year
The products and services that are surging right now
National sourcing trends that are influencing the local supply chain
And more
Did you find this useful?