THOMASNET.com Version 3 Is Now Live!
Business never shuts off — a supplier evaluation is performed every 2 seconds on THOMASNET.com! We are constantly developing new ways for engineers, procurement managers, and MROs to better access data on the platform. That's why we just launched THOMASNET.com Version 3.
The following is an overview of the improvements included in this release:
Home Page
Our goal is to provide buyers and engineers with immediate access to the data they need to get the job done.
The new home page of THOMASNET.com has been simplified to provide a single location to search across multiple platform resources. As terms are entered into the search box, suggestions for products and services, company names, and product catalogs are provided. If a term happens to be spelled incorrectly, the data driven smart engine of the platform analyzes the entry and matches it to the most applicable of 60K+ industrial classifications to deliver options in a "Did You Mean?" result.
The home page design allows for greater flexibility and agility to updates moving forward. For this reason, it was replicated on the main pages for Product Catalogs, CAD Models, Diversity, and Custom Quotes.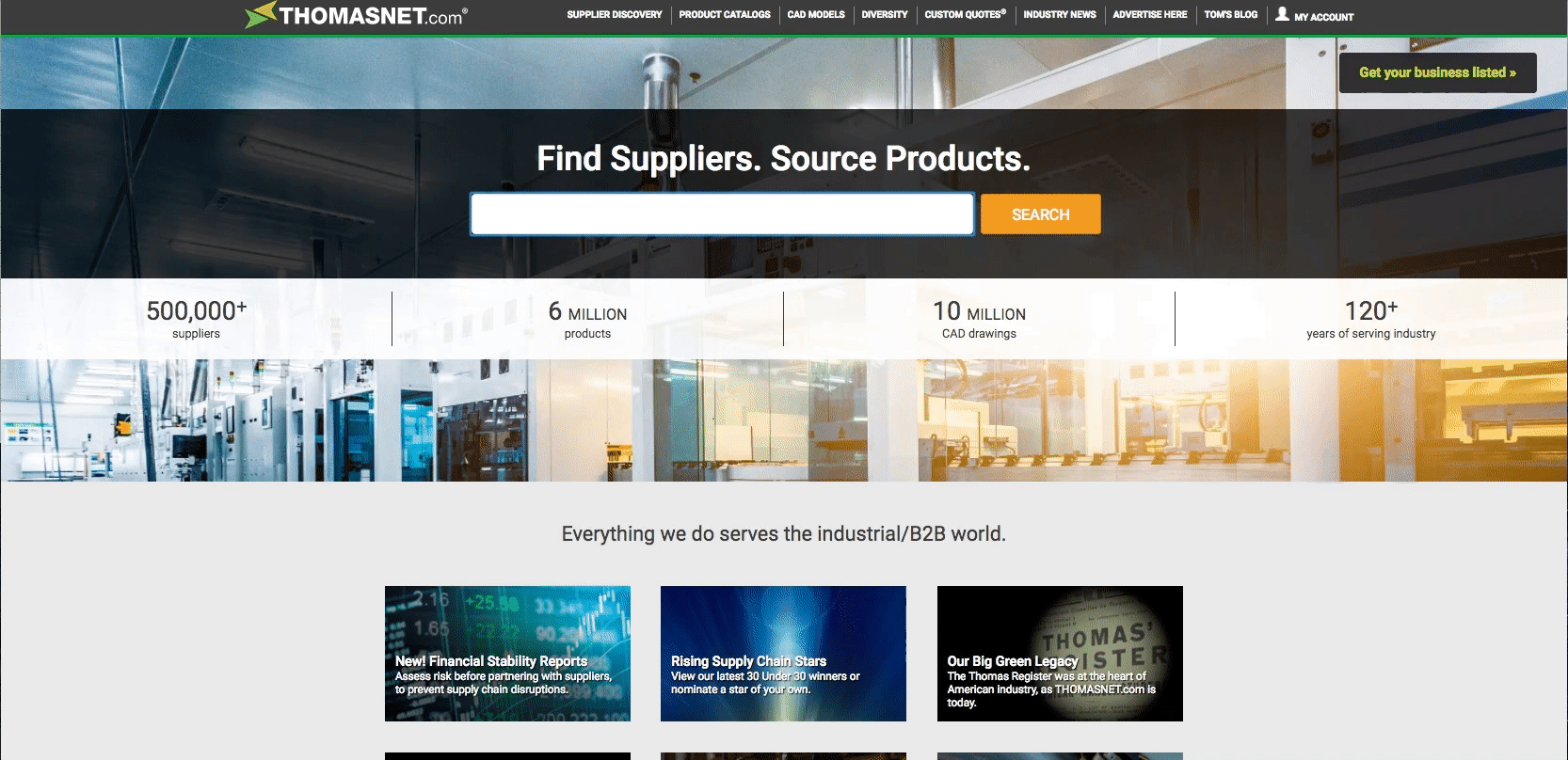 Diversity
Large buying organizations have diversity requirements for their supply chain.
The "Quality & Diversity" resource section on THOMASNET.com has been repositioned to focus on supplier "Diversity." This adjustment will provide clearer access and more opportunities for Diverse Suppliers to be found by organizations looking for women owned, minority owned, veteran owned, or small disadvantaged business owners.
Supplier Discovery Result Pages
Users frequently conduct searches for product or service suppliers in very specific areas. As the target geography shrinks or the product or service becomes more niche, the list of possible suppliers can be exhausted quickly.
In an attempt to provide greater options, Version 3 of THOMASNET.com now adds an "Additional Supplier" section after the last result for a specific geography. The suppliers are pulled from surrounding geographies, have been verified by the editorial team, and contain the most relevant information available to continue sourcing.
Supplier Profile Page
Supplier profile pages provide a high volume of data. The redesigned supplier profile page organizes the breadth of information available in a more accessible way. The page provides more data on initial load and allows the user to scroll through clearly defined areas for each content section. In response to the needs of the marketplace, Version 3 also provides easy access to Supplier Evaluation & Risk Reports. These reports combine detailed company and capabilities information from THOMASNET.com with in-depth supplier risk data from Dun & Bradstreet to help buyers minimize risk in their supply chains and start better B2B relationships. In addition, the company name, address, and "Contact Supplier" call to action are included in a header, which remains available as you scroll through the information.
These updates will serve as a first step toward enhancing the user experience and interface of the platform. We will continue to develop new and better ways to access the data on 500K+ suppliers, 10 million CAD files, and 6 million product specs on THOMASNET.com.
Going forward, we will be releasing updates on a weekly basis to make your day just that much easier. THOMASNET.com is always on and open for business — visit us anytime.
NOTE: The current version of the Thomas Network is 4.0, which was updated January 2018.
Did you find this useful?