Wisconsin Industrial/B2B Buying Trends
If you are a manufacturer or industrial supplier that serves the Wisconsin area, wouldn't it be great to know what buyers in your region are looking for? This way, instead of anticipating their needs, you can be meeting their needs — and winning their business.
Thomas recently examined buyer behavior data generated on Thomasnet.com to uncover supply chain trends in Wisconsin. If you provide industrial products or services in Madison, Green Bay, Eau Claire, or other cities within the state, this information could prove pivotal in connecting with more buyers.
How We Get Our Data
Top 10 Products Or Services Sourced In Wisconsin
When industrial/B2B buyers in Wisconsin visited Thomasnet.com over the last 12 weeks, these were the products and services that they searched for the most: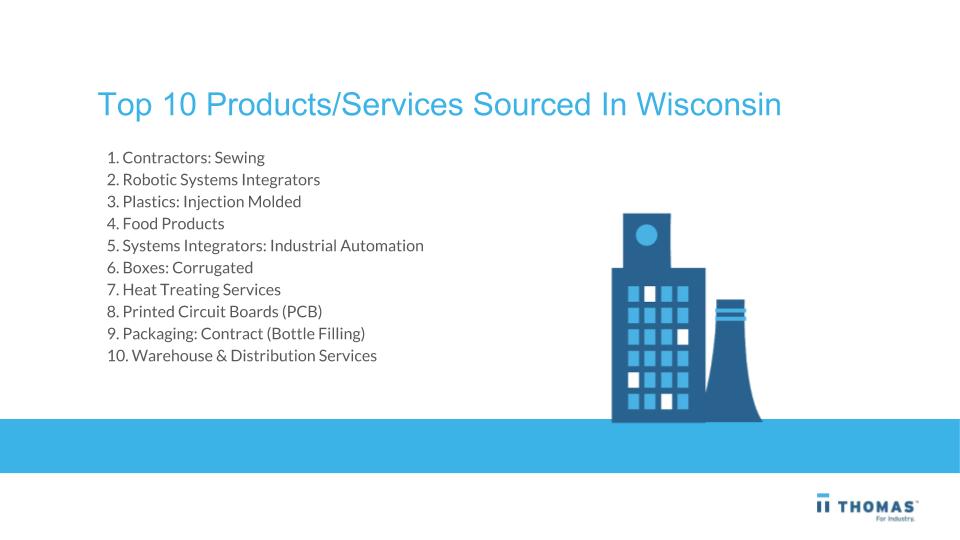 *Top 10 Products & Services Sourced Across North America
Find Out How Wisconsin Sourcing Activity Stack Up To National Trends?
Want to take a deeper dive into the buying trends shaping the supply chain across the country and within Wisconsin? Download our free report — Wisconsin Industrial Buying Trends — to uncover:
Which products and services have seen demand grow the most over the past year
The products and services that are surging right now
National sourcing trends that are influencing the local supply chain
And more
Did you find this useful?