The Digital Marketing Skills You Need To Succeed
In the old days, marketing was about brochures and word-of-mouth referrals. Some of the morevisionary types found a guy to dress up like a chicken and dance on the side of the road. These days, though, the internet is the medium of choice, which means companies have a much broader reach. But it also means that it's going to take a lot more than dancing chickens to be successful.
In this digital-driven landscape, success requires a particular set of skills, like these:
Web Design & Development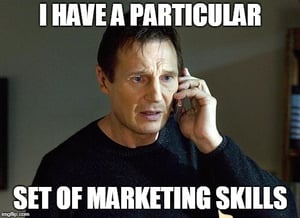 In today's world, companies without a website might as well not exist. But just having a site isn't enough; it needs to be technically on point, visually engaging, and fine-tuned for conversion. Thus, website design and development actually requires a variety of skills in different disciplines, including:
User Experience: Your website is not merely a showcase for your products and services; it is a tool that prospective customers utilize to learn more about you, evaluate your capabilities and, ultimately, choose to do business with you. Your site needs to make this journey as smooth and seamless as possible, while offering the best experience for your visitors.
Web Design: A major component of the user experience is how your site looks. It should be professional, clean, and represent your brand. Designing for the web is a completely different animal than creating brochures and fliers, however, so keep that in mind.
Coding: Knowledge of different coding languages and techniques — CSS, JQuery, JSon)

—

is essential to bringing your website to life. It's also imperative that your team has knowledge of the latest protocols and trends in order to make sure that your site is mobile friendly, secure, and compliant with the latest best practices. And if you want custom applications, like calculators, maps, etc., keep in mind that those require some heavy lifting and a lot of development hours. Plus, while out-of-the-box solutions like Weebly and SquareSpace provide a nice foundation for a website, platforms like HubSpot, Wordpress and Joomla offer infinitely more possibilities, it takes a skilled developer to get the most out of them.
If you're looking to outsource your web design and development work, find a trusted expert who can deliver the results you want. Your brother-in-law who dabbled in website building in college probably doesn't have the skills you're looking for; in the long run, you'll only be wasting time and money working with subpar contractors. Do yourself — and your clients — a favor, and hire a professional.
Writing & Editing
Content is the heart of inbound marketing. High-quality, engaging, and helpful eBooks, blog posts, white papers, and so on can go a long way in turning prospects into customers. Of course, well-written content is free of grammar and syntax errors. However, that's the bare minimum.

Your writers must be able to connect with your prospects on an emotional level. This requires an understanding of them and their personas, as well as a persuasive and engaging writing style.

Skilled copywriters and editors can also seamlessly integrate SEO keywords into your content, without making it look like it was pieced together by a malfunctioning robot. Speaking of SEO ...
SEO
Your website may be bursting with valuable content and beautiful design, but it's useless if nobody can find it. Search engine optimization (SEO) is critical for driving targeted, valuable traffic to your site, allowing you to reach the users most likely to become buyers. SEO — using specific, relevant keywords in your content — helps your site stand out, making it more likely to be picked up by the Google algorithm.
SEO is as much an artform as it is a science. It requires an intimate understanding of the latest algorithm changes and ranking factors, as well as an ability to translate that information into digestible information to engage real, actual humans — not just trick website crawlers or bots.
Do you have someone on staff who can handle this? If not, you should consider working with an outsite marketing agency.
Social Media Savvy
Facebook, LinkedIn, Twitter, Instagram, and other social media platforms are often last-minute consideration when putting together a marketing plan. But there's real value in establishing a solid presence on social media; any company — whether B2B or B2C — can leverage these platforms to reach and retain their customer base while also driving new sales. Posting informative content and interacting with fellow industry professionals not only helps you gain visibility, it also helps establish you as a trusted leader, a company people can turn to for advice and troubleshooting.
Social media may sound more fun and intuitive than other marketing jobs, but don't give this task to just anyone who knows what a hashtag is (#mistake). Make sure the person in charge of your accounts truly understands the complexities of social media marketing and is aware of current best practices.
SEM Campaigns
SEM (search engine marketing) advertising expertise is also essential to modern marketing success. A paid marketing technique, SEM promotes websites by increasing their visibility in search engines. Through SEM, users searching for products related to your brand's offerings will be targeted with ads for your company; this can effectively increase your site traffic and get you valuable new leads.
Successful SEM campaigns involve continual testing, data collection, and analysis of user behavior in order to make necessary changes and improvements; through a well-planned SEM strategy, companies can start seeing return on investment (ROI) quickly. Sounds pretty good, right? While purchasing these ads is quick and easy, it's critical to work with a professional who understands the ins and outs of this strategy and can ensure a high ROI. Otherwise, you'll just be wasting your money.
Marketing Technology
As more and more companies adopt digital marketing techniques, more and more technology solutions are popping up to make their lives easier — and make some revenue in the process. These solutions are generally referred to as Marketing Technology, or MarTech, for short.
Today, there are, literally, thousands of MarTech solutions in the marketplace. A skilled MarTech professional keeps current on the latest offerings, and will be able to determine which tools are right for your organization. They can also ensure that they are set up and utilized effectively, liaising with people in IT, compliance, and sales to ensure that it meets everyone's needs.
Learn More
If you're looking for serious growth and you want to remain competitive (and we're assuming you do), then you'll need some serious skills to make it possible. If you're like most manufacturing and industrial companies, then chances are you don't have these skills in house.
If you need some backup, we can help.
Our team of industrial marketing experts can help you meet your goals, and you won't have to deal deal with the headache of hiring, training, and managing an in internal team. Plus, working with a qualified marketing agency will cost you about the same amount of money as it would to hire just one new employee who is an expert in just one area of marketing.
Interested in learning more about the benefits of teaming with a marketing agency? Contact Thomas Marketing Services today to discuss your options.
Did you find this useful?