Manufacturing Industry Jobs Update: August 2016
At THOMASNET.com, we are big champions of American manufacturing and reshoring. In fact, we work with suppliers who produce amazing products made in America every day, and we play an instrumental role in helping small- and medium-sized suppliers grow.
But how can we measure growth for the industry overall? A good barometer is the state of the manufacturing workforce. That's why we will be regularly diving deep into the latest information from the Bureau Of Labor Statistics to take the pulse of hiring in the industry and to highlight sectors that are growing.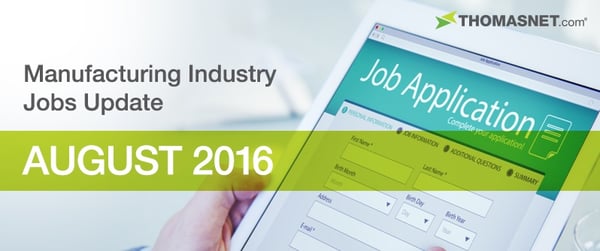 Here is our Manufacturing Industry Jobs Update for August 2016:
Manufacturing Hiring Seemingly In A Summer Slump
The manufacturing industry unemployment rate fell slightly in August, decreasing one percentage point from 4.3% to 4.2%.

A closer look at the numbers, however, reveals that hiring may not be on the rebound after all. While the industry generated 1,000 new jobs in the aggregate, when adjusted for seasonal fluctuations, the industry actually lost 14,000 jobs.
The slowdown in hiring correlates to constriction in economic activity in manufacturing. According to the latest Manufacturing ISM® Report On Business, economic activity declined in August after five straight months of growth. Hopefully, the decline in hiring and in economic activity are the product of a summer slowdown rather than a more persistent trend.
The employment situation in manufacturing remains stronger than the overall economy, as the national unemployment rate is 5%.

Sectors On The Rise
August proved to be a weak month for hiring in both the durable goods and nondurable goods spaces. The only sector that realized significant (greater than 1%) growth was food manufacturing, with 4,500 new jobs added.

Sectors To Monitor
On the other hand, many sectors experienced significant losses in employment for the month. Perhaps most notable is the 6,400 jobs lost in the transportation equipment field, which erased many of the 10,800 jobs added in the space during July.
Other sectors to monitor include:
Primary metals (2,500 jobs lost)
Printing and related support activities (2,500 jobs lost)
Electrical equipment and appliances (2,000 jobs lost)
Women In Manufacturing
THOMASNET.com proudly supports efforts to increase the number of women in manufacturing. These efforts include engaging young girls in STEM education, professional development and networking groups, and supporting women-owned businesses.
Are those efforts working?
As of August 2016, the percentage of women in manufacturing remained stagnant at 27.4%. Despite the efforts mentioned above, this represents a decline in comparison to a decade ago when women accounted for 28.5% of all employees in manufacturing.

Hopefully, the industry will continue to make strides in bringing more women into the workforce.
Did you find this useful?