Manufacturing Industry Jobs Update: November 2016
At THOMASNET.com, we are big champions of American manufacturing and reshoring. In fact, we work with suppliers who produce amazing products made in America every day, and we play an instrumental role in helping small- and medium-sized suppliers grow.
But how can we measure growth for the industry overall? A good barometer is the state of the manufacturing workforce. That's why we will be regularly diving deep into the latest information from the Bureau Of Labor Statistics to take the pulse of hiring in the industry and to highlight sectors that are growing.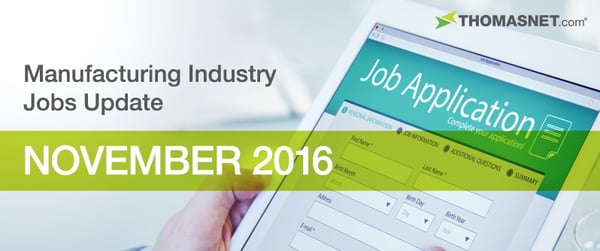 Here is our Manufacturing Industry Jobs Update for November 2016 (scroll down for previous releases):
Unemployment Rate Falls To Nine-Year Low
The latest report from the BLS revealed that the national unemployment rate fell from 4.9% in October to 4.6% in November – its lowest level since August 2007. Meanwhile, a total of 178,000 new jobs were added to the economy in November.
---
"Unemployment rate falls to 9-year low. What does this mean for manufacturing?"
---
Within the manufacturing industry, the unemployment rate also improved modestly - declining from 4.3% to 3.9%.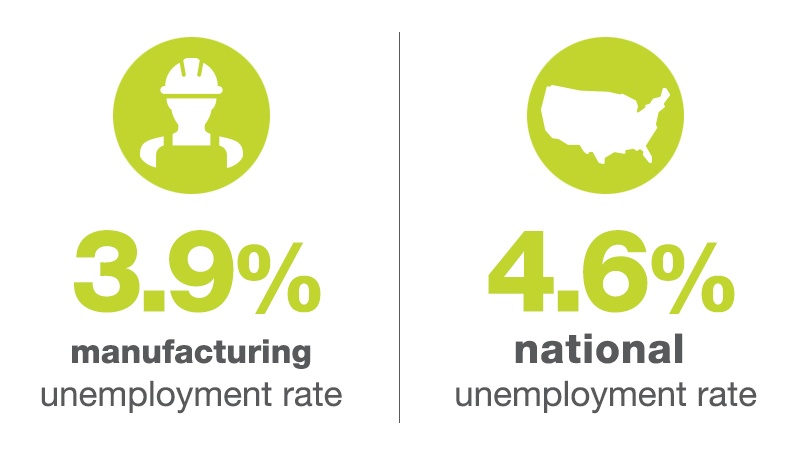 Sectors Experiencing Growth
The Food Manufacturing sector continues to thrive, adding 1,600 new employees in November, marking the sector's third-straight month of growth. Overall, the food manufacturing sector has added 26,800 jobs over the past twelve months – the most of any sector within manufacturing.
Another sector experiencing growth – both year-over-year and month-over-month, is Motor Vehicles and Parts. Twelve-hundred new jobs were created in November, bringing the total number of new jobs created in the past twelve months to 11,100.
Hopefully, the trend will continue as car companies continue to make investments in new plants and production facilities throughout the country. For example, General Motors recently announced that it will invest $334 million in three plants in upstate New York. Other investments have been planned in Kentucky and Colorado.


Other manufacturing sectors on the rise include:
Sectors To Monitor
There were sectors that experienced significant losses in employment in November. The Machinery workforce, for instance, declined by 3,900 jobs.
Where Are The Manufacturing Jobs?
Looking across the country, the bulk of manufacturing hiring activity took place in the Midwest Region. Ohio, in particular, experienced robust job growth, adding 4,700 manufacturing jobs in October* – the most of any state across the nation.
Wisconsin also generated an impressive number of new manufacturing jobs (3,000). Other states in the region that added jobs included Illinois (600), Kansas (600), Michigan (2,700), Missouri (700), Nebraska (500) and South Dakota (400).
While no other region generated manufacturing job growth overall, there were some states that saw industry hiring improve significantly:
Texas (+2,900 jobs)
Kentucky (+2,200 jobs)
Maryland (+1,200 jobs)
Idaho (+900 jobs)
New York (+900 jobs)
New Hampshire (+500 jobs)
Alaska (+500 jobs)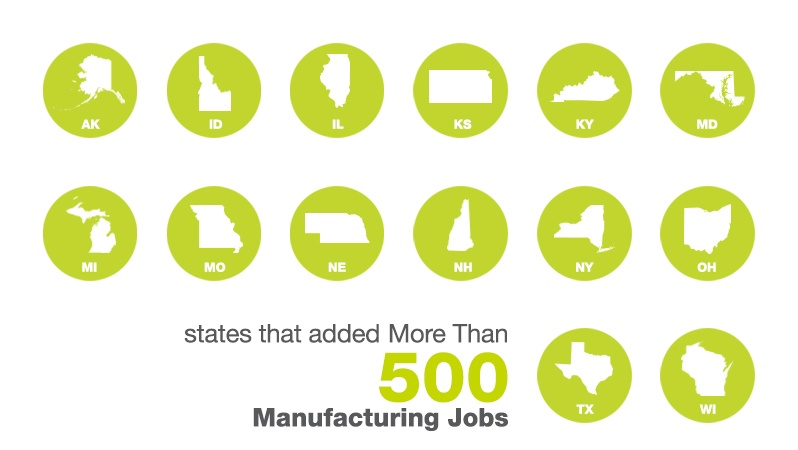 California, however, continues to shed manufacturing jobs. The state lost 2,400 manufacturing jobs in October.
Other Indicators Show Expansion
According to the latest Manufacturing ISM® Report On Business, economic activity in the manufacturing sector expanded by 1.3 percentage points in November. Inventory of raw materials increased 1.5 percentage points, while pricing remained steady.
Women In Manufacturing
THOMASNET.com proudly supports efforts to increase the number of women in manufacturing. These efforts include engaging young girls in STEM education, professional development and networking groups, and supporting women-owned businesses.
Are those efforts working?
As of November 2016, the percentage of women in manufacturing rose incrementally to 27.5%, up only a tenth of a percentage point from October. Despite the efforts mentioned above, this represents a decline in comparison to a decade ago when women accounted for 28.7% of all employees in manufacturing.

Hopefully, the industry will continue to make strides in bringing more women into the workforce.
*Regional and State Data Is Only Available For The Previous Month

Previous Releases:
Did you find this useful?