The Oversight That's Damaging Your Company Website
You think your website is great. You haven't updated it in a year or two, but you're getting decent traffic and a handful of RFQs each month. You've got products, a flashy video and a lot of text on the homepage.
Overall, it works, so no need to make any improvements, right? Wrong.
For years, manufacturers and industrial companies have insisted on bloating their homepages with product and certification information, part numbers and company insight — and then it just collects dust.
From an SEO standpoint, it's a mess, and from a user experience standpoint, it's even worse.
More content and design elements means it's going to take your website longer to load on all platforms (desktop, tablet and mobile). It's a huge turnoff for potential customers.
I bet you didn't know that almost half of your visitors expect a website to load in less than 2 seconds — any longer than that, the drop-off rate skyrockets. When you've spent all that time and money into creating your online presence, you don't want all of those potential customers you're trying to reach to leave without giving you their information.
This is why you CANNOT overlook optimization.
I've seen it so many times in the past seven years of designing websites: Companies invest a large sum, agonize over every decision and launch with fingers crossed... then rinse and repeat every four to five years.
If you want to stay stagnant and burn through money, keep doing what you're doing, but if you want to decrease your upfront costs, increase your website conversions, get more RFQs and keep prospects on your website, it's time to look at performance-based website updates.
Even if you're not prepared to do full-blown growth-driven design on your website, there are so many tools available for you to do optimization on your own. My preferred tool of choice is Hotjar — you can install it on your site to see exactly what users are looking at, clicking on and avoiding.
Have you ever used a heat mapping tool? As you can see from the screenshot below, it's a helpful way to see what the "hot" spots are on your pages based on clicks.
The most-clicked spot on this particular example is in the top nav, but if you want to drive more users to click on the CTA on the top right or down to the items below the fold, it's easy to A/B test and judge performance based on these maps. I would recommend testing out different colors, copy and positioning to see what's most effective.
After you get a broad look at usership from heat maps, looking at individual visitor recordings is the best way to take a look at specific paths and user experience.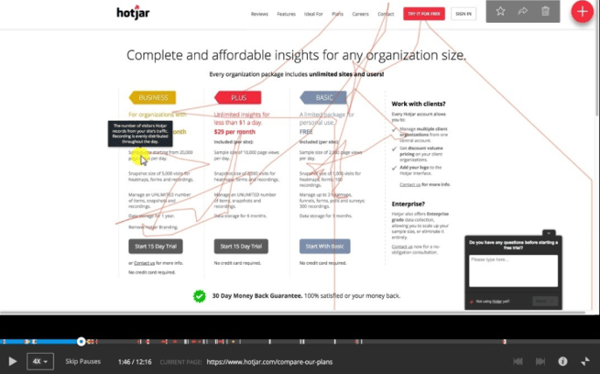 While it'll take a little more time to dig in to individual recordings, the information is incredibly valuable. The screen shot above shows a perfect use case: the flow of a path, what a person ignores or hovers on, what they're trying to learn about, how the organization hurts or helps conversion, the timeframe for viewership.
The next layer to look at in optimizing your website is seeing how well users convert on pages and forms.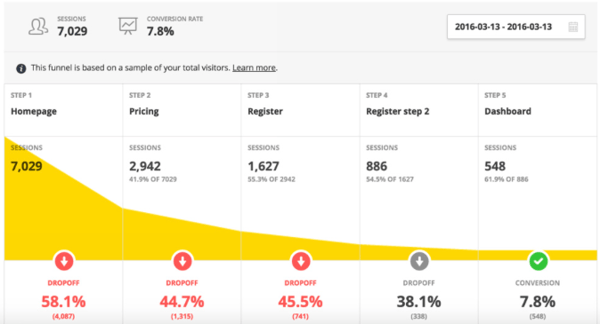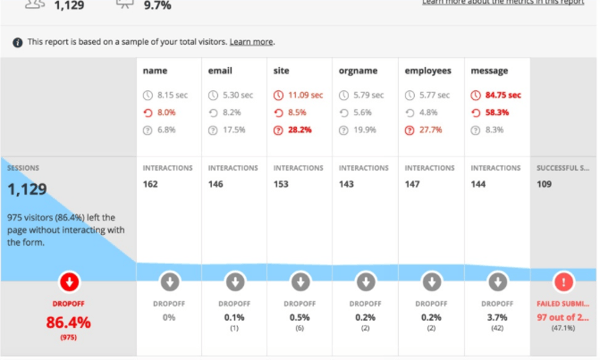 Pretty cool, right? All the data is laid out in a clean and logical format for you to understand what the drop off points are, so you can prioritize. For example, if you're seeing a huge drop off on a particular form field or page, it's time to tweak it.
I strongly urge those with a bounce rate of more than 60 percent (check out your homepage in Google Analytics) to take a look at what could be updated.
So, if you're excited by the idea of performance-based website updates but are also feeling a little overwhelmed, we can help.
Did you find this useful?