6 Steps To Transforming Your Sales Organization
It's no secret that the sales landscape has changed in recent years. The general B2C space adapted fairly quickly to new technologies and tools, but for B2B businesses, and particularly industrial companies, the adoption has been slow moving. Keeping our reliance on the old rolodex and trade show lists in mind, it's time to re-evaluate how we can keep up with the broader trends and modern tactics.
We've had tremendous success using inbound selling principles — essentially, this is the process of aligning your sales process with your customer's buyer journey. By asking the right questions and showing how you can solve a problem, you're that much closer to onboarding your next client.
While we don't anticipate an overnight adoption, we did pull together some tips to incorporate tactics that fall under the inbound sales umbrella, which will help you get started and become more competitive in the current market.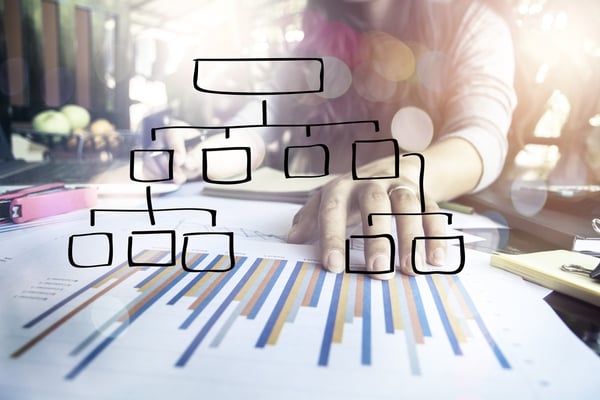 Organize Your Relationships
We've expounded on the importance of a good customer relationship management (CRM) before, but I think it's worth mentioning again — especially since 44% of executives believe their company is ineffective at managing their sales pipeline.
Having a CRM in place can change that statistic by allowing reps to better manage their time and become more efficient.
Imagine having a great conversation with a sales professional, and then having one of his or her colleagues contact you to set up the same exact meeting you just had. It probably wouldn't leave a great impression. You can stop this from happening by implementing a CRM, which will help you manage your pipeline more effectively.
We use HubSpot CRM to automatically log emails and calls and basically make our lives easier. Most CRMs are built for sales managers to keep track of their team members, but HubSpot was built from the ground up to help each salesperson sell more (which is a huge selling feature — pun intended). For the sales rep, there are fail safes to prevent prospects from falling through the cracks, and for the sales manager, there's a strong reporting toolset to help their teams accelerate.
Set Up Lead Scoring
Not all leads are created equal. Lead scoring is important because the higher the score, the higher priority they should be on your call list.
People generally like to have some knowledge of a subject before they have a conversation about it, so it's important to let prospects learn at their own pace and then develop a relationship more organically from there. This is all part of the awareness stage of the buyer's journey, and the more consideration you're seeing (through visits, downloads, form submissions, etc.), the higher their lead score will be.
Say, for example, you're a raw materials distributor. One of your potential customers does a Google search for metal standards, finds your website and downloads your eBook on the topic. A sales call at this point is likely premature because they're in an exploratory/education phase and not ready to be sold to. If instead you offered other types of helpful content, you'd stay top of mind (while building up history and a relationship) until they're ready to buy. Aim to become a trusted advocate and adviser, rather than just another salesperson.
So let's talk logistics on how this works. For sales teams that are fielding a high volume of leads on a regular basis, using a scoring system can help prioritize a salesperson's lead list by who's most likely to be ready to buy. Typical qualifiers include job title, company size, and industry. A senior procurement manager at a large company in your sector may be a warmer lead than an intern at a mom-and-pop shop in another sector you don't typically serve.
You'll also want to factor in how active they are on your website — somebody who's downloaded multiple assets and regularly returns to your website is a warmer lead than someone who hasn't.
Take Advantage Of Templates
When you're ready to reach out to a prospect keep this in mind: Time is a resource we can't get back. There are a few ways to make your process more efficient, but using sales email templates is a good place to start — there's no need to waste time writing repetitive emails from scratch.
You can create your own templates using just about any email provider — although we definitely recommend HubSpot Sales Tools. Even if you don't have a CRM in place (go back to step one!), you can come up with some easily customizable options and then save them as drafts.
Having ready-to-edit templates will shave minutes from each email you send, which can easily add up to hours per week.
Stop Selling, Start Helping!
One of the most important ways to assess your prospect's needs is to ask them about their strengths and weaknesses, challenges they're facing with current suppliers, ideal time-to-market, etc.
To figure this all out, in addition to requesting specific information via online forms, it's important to have questions ready once the conversation is moved offline.
The discovery period's importance can't be overstated because it surfaces needs you can help meet. Identifying needs that you can help solve demonstrates that you have the prospect's best interest in mind, which builds a trusting relationship that will continue to grow over time.
Create A Service Level Agreement
Sales folks always complain about the quality and quantity of leads whereas marketing whines about sales not closing their leads — you don't want to perpetuate the cycle, do you?
Marketing and sales teams often seem at odds with each other, but really, our goals are pretty much the same; we all want to bring home the bacon for our business. To do this, it's important to increase transparency on both sides of the aisle.
One way to do this is by creating a Service Level Agreement that holds both teams accountable.
Take a look at your past numbers and where they've led you. What percentage of leads resulted in closing? Do different types of leads close at different rates? And based on that information, how many leads overall will you need to meet your revenue goals? Run the numbers, and figure out how many leads your marketing team needs to bring to the table in order for the sales team to close the number of deals necessary to hit your goals for the year.
Don't Be Afraid To Say No
Not everybody is going to be a good fit for every product or service. Don't fight the tide. Fear of rejection is a huge weakness in sales; you need to be able to move on and look for opportunities that are a better fit. If you can't do this, you'll waste time on someone who's likely never going to buy from you instead of spending your time on more viable opportunities. Face the cold-hard truth, and know when to accept "no."
Alternatively, there may be prospects who want to work with you, but want more than you can deliver or have other unrealistic expectations. In this case, you can try to find some kind of compromise that works for everyone, but if they're resolute and won't budge, it might be best to walk away. Even if there is a remote possibility that you can do the job despite their tight budget and timeline — is it worth stressing your own team and resources? There is such a thing as a toxic customer, and if you can avoid getting started in the first place, it's best to do so.
We all dream of high close rates, organized process, and seamless coordination between marketing and sales — but it's a work in progress. Taking stock of how your organization operates and pushing for better collaboration will only make your company more competitive. Proper training is also a must — and HubSpot recently released its Inbound Sales Certification, which offers in-depth training on the inbound sales method and incorporating it into your sales process. This is a great (free!) resource you and your team can take advantage of.
If you're overwhelmed with the idea of tackling these changes alone or are looking for additional help, we're here to help. We offer training, auditing and other insight — reach out with any questions.