Effectively Promoting Your Products Through A/B Testing
We often work with customers who have an online store or catalog platform and are interested in increasing exposure to their products.
The Idea
To help OFS, a premier optical fiber manufacturer, increase the number of views on their website's product pages, we tested out a module on their homepage that featured each of their product lines with links to the product pages.
The Test
Variation A (The Control):
Originally, a website visitor interested in learning about OFS's products could find the products available through the top navigation menu, "Product Catalog."
Variation B (The Treatment):
Our team tested the impact of surfacing the large variety of products available directly on the homepage. We featured the seven top-level product groups in a grid-style module, with an additional option to visit their resource center for whitepapers and product guides.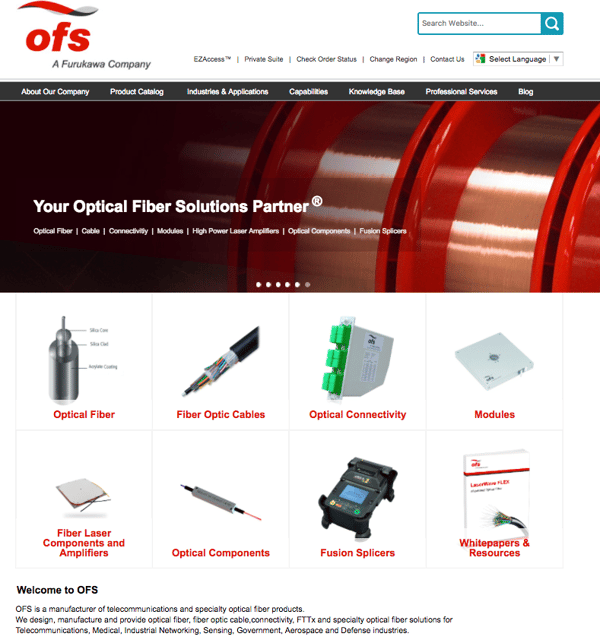 The Result
After running this test, there was no question that the products module needed to be implemented into the homepage design. It exposed first-time web visitors to OFS's full line of products and increased overall website engagement for product web pages.
| | | |
| --- | --- | --- |
| Metric | Variation A | Variation B |
| Website Sessions Included in the Experiment | 6,511 | 6,799 |
| Product Page Views | 938 | 1,271 |
| Conversion Rate: Visitors-to-Product Page Views | 14.41% | 18.70% |
By highlighting the various products available on the homepage, we increased the conversion rate of website visitors viewing the product pages by 30%.
Consider testing the way your website visitors can learn more about your products with Growth-Driven Design, o request a consultation with one of our experts to get started.
Did you find this useful?