8 Tips To Becoming A More Productive Industrial Marketer
Boosting productivity on the shop floor can help you expand capacity, reach new customers, and grow your business.
Likewise, enhancing your productivity as an industrial marketer can lead to positive results — better marketing materials, more leads, and, ultimately, additional revenue.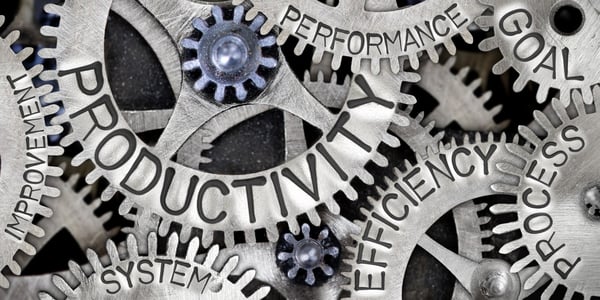 Unlike your machines, however, there's no manual for maximizing your marketing productivity. Fortunately, these eight tips can help:
1. Set Clear Expectations With Your Boss (Even If You Are The Boss)
It's hard to drive productivity when you aren't clear what goals you're actually driving toward. That's why, before anything else, you need to set up realistic, achievable, and measurable goals for your marketing efforts. Then, make sure everyone understands what is expected of them.
2. Plan Ahead
One of the best ways to maximize your productivity is to maximize your time, and that requires proactive planning. Take a long-term view of your marketing strategy, outlining goals for the next several months and the milestones you will need to hit in order to achieve those goals.
Create a calendar for your manufacturing blog posts, emails, eBooks, and other deliverables, and try to stay as far ahead of schedule as possible. You can also leverage project management tools to keep you and your team on track, and on the same page, at all times.
3. Use The Right Tools
Speaking of tools, having the right ones at your disposal can help you produce better marketing campaigns — and better results. There are tools for everything from video production, to SEO, to staying productive on the go.
4. Don't Waste Time On Things That Don't Matter
Quick: What's the point of marketing? To get leads and grow your business, right? Then why do so many industrial marketers focus an inordinate amount of time and effort on things that don't matter, like boosting page visits with anonymous traffic, generating likes on social media, and chasing impressions on ad platforms that don't actually pay dividends?
Instead, focus on the stats and tactics that will make an impact on your bottom line — optimizing your website for lead conversion, driving qualified buyers to your site, and putting your business in front of the most active network of B2B buyers.
5. Let Data Drive Your Decisions
Nothing derails a well-thought-out marketing plan like an impromptu debate. Unfortunately, that's what happens in a lot of manufacturing companies. Different stakeholders — operations, finance, sales, legal — get involved in the marketing process, offering their opinions and suggestions. The result of all this debate? A whole lot of bad marketing.
Instead of engaging stakeholders, let data drive your marketing decisions. Adopt a Growth-Driven Design approach to your website optimization, focusing on measurable improvements. A/B test as often as you can to accurately measure how different approaches impact your results. Let the data speak for itself.
6. Utilize Automation
Imagine how much time it would take for you to keep track of everyone who opens your emails or downloads your ebooks, sort them into different groups based on their interest, their industry, or their job title, and follow up with perfectly targeted communications meant to move the specific stage of the buying journey they happen to be in? To be honest, it doesn't have to take much time at all. Marketing automation makes this — and a lot more — possible and practical, taking a lot of the manual and time-consuming marketing tasks off your shoulders. Just be aware that there are a lot of marketing automation tools out there, and you should do your due diligence to choose the one that's right for you.
7. Stay Plugged Into Your In-Market Buyers
The industrial buying journey can be a long, complicated process, and typically B2B buyers are as far as 70% of the way through this process before they ever pick up the phone or reach out to you directly. This makes it difficult for manufacturers to identify potential customers and engage with them effectively.
Thomas can help make it a lot easier. We offer an In-Market Buyer Report, which shows you the names of organizations that are actively looking for your services on Thomasnet.com. In addition, our free Thomas WebTrax tool gives you actionable data on the buyers visiting you across the web. Instead of dealing with anonymous traffic reports, you can actually track, identify, and engage real in-market buyers. Both the In-Market Buyer Report and a Thomas WebTrax account are 100% free.
8. Ask For Help When You Need It
There comes a point where improving your marketing productivity will require you to sacrifice your productivity in other areas — like on the shop floor or providing excellent customer service. If that happens, you might want to consider teaming up with an industrial marketing agency.
At Thomas, we've helped thousands of manufacturers and industrial companies get the leads they need to grow their business, giving people like you the freedom to focus on actually running your business. To learn more, get in touch with us today.
Did you find this useful?