Manufacturing Industry Jobs Update: January 2017
At Thomasnet.com, we are big champions of American manufacturing and reshoring. In fact, we work with suppliers who produce amazing products made in America every day, and we play an instrumental role in helping small- and medium-sized suppliers grow.
But how can we measure growth for the industry overall? A good barometer is the state of the manufacturing workforce. That's why we will be regularly diving deep into the latest information from the Bureau Of Labor Statistics to take the pulse of hiring in the industry and to highlight sectors that are growing.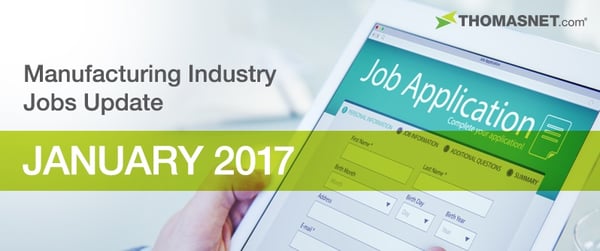 Here is our Manufacturing Industry Jobs Update for January 2017 (scroll down for previous releases):
227,000 New Jobs Added To National Economy
The first BLS Employment Situation report for 2017 showed an increase of 227,000 new jobs added to the economy. The unemployment rate ticked up slightly, rising from 4.7% in December to 4.8% in January.
Within the manufacturing industry, a total of 5,000 new manufacturing jobs were created during the month. However, the unemployment rate rose slightly, from 4.0% to 4.2%.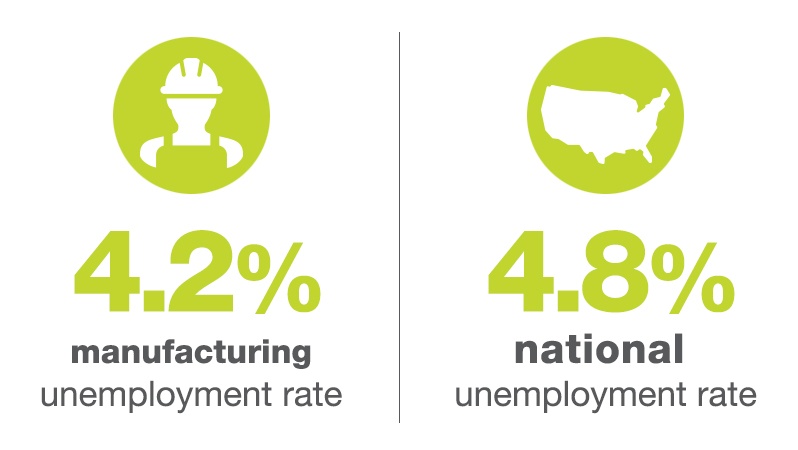 Sectors Experiencing Growth
The Food Manufacturing sector continued to build on its strong growth from 2016, adding 3,300 jobs in January.
Another sector that experienced significant growth was Transportation Equipment, which generated 3,000 new jobs. As the Motor & Equipment Manufacturers Association (MEMA) points out, this marks the continuation of a long and positive trend. Auto parts manufacturing jobs in the U.S. have risen by nearly 19 percent since 2012.
A boon in construction spend is also fueling the demand for workers in the Nonmetallic Mineral Products sector, which expanded by 2,200 jobs in January.
Other sectors that experienced solid month-over-month growth include:

Furniture and Related Products (+2,400 Jobs)

Machinery (+2,000 Jobs)


Sectors To Monitor
The Computer and Electronic Products sector experienced a decline of 2,800 jobs in January. One company that is trying to reverse those numbers is Intel, which announced it will invest $7 billion to complete a factory in Arizona and add 3,000 jobs.
Where Are The Manufacturing Jobs?
---
"Manufacturing Jobs Growth Seen Across U.S."
---
The West saw the most new manufacturing workers added, growing by 6,600 jobs. The states of Alaska, Arizona and California added 1,500 new manufacturing jobs each. Utah (700), Idaho (400), Montana (400), Washington (200), New Mexico (200), Nevada (100), Wyoming (100) and Oregon (100) also contributed to the manufacturing workforce in the region. All four geographical regions experienced growth in the manufacturing workforce in December*, indicating nationwide hiring activity may be picking up.
In the Midwest, 5,500 new manufacturing jobs were added. Wisconsin (3,000) and Indiana (2,700) led the way, but other states also generated manufacturing jobs. They include Ohio (1,100), Iowa (900), Missouri (900) and Minnesota (400).
Not far behind was the Northeast, which expanded by 5,200 manufacturing jobs. Within that region, Pennsylvania saw the most growth of any state in the nation, adding 5,400 jobs for the month. New Jersey (1,200), New Hampshire (900), Connecticut (300), Massachusetts (300) and Vermont (100) also added manufacturing jobs.
Finally, the South region added 2,000 manufacturing jobs. The most explosive growth was in South Carolina, where 3,300 new manufacturing jobs were generated. Texas (1,400), Oklahoma (1,300), Louisiana (1,000), Kentucky (900), South Carolina (500), Virginia (400) and North Carolina (200) added jobs as well.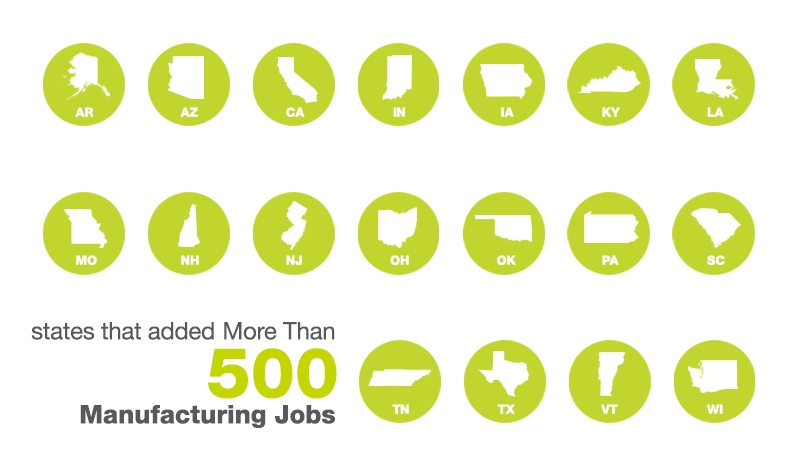 Mostly Positive Indicators For The Manufacturing Industry
The latest Manufacturing ISM® Report On Business revealed that economic activity in the manufacturing sector expanded in January, increasing 1.5 percentage points from December. New orders and productivity also improved. However, inventories have begun to contract, and supplier deliveries are slowing down.
Women In Manufacturing
Thomasnet.com proudly supports efforts to increase the number of women in manufacturing. These efforts include engaging young girls in STEM education, professional development and networking groups, and supporting women-owned businesses.
Are those efforts working?
As of January 2017, the percentage of women in manufacturing remained 27.5%. Despite the efforts mentioned above, this represents a decline in comparison to a decade ago when women accounted for 28.7% of all employees in manufacturing.

Hopefully, the industry will continue to make strides in bringing more women into the workforce.
*Regional and State Data Is Only Available For The Previous Month

Previous Releases:
Did you find this useful?