Pitching Digital Marketing To Your Manager (For Manufacturers)
Digital marketing has become the most scalable, measurable, and effective channel to drive sales. As technology continues to advance and marketing best practices evolve, industrial companies are continuing to adopt digital marketing tactics at a much higher velocity — further sped up in 2020 by COVID-19 and the cancellation of trade shows. Thus, more manufacturers are using digital marketing to match their competitor's ability to connect with buyers in the digital space.

Preparing Your Team To Use Digital Marketing
If you're serious about increasing your sales and garnering new leads, it's critical to start with a powerful, well-thought-out digital marketing strategy. But what are some steps you can take to prepare the rest of your team to get on board too?
Set Your Objectives
In any business endeavor — whether opening up new markets, rolling out a new product, or implementing a new marketing campaign — it's critical to set clear and realistic objectives before getting started. If you're thinking that emailing a few businesses will suddenly allow you to achieve market dominance, you're bound to experience disappointment.
Know what you want to accomplish, and understand what's actually achievable to tailor your efforts for the desired outcome. And, if applicable, convene with your supervisor to prioritize objectives before you set about designing a strategy.
Establish Metrics
For your business to evolve and improve, you need to know what's working and what's not. How? With metrics.
Total visits, conversions, close-ratio — How many prospects visited your website? How many led to a contact? How many converted into buyers? What are the ratios for each? How does this compare to your other marketing efforts?
Bounce rate — How many site visitors leave after viewing the landing page? What can you improve to increase the amount of time visitors spend on your site?
Cost of acquisition — Are the costs of bringing in new business worth it?
There are plenty of other metrics to explore, and they're easy to find. However, fully understanding and utilizing them is more of a challenge; it may even be worthwhile to work with a marketing specialist. Whether you hire an expert or handle the work yourself, pay close attention to the data; in this way, you'll be better able to pinpoint areas for improvement.
Read More: What To Expect When Hiring A Digital Marketing Agency
Identify Your Target
Take the time to understand your prospects. Cater communications to suit their specific needs and interests at different stages of the buying journey. Offer introductory, educational information — like short-form blogs — to users in the beginning stages of the buying process and more detailed, in-depth information — such as eBooks — to those ready to buy. Understand their demographics, goals, and challenges. Tailor your message to address these specific concerns, and invite users to consult with you for application-specific solutions.
| | | |
| --- | --- | --- |
| Design Engineers | Procurement Managers | MRO Managers |
Free Resource: Persona Targeting For Manufacturing Companies
Plan Your Budget
Inevitably, your digital marketing efforts will cost you both time and money, but your reward will be continued new business and a better relationship with current customers. Develop a comprehensive budget that is both sensible and robust to maximize your return on investment (ROI). Find that balance, and be realistic about the true expenses for what it is you want to accomplish. You should already have laid out your objectives, so the strategies and tactics you employ to reach them need to fit within your financial parameters.
Addressing Your Manager's Concerns
You and your manager likely share many of the same goals but might not see eye to eye just yet on the need to move more of your advertising and sales efforts into the digital space. And you know you need to get the most back from your investments, but how do you start? Provide your manager with the right information they need to decide on how to best position resources. To pitch digital marketing effectively to your manager, it is important to take their pain points into account. Let's take a look at some of the common pain points your manager may have and how you can address these and more with digital marketing efforts.
| | |
| --- | --- |
| Your Manager Is Likely Stressed About | Talking Points To Address Your Manager's Stresses |
| Overall Profitability and Revenue Growth | Digital marketing drives highly-qualified sales leads from in-market engineers, procurement managers, MROs, and general management professionals at volume. |
| Return On Investment | Digital marketing tactics are trackable and measurable. Businesses that invest in digital marketing can attribute ROI by tracking buyer activities and new business opportunities. |
| Finding And Pursuing The Right Growth Strategies | Digital marketing is highly scalable and repeatable. Once a strategy is set, it can be optimized in a way that grows your businesses' access to prospects and customers in search of your services. |
| Measuring And Monitoring Business Performance | Digital marketing is connected to business growth as marketing data allows businesses to make more informed decisions about your audiences' needs, challenges, and interests. It helps you identify the buyers most likely to engage with your company. |
| Controlling Spending And Doing More With Less | Online marketing channels give you the ability to scale back or increase your outreach easily as needed based on your budget. |
| How Positive The Outlook Is For The Future Of The Company | Providing a great online customer experience through your website and content marketing keeps customers happy and helps gain new ones, thus contributing to the bottom line. |
Digital marketing can address all of the above in an attributable, predictable, and efficient way.
Your manager is looking for cause and effect — spend this dollar, get these dollars back. With digital marketing, you've got hard data and attribution.
And you can measure and report on the effectiveness of your advertising, website pages, emails, video campaigns, etc. with tools like Google Analytics, Ahrefs, and Thomas WebTrax — a crucial capability that traditional growth methods can not readily show.
It takes time to build a lead generation strategy that produces the higher ROI you're looking for (or you can hire industrial marketing experts to help free up some of your time). Still, now more than ever, the demand for industrial products and services is strong, and many smart businesses are planning for the future. The challenges of 2020 made it so manufacturers could no longer avoid joining other companies in their digital transformation journey.
As expected, companies are 21% less likely to invest in trade shows while the use of webinars & virtual events (20%), search & social media (14%), and website (12%) all increased in light of COVID-19.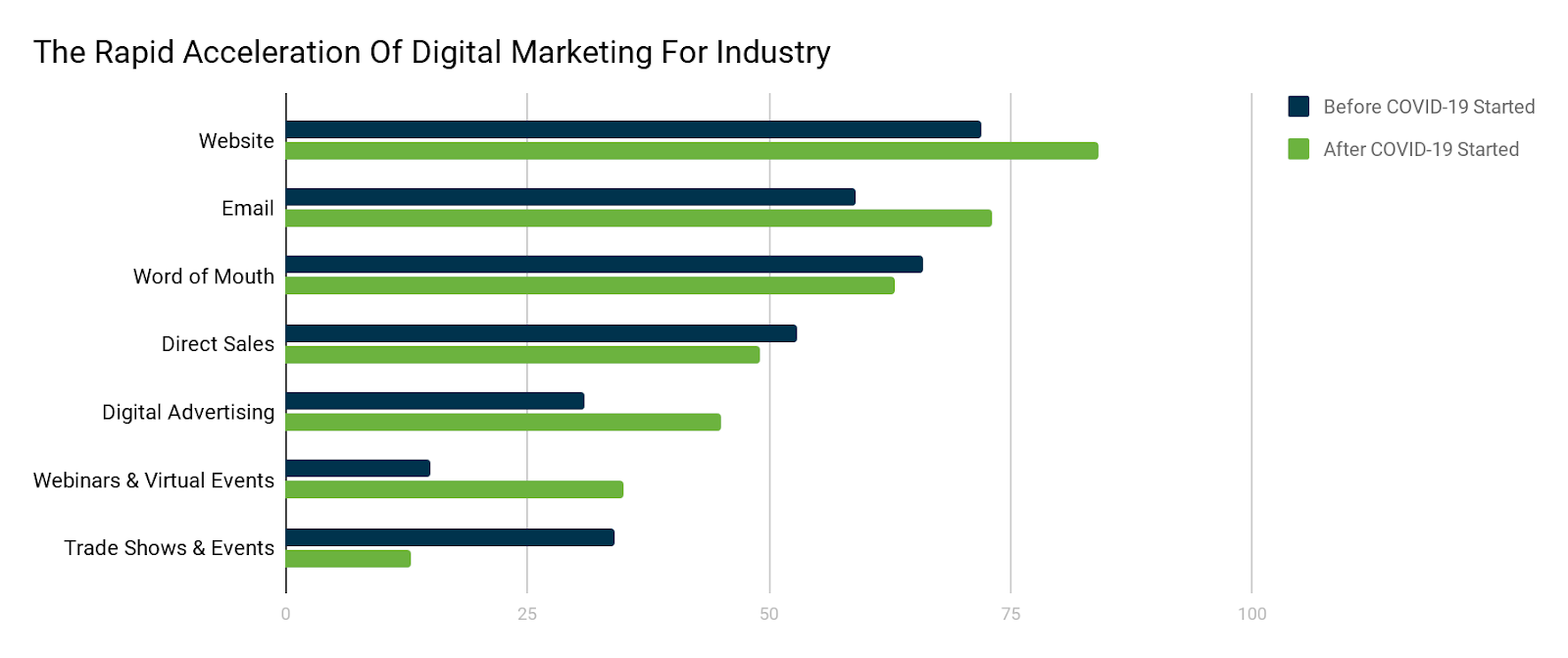 Download the full report here, "May/June 2020 Thomas Report: COVID-19's Impact On North American Manufacturing."
Your main goal should be to address your manager's pain points with information about how digital marketing today can produce strong results for your marketing and sales teams. Emphasize the state of in-person events and trade shows as examples of how the transition to the digital space is rapidly accelerating. The longer you wait to invest in digital marketing, the more business opportunities may be lost to competitors.
Why Is Digital Marketing So Important Today
Manufacturers who understand their buyers' evolving sourcing habits invest in digital marketing efforts to get their business in front of prospects who are showing buying intent online. Digital marketing creates assets that generate leads continuously, even during economic downturns. It can be launched and refined to target the customers that matter most to you — engineers, procurement managers, MROs — and helps future proof your business.
When pitching your manager, stress that investing in digital marketing and advertising solutions from industrial marketing experts ensures your brand continues to be seen by the right buyers — while driving more leads, revenue, and ROI than a traditional networking event or with print advertising.
For additional strategies to pitch to your manager to fuel your growth, visit these resources or contact us for more information. There are solutions that fit every manufacturing budget.
Did you find this useful?