7 Easy, Free Ways To Increase Manufacturing Sales
Looking to increase your sales? Although successful, well-executed B2B marketing strategies take time to build and require ongoing, consistent effort, there are some things you can do today to help drive sales — and they only take a few minutes.
In combination with a long-term marketing strategy, these quick free tips can go a long way in getting new leads and increasing sales for your manufacturing business.

1. Align Your Marketing And Sales Teams
A study from Forrester found that 43% of CEOs believed that misalignment had cost them sales.
To improve your company's sales, it's important that your marketing and sales teams are cohesive and collaborative. Take the time to foster relationships between these teams; this will help ensure your marketing team's efforts are actually helping the sales team close deals. Also, be sure to facilitate face-to-face time between teams and consider implementing tools that will help your staff work together and communicate more easily.
The goal behind bringing your marketing and sales teams together is to create complete transparency and clear understanding about their goals and needs. One team can't work well without the other.
2. Create A Company Profile On Thomasnet.com
Thousands of manufacturers and industrial companies have all increased leads, sales opportunities and revenues by advertising on Thomasnet.com — and that first sale starts with just a free company profile. Why does it work? The Thomas Network connects B2B buyers and engineers with 500K+ North American suppliers on the platform where buyers do their job every day. More B2B buyers are turning to business listing platforms to fulfill their sourcing needs and 93% of the Fortune 1000 has buyers using Thomasnet.com to source new suppliers.
Here's Tiodize's experience with Thomasnet.com:
"We started our internet marketing with Thomasnet.com at the suggestion of our largest customer, Boeing. They assured me that Thomasnet.com was where their engineers went first to find information on suppliers.
We are a very conservative company. Our sales have gone up exponentially compared to our increases in our ad budget. Because we manufacture and sell specialty coatings and composites, we are always looking for ways to be in front of decision makers when they need our products. Thomasnet.com is an efficient and effective way for us to do that. We have added customers every year and increased our sale per customer at the same time.
Thomasnet.com is perfect for companies that do not have national sales forces. Thomasnet.com acts as our sales force."
3. Record A Video In Your Facility
Videos supplement your traditional marketing efforts and increase your brand awareness — a whopping 95% of a message is retained after watching a video versus reading text!
Through video marketing, potential customers are able to actually see your facility, manufacturing processes, and final products, all in just a few minutes or even seconds. Videos are particularly effective for demonstrating unique processes or capabilities.
In fact, many businesses shoot videos with mobile phones; these videos can then be instantly uploaded to company social media accounts and Thomasnet.com company profiles. Videos are shared more often than any other type of post on social media and can serve as a highly effective tool for connecting with fellow industry professionals, getting users to spread the word about your company, and establishing yourself as a cutting-edge brand. Need some inspiration? Check out these 14 video examples from manufacturers and industrial companies that helped them increase their brand and get more sales.
Increase Your Sales With Free Video Advertising
Thomas offers video content production for FREE for OEMs, Distributors, and Service Companies With An Advertising Program
---
4. Instantly Identify In-Market Buyers
When it comes to industrial marketing, a lot of manufacturers spend their time waiting — for visitors to come to their site, for visitors to convert into prospects, and for prospects to turn into buyers. Fortunately, there are some tools and resources you can use to speed things up.
A free In-Market Buyer Report from Thomas can show you the exact company names and locations of companies that are looking for the products and services you offer right now. You won't need to play a guessing game to see who's interested in your company.
5. See Who's Visiting Your Website
Even better, if you want to continuously identify the buyers that visit you online, track them throughout their buying journey, and engage them with more meaningful content and outreach calls, you can use our free Lead Intelligence tool — Thomas WebTrax.
More than 11,000 manufacturers are already using Thomas WebTrax to get more leads and strengthen their sales conversations. It provides continuous data on buyers names and companies who are browsing your products or services, making it easy for your marketing and sales teams to connect with them — no matter how far along they are in the buying process.
6. Send Regular Emails To Your Customers
According to Forrester Research, companies that take the time to properly engage and nurture leads improve their sales outreach at a rate of 50% while spending 33% less.
Regular email communications keep your business top of mind to prospects and customers who are more likely to repeat business with you. Focusing on existing accounts can help you build better relationships and increase sales. Stay in touch regularly with email newsletters, welcome emails, and re-engagement emails — not just the basic transactional emails that confirm when someone completes a purchase or submits an RFI.
Learn More: How Marketing & Sales Pros Can Grow Their Email Prospect List
Sending lead nurturing emails that offer valuable information throughout the buying journey increase the quality of your leads — we go into more details about the 9 types of emails you should be sending and why here.
7. Post Content On All Your Social Media Accounts
Companies often create social media accounts but rarely, if ever, update them after initial setup. Facebook, Twitter, and LinkedIn are the three main social media channels for businesses; if your company already has accounts, be sure to post frequent, relevant content tailored to each channel's audience.
Facebook can be a useful tool in showing the "people" side of your business, helping you engage with customers on a more personal level. Remember, even though you're marketing to businesses, there are still people behind those businesses — so don't forget to keep the human emotional element in your communication.
With an exclusive business focus, LinkedIn allows you to network with other professionals in your industry, while also keeping you up-to-date on industry news and trends. See how Engineering Specialities, Inc. uses their LinkedIn to connect with prospects looking for critical material during the COVID-19 outbreak.
Learn More: The Difference Between Facebook, LinkedIn, and Twitter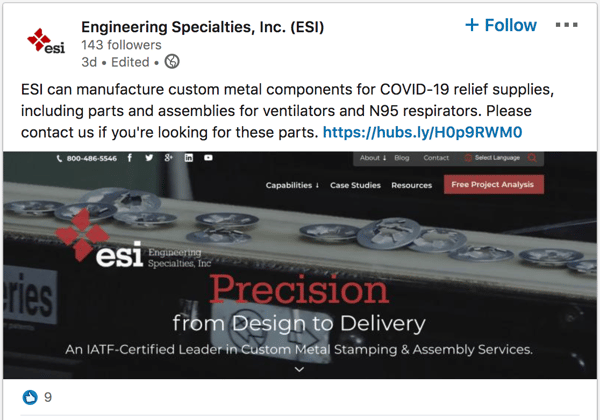 Learn Other Ways Manufacturers Can Increase Sales
Are you a small manufacturing business owner that has one person wearing the same hat of marketing and sales? Looking for even more ways to redefine your B2B marketing strategy and grow your manufacturing business? Using digital channels is the single best way to grow your business today. According to Pew Research & Merit, millennials are the largest generation in the U.S. workforce, with 73% involved in purchasing products or services for their companies — and they're doing so online.
The team at Thomas is here to help with custom solutions for every company need and budget size. Our team is supported by degreed engineers just like you so we understand the complexities of your manufacturing business. We'll go through some growth options with you like:
Get in touch with our experts today to discuss strategies for your specific needs or if you need more convincing, check out our reviews page to hear directly from the manufacturers we've helped.
Did you find this useful?