5 Ways To Redefine Your B2B Manufacturing Marketing Strategy This Year
Although 2020 is drawing to a close, there's still time to look ahead and start setting your industrial marketing plan for the future. As we've all learned from this year, you can't just recycle the same old tools and tactics and hope for the same results.
Here are five ways you can boost your manufacturing marketing strategy to meet the demands of today's buyers and get more leads.

B2B Manufacturing Marketing Strategies That Get More Business
1. Invest In Video Production & Creation
Stop us if you've heard this before, but video marketing is kind of a big deal. According to Cisco, by 2021, video will account for 80 percent of all internet traffic, making it by far the most dominant form of digital content. But in addition to being dominant, it's also really effective. Video marketers get 83% more qualified leads per year and 80% say that video marketing has helped increase sales.
If you aren't investing in video marketing yet, or if you've merely dipped your toes in the water, it's time to take the plunge. According to HubSpot's 2020 State of Marketing report, video beat out heavyweight contenders like email, blogging, and infographics as the most used type of marketing content. Marketers who incorporate video into their content strategies have seen 49% faster revenue growth than those who don't. Fortunately, there are many tools and resources that make it easy to get started with video marketing.
Today, manufacturers partner with marketing experts to create videos to help sell industrial products and share their brand stories. See 17 videos of industrial companies here for more inspiration.
---
Thomas offers free video production & creation services with the purchase of an advertising program that gets you in front of in-market qualified B2B buyers.
Learn More About Video Advertising Here
"I can't believe how awesome the video turned out," said Thomas customer, HPL Stampings. "Even all the captions describe us exactly. It's almost as if people from Thomas have worked here before."
---
2. Create Industry-Focused Content For Your Buyers
When setting their industrial marketing strategies, most manufacturing companies put lead generation front and center. That's certainly understandable; after all, generating qualified leads is the entire purpose of digital marketing. However, instead of focusing on meeting your goals, it's important to also focus on meeting the goals of your buyers.
For example, most manufacturers and industrial companies today connect with engineers, procurement managers, and MROs. Understanding those B2B buyers — their challenges, habits, and processes — can help you better align all of that great content you are developing to meet their needs and drive new business.
One specific way you can put your buyers first is by creating content for their industry that makes their jobs easier. For example, buyers in the defense industry are concerned with counterfeit parts, inaccurate data, and incomplete quotes. Alleviate their concerns with an industry-relevant website page labeled for the aerospace and defense industry that details your product data, sizing dimensions, performance curves, etc.
Some aerospace technology can be complex, but our graphics, data sheets, and videos from Thomas Marketing Services break it down for buyers to understand what they need and how we help them.
In the website content marketing example below, Tex Tech supplements their text-based content with detailed graphics to further showcase the quality of their materials and how they solve common industry challenges.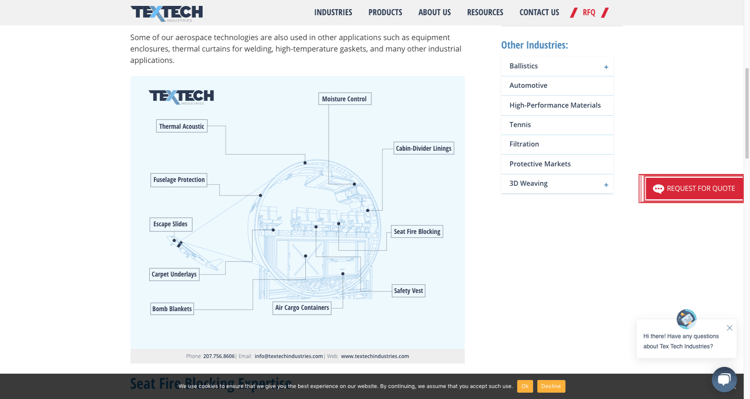 Related For You: How To Market To Buyers In The Defense Industry
3. Keep Your B2B Manufacturing Website Updated
Industrial marketing is not a set-it-and-forget-it discipline. Some manufacturers hire a website designer to update their website and then leave the website as is thinking the job is done. But Google favors websites that get updated regularly and places them at the top of search results — especially when strategic SEO and relevant keywords are in place. Post a monthly blog and update new product data in real-time to keep your online presence strong and in front of buyers as they search for you online.
Thomas can review your website for free with our Digital Health Check and let you know how you compare against competitors. "A key thing about Thomas is the ability to generate a lot of leads across various industries," said Jeff Collins, Partner at Renown Electric Motors & Repair. "As a marketing department of one, it has been really helpful to have marketing experts supported by engineers to help with our strategy as opposed to making it up as we go." Renown's product pages are ranking #1 on search results and have contributed to new sales growth.
Test Your Form Position To Increase Conversions
You need to constantly improve upon your efforts, lest you start going backward. That may sound like a pretty big undertaking, but another way manufacturers build a lead-generating website is by embracing the power of small tests.
Iterative testing, or A/B testing, is the process of creating two (or more) versions of digital marketing assets to determine which performs better. You can apply these tests throughout your digital marketing footprint — on your manufacturing website, in your emails, within your PPC ads, etc.
Let's take a look at a real A/B test from a manufacturer's landing page. Studies show people look at the left side of the screen first. To help draw more attention to the form and increase submissions, we tested form alignment. Variation A (our control) had the form on the right, while Variation B had the form moved to the left.
| | |
| --- | --- |
| Test A | Test B |
The conversion rate more than doubled with Variation B! While Variation B is the clear winner in this particular experiment, our testing and optimization efforts didn't stop there; our team is continuing this test with another subtle change to ensure we've optimized the page to the fullest.
Request our free Digital Health Check to see exactly what you can improve online to engage more buyers.
4. Take Your Manufacturing Brand Seriously
Your company is so much more than a provider of industrial goods or services. Maybe it's an unparalleled beacon of quality, a hub for innovation, a spark for essential causes, or something else entirely. Whatever your company is, you need to let B2B buyers know it — through brand marketing.
Effective branding can help set you apart from your competitors in a crowded marketplace and make you more relatable and trustworthy to potential customers. Best of all, a strong manufacturing brand builds trust and makes it easier to connect with buyers. Everything from your shop floor to how your receptionist answers the phone to the Google reviews of your company is part of your brand. As we've mentioned before, videos are a great way of boosting your presence online while also connecting with prospective buyers. We can't stress it enough because 89% of viewers are likely to purchase a product after watching a product video.
Create a company profile video that shares your company's purpose, the customers you serve, the industries they're in, and how your industrial products and services solve their problems. Add it to your About Us page on your website and your Thomasnet.com company profile listing so buyers can understand the type of people they can expect to do business with.
Read More: The Must-Haves On Your About Us Page
5. Move Beyond Basic Marketing Analytics
Since the term digital marketing was first coined, marketers have been trying to determine the ROI of their efforts. But you know what? Most have been doing a pretty bad job of it.
That's because they — and the tools they use — tend to focus on things that don't matter, such as views, clicks, impressions, etc. While those metrics do have their place, what really counts is your ability to generate leads.
Last year, we polled more than 600 manufacturers and industrial companies across the U.S. to learn what's going on in their marketing and sales and we found that almost 35% of manufacturers surveyed are not using an analytics tool like Google Analytics or Thomas WebTrax.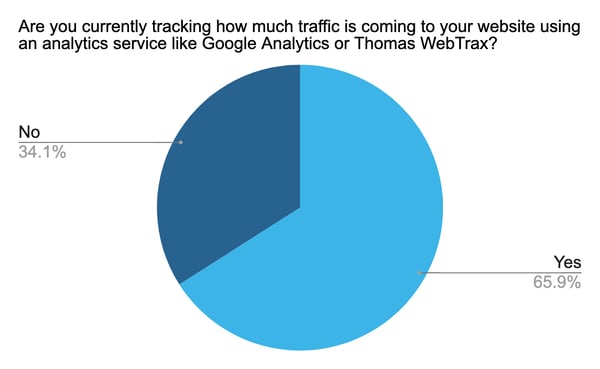 Thomas WebTrax lets you track who's interacting with your online presence, and where they are in the buying journey. "Thomas WebTrax™ is an excellent tool for identifying visiting companies and allowing our salespeople to engage them in their research phase, resulting in promising relationships," said Ron Fladwood, Corporate Marketing at Trace-A-Matic. "I tested 7 to 10 of the 'Best' website visitor identification software available, and WebTrax outperformed them all in the amount of and accuracy of companies identified." — Request Access To WebTrax Here
How's Your Manufacturing Marketing Strategy Faring?
These five tips can help you jumpstart your sales today. Industrial trade shows have been canceled, but you can still make business connections through digital marketing. In a recent industrial Thomas survey, it was discovered that companies are 21% less likely to invest in trade shows while the use of webinars & virtual events (20%), search & social media (14%), and website (12%) all increased in light of COVID-19.
Want to continue bringing in business all year round?
Contact us for a free Digital Health Check so you can learn from the experts what your business is doing right and where it can make improvements in your digital marketing efforts.
Thomas has tons of free resources for manufacturers available, designed specifically for companies like you. For a more in-depth look at updating your growth methods, check out some of the links below:
Digital Marketing Services From Thomas To Build Your Manufacturing Marketing Strategy:
Did you find this useful?