Do Manufacturers Need A Responsive Website In 2021?
Do you still have the same phone you carried around when you launched your current website? You most likely don't. Why? Because technology changes daily. If you still had an iPhone 4 it wouldn't be able to run any apps, the screen would be cracked, the battery wouldn't charge and no one would fix it for you because it was discontinued in 2013.
Your current website is just like that old phone. Yes, you can still own it, but it won't function in a way that helps you get the job done. Coding best practices have changed drastically since you last updated your site. The outdated design and technical architecture of your website may be negatively impacting your business.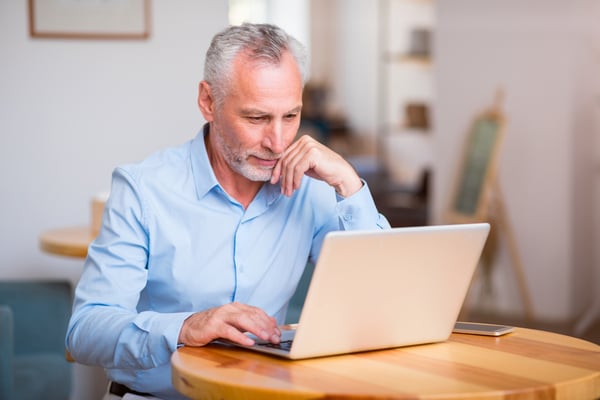 Responsive Website vs. Non-Responsive Website
Corrugated Metals is a manufacturer that provides roll forming and metal corrugating products. They sought a digital marketing strategy to provide them with better-qualified leads and target opportunities from a specific industry for long-term sales potential. One of the first steps to their strategy was to redesign their website. Below is what it looked like before the overhaul — it was not a lead-generating website and hindered the growth of their brand.
Non-responsive websites don't allow users to easily access your website content from a single source on desktop, tablet, or mobile device. The design won't adjust to the available screen size, images may not load correctly, and some content may not be seen at all when viewed on a mobile device.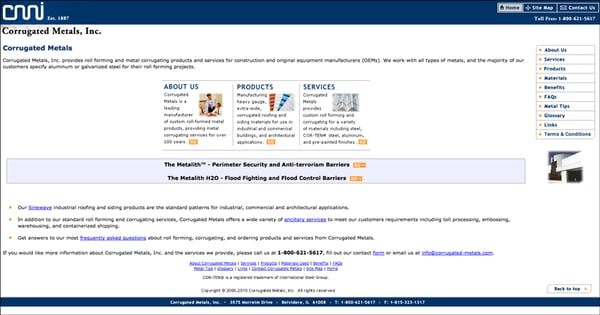 Corrugated Metals partnered with Thomas Marketing Services to take their website and online presence to new levels. Their new website is paired with lead generation efforts, an SEO strategy, and online advertising on Thomasnet.com, where more than 1.3 million B2B buyers, engineers, and procurement professionals are sourcing for industrial products and services.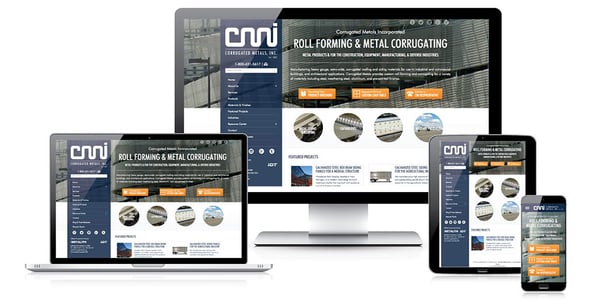 "We set a record for quotes in Q1, increasing them by 197% over the previous year," said Ken Carlton, VP at Corrugated Metals. "The average value of quotes has grown. We have received orders on the same day. The sales team can't believe how many good opportunities they have now. Partnering with Thomas and advertising on Thomasnet.com has changed the way I market my business." Advertise Your Business On Thomasnet.com For Free
More digital-savvy people are entering the industrial space each day and Corrugated Metals' marketing strategy targets those audiences. Every new engineer, buyer, or MRO has grown up with a phone in their hand and a tablet at home. For them, it is inconceivable that a website does not conform to the best UX/UI of the device they are using, because they're demanding their B2B experiences be similar to how they purchase personal products online at home. If they don't trust that you are the company to fill the need they have — they'll look for a more "reliable" option, and likely turn to your competitor.
These are the generations of people that can help your business grow. You invest wisely in product, process, equipment, and employees to help your products and services stay cutting edge. You need to make sure the first impression you set with potential customers leads to further opportunities for the business.
Why Manufacturers Are Upgrading To Responsive Website This Year
Your B2B Industrial Buyers Don't Like Non-Responsive Sites
The user of your site has a job to do so you must make it easy for them to select you as a supplier. Potential customers start by evaluating your products or capabilities online. In fact, buyers complete 70% of their decision-making process before you get a chance to talk to them. If they made it to your site, you have a chance at being specified as a supplier.
Don't drive them away by making it difficult to navigate your site or evaluate your information. In a recent industrial buyer's search habits survey, 40% said the quality of a supplier's website impacts their decision to partner with the company. ➡️Click here to see get the full survey results.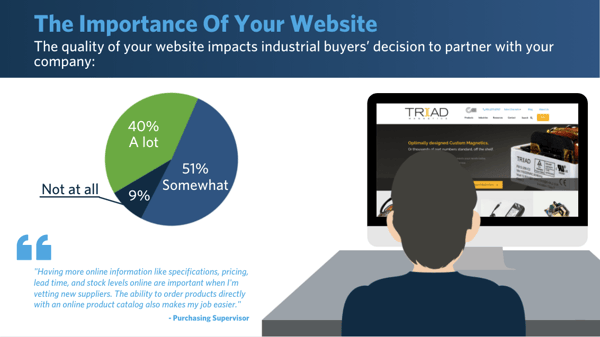 Long Load Times Will Make Your Customers Go To Competitors
Do you like to wait for answers to your questions? Neither do your customers. Older websites are not created to utilize the latest advancements in browsers or coding options. Your current website is built in a framework that loads one component after another and requires multiple server requests to pull all of the information into the browser for your user.
New websites streamline how a browser loads content. By expediting the way source code loads a page and combining calls to the server, your user has less time to wait and gets the information they want faster. Not only do fast page speeds make for happy users, but they also provide a positive signal to the search engines about the quality of your website.
Google Ranks Your Website Based On The Mobile Version
Search engines have moved to mobile-first indexing. This means that when your site is indexed, the mobile version of your pages is evaluated first. This evaluation will look to see how easy it is for users to view, navigate, and click as well as how fast it loads. If there is no mobile version, your site will automatically be devalued. We see this happen to legacy sites already. The only solution is to update the code, design, and overall user experience.
Learn More: How Manufacturers Can Prepare For Google's Algorithm Updates
Google's 2021 algorithm updates give preference to websites that provide visitors with a helpful experience. If you don't, Google may rank your website lower on search engine results making it more difficult for your prospects to find you.
A Responsive Website Puts You Ahead Of Competition
Last year, mobile traffic was up 222% over the last 7 years and as of 2019, 53% of website traffic came from mobile usage. This number will only increase as time passes. Waiting to update your site only puts you further behind the competition so don't help them take market share from you. Curious to see how your website ranks against your competitor? Request our free digital health check and we'll let you see exactly that plus ways you can improve.
How To Get A Responsive Website
Look, it's time. I know you have a million things going on, but the growth of your manufacturing company strongly depends on it. Your business needs you to stand against competitors. Decide to update to the format that your customers, prospects, and the search engines require.
Do you need some help? We have built 6,000+ websites for the industrial space and we can help you with this next step in your online journey. Contact our team of website experts and engineers to start your website redesign or check out these additional resources for more insight:
Did you find this useful?