5 Promotional Products People Actually Want
Trade show season will be here before you know it, making now the perfect time to begin strategizing your plan of attack! The goal? Getting people to your trade show booth. The challenge? Getting people to your trade show booth.
We understand the struggle. Having attended numerous industry events both as exhibitors and visitors, we relate well to both sides. Overall, there seems to be an overarching theme of simply surviving the trade show. With that in mind, here are our top picks for promotional products that will have people flocking to your booth.
1. Food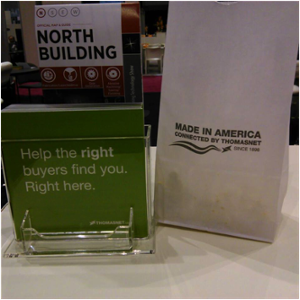 At IMTS 2014, we had a presence with the THOMASNET.com team and handed out a few different items. Overall, it was the bags of fresh-popped popcorn that were the big winner. One benefit of this particular food is that the buttery scent actually draws people in before they know where exactly they're headed. And with attendees racking up serious mileage on the show floor, providing a quick, portable snack that lasts a while will rack up some brownie points (come to think of it, brownies would probably work well, too).
Things to keep in mind: Stick to options that can be easily eaten on the go. Also make sure there's room at your booth for people to sit down and enjoy. This will give them the opportunity to read your marketing materials while enjoying the free snack break you've provided.
2. Water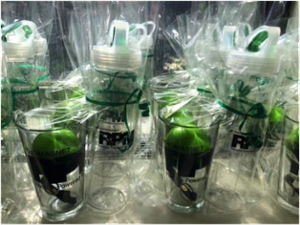 Snacks are great, but staying hydrated while traveling can be a challenge, especially at a trade show where there's so much to see and do. Branded water bottles are always a crowd favorite, and can be used long after the show ends. But beyond that, consider having a water cooler at your booth where people can stop by for a refill. So many companies give out the bottles, but very few provide the water!
Things to keep in mind: Disposable water bottles are cheaper, but chances are they'll be thrown away within the hour. A good quality, reusable bottle will keep visitors going throughout the show, and will probably make it back to the office afterwards — which is more than you can say for most business cards.
3. Tote-al Convenience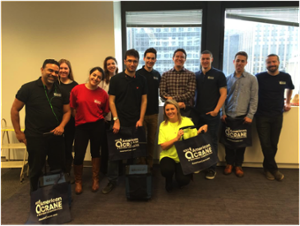 Trade shows and expos often leave participants with armfuls of information. Which is why anytime a tote bag is offered, it will be eagerly taken — American Crane is one company that recognizes this! An added bonus is that you can pre-fill the tote bag with your own collateral for later reading.
Things to keep in mind: Similar to disposable water bottles, yes, you can opt for cheaper plastic bags with your branding on them — but remember that a durable canvas bag will probably make it all the way back home. It might even serve a carry-on function on the flight home, which is pretty cool.
4. Power
One promotional product from IMTS 2014 that I still use regularly is my Lincoln Electric portable charger. You never know where your next outlet will be, but if you have one of these chargers on hand, you're covered (as long as you remembered to plug it in beforehand). Many of us practically live on our smartphones and tablets during events, so having back-up power is crucial in order to stay connected.
Things to keep in mind: These can get expensive, so one option is to host a few contests with these chargers as giveaways — I actually won the charger through a Facebook contest. It's cheaper than an iPad, and it's something people will get a lot of use out of.
5. Entertainment
People love contests, not just for the prizes, but for the bragging rights. One successful giveaway we've seen was an experiential one — a mini putting green! After meeting dozens of people and watching hundreds of demonstrations, sometimes a little R & R is needed. Miniature golf is always a crowd pleaser and will give attendees a quick mental break.
Things to keep in mind: We all know that one person who can go a little overboard when they miss a putt. Keep an eye on participants (and your golf clubs).
Did you find this useful?