What Is Industrial Advertising (With Examples)
A well-planned, dynamic advertising strategy can make the difference between growth to your bottom line and stagnation for your industrial business. Today, technology and digital platforms make it easy to target the exact audiences you're after, even if you have a limited budget.
Let's learn more about industrial advertising and why manufacturers invest in it to increase their revenue.
What Does Industrial Advertising Mean?
Industrial advertising refers to advertising that targets businesses that seek products or services related to the manufacturing industry. It also refers to B2B advertising in general — which means a business promotes products or services to another business.
Types Of Industrial Advertising
There are traditional types of industrial advertising, like ads in a trade magazine or sponsoring a booth at a trade show event. But with in-person trade shows canceled indefinitely thanks to COVID-19, businesses are shifting their trade show dollars to online efforts.
Video Advertising: Videos remain a powerful and popular tool in the advertising realm. Creative videos keep visitors engaged and help close a sale. According to Wyzowl's Video Marketing Statistics 2021 Report, "87% of video marketers reported that video gives them a positive ROI — a world away from the lowly 33% who felt that way in 2015." The same report revealed 84% of people were convinced to buy a product or service by watching a brand's video.
Industrial products and services can be complex, but a product video like the one below is designed to educate and support customers on the quality of your work and expertise in the industry. Manufacturers can get a video produced for free with an advertising program from Thomas — click here to learn more.
You Might Also Be Interested In: How To Create A Company Profile Video
According to HubSpot, digital ad success today is tied to how personalized the ads are. That's because conversion rates actually increase the more users see an ad within remarketing campaigns. Retargeting — also known as remarketing — is an online advertising way intended to keep your business in front of people after they have left your website.
Display Advertising: It is likely you encounter a remarketing display ad pretty often in your daily life browsing the internet. Display ads appear at the top, on the side, and in the middle of web content on almost every website. According to Google, when you advertise on their Network — which has over 2 million sites — you can reach over 90% of people on the internet.
Below is a display ad on Thomasnet.com for hand sanitizer on the Disinfectant Suppliers search results page. Display advertising on Thomasnet.com grows your manufacturing brand and lets you stay in front of our active and engaged buying audience wherever they are on the platform.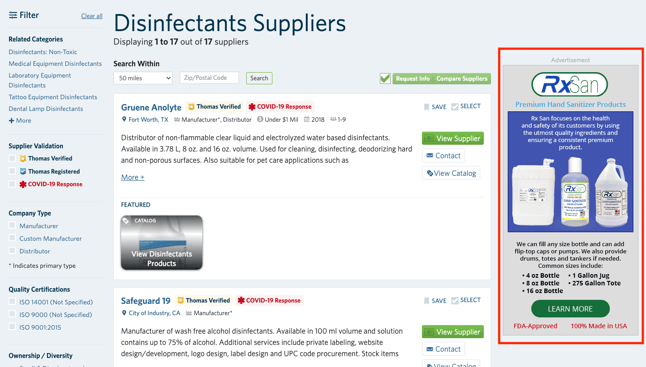 Similar to advertising on the Google Display Network, you can use targeting filters to help get your ads seen by certain types of people. Video ads, display ads, and search ads are the most common types we see manufacturers use, but there are also mobile ads and email newsletter ads too.
💡Thomas Tip: To see which buyers and companies are searching for your industrial products and services and how you can advertise to them, request a free custom in-market buyer report.
"Thomas' insights simply delivers the purest industrial audience on the internet," said Pete Elzer, President of Apex Plastic. "We're now able to connect with new customers in new industries."
Email Newsletter Advertising: One of the most important advertising rules is to be everywhere your buyers are. Manufacturers who promote their company in an email newsletter that gets read by targeted, opted-in professionals in industries like aerospace & defense, automotive, electronics, food & beverage.
Toagosei America, a manufacturer of Aron Alpha industrial adhesives, recently invested in newsletter advertising from Thomas Industry Update (TIU). They promoted eBook and blog content and received over 73k+ impressions in one newsletter send that put their brand in front of buyers from major companies including:
3M
Boeing
CAT
Honeywell
NASA
Siemens
Plus hundreds of other enterprise companies and SMBs
"We knew we wanted to make more buyers and decision-makers aware of what we have to offer. The team at Thomas explained the benefits of advertising in the Thomas Industry Update and it ended up being a great way to help us generate that awareness. We would recommend TIU advertising to other manufacturers and industrial companies who are interested in growing their business."
The send also drove over 100 new contacts from downloads of the eBook offers, which provided the Aron Alpha team with sales follow up opportunities. With a strong brand promotion effort, new prospects visiting their website, and new sales leads to continue discussions with, the team at Aron Alpha found success with the TIU newsletter.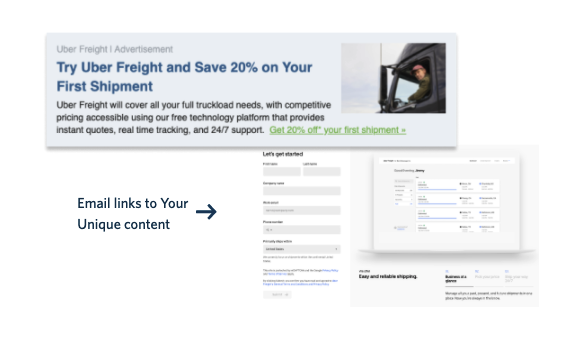 Reasons Why Industrial Companies Use Advertising
Digital Advertising Targets Exactly Who You Want To Do Business With
Digital advertising allows you to directly target users based on their specific needs, making it easier to reach potential leads and, ultimately, convert them into buyers. If you're looking to target customers at a certain stage in the buying funnel, for instance, you can easily segment your audience by user interests, certain keywords and phrases, geography, and demographics.
Learn More: 11 Steps To Begin Your First Display Ad PPC Campaign
Reaching the right people with your ads — at the right stages of their buying journeys — not only increases your chances of gaining new clients, but also helps boost your return on investment (ROI). Today, more and more companies use ad targeting, with nearly all ad buyers expecting digital advertising to comprise more than 50 percent of their total marketing budget in two years.
Industrial Success Story: TranPak is a provider of plastic material-handling products. Before upgrading their growth strategies, TranPak's website was driving too many irrelevant visitors – and a minuscule number of qualified buyers. TranPak president Christian Ueland wanted to become more visible to the right people: relevant purchasing agents and other industrial buyers ready to place an order.
A conversation with our industrial advertising experts and degreed engineers led TranPak to invest in online advertising and top positioning on Thomasnet.com in targeted categories like "plastic pallets" and "export pallets," among others. This boosted sales 24% in the first year, and their website's increased visibility in new markets and industries enabled TranPak to expand from a local supplier to a national pallet supplier.
"The leads that we get from Thomasnet.com are qualified. They're purchasing agents that are serious about our products. We grew our business by 24% thanks to our presence on Thomas," said Christian Ueland, President, TrankPak, Inc.
"Thomas puts us on a targeted platform in front of our biggest audience of qualified buyers ever. We're getting leads from places across the country where we've never done business."
Digital Advertising Promotes Other Content Marketing Efforts
Digital advertising isn't just confined to images of your company name and logo; ads can take many different forms to promote your products or services. Content marketing efforts, in particular, are essential to digital advertising. Whether you're looking to spread the word about a new helpful blog, comprehensive eBook, or educational webinar, digital ads can be used to promote these valuable offerings.
B2B and industrial buyers have longer buying journeys than B2C businesses, so potential customers require a lot of information before deciding to make a purchase. This makes content marketing a critical component of an overarching marketing strategy, and digital ads are the perfect place to showcase your unique content.
See More: 11 Content Marketing Ideas For Manufacturers To Promote
Digital Advertising Keeps You Competitive
In today's ever-connected world, digital advertising is essential for standing out among the competition. Strong, engaging digital ads that speak directly to user needs will set your businesses apart from the crowd; in fact, they may just be the push you need to land that next big sale. If you aren't utilizing digital ads to get your brand out there, your competitors already have the upper hand.
Digital Advertising Offers Reports To See ROI
The efficacy of digital ads can be easily tracked, allowing you to see what's working and what's not. Not only does this allow you to analyze the value of your marketing efforts, it also allows you to show your team exactly how you brought in new leads. Traditional advertising methods like phone calls and events are more difficult to quantify.
Digital methods allow for continuous improvement as results come in, meaning you won't risk wasting time and money on channels, targeting, or messaging that aren't working for you.
Set Up An Industrial Advertising Strategy Today
There are numerous ways to get your business in front of potential customers. Whether you're working with paid advertising strategies or listing your company through targeted websites like Thomasnet.com, digital advertising can help you stay competitive. Today, it is no longer an option for companies to ignore the power of the internet. More than 70% of industrial buyers pay attention to your website when deciding to submit an RFI, so your online presence is important for growth.
To learn more about the benefits of digital advertising or discuss how we can help you craft a customized strategy for your unique needs, reach out to a member of the Thomas Marketing today. There are industrial advertising options for every budget.
A Thomasnet.com company profile is seen by more than 1.3 million in-market buyers, engineers, and procurement managers on the exact platform they do business on — begin advertising for free here.
"About half of our new custom work comes from Thomasnet.com leads. We could not have competed for — and won — all the new business we have without our strategic Thomasnet.com program," says Alli Cravens, Sales and Marketing, Granger Plastics.
Degreed engineers support our marketing experts so we understand the complexities of your manufacturing business. We also offer a free digital health check to see exactly what type of ads and other online strategies you need to stay ahead of competitors.
Additional Resources:

Did you find this useful?