10 Awesome Mobile Apps For Industrial Marketers
By now, most industrial and manufacturing companies understand the importance of optimizing their digital marketing campaigns for all types of mobile devices. Your buyers access information anytime, anywhere, so all of your content must be able to be easily accessed, viewed, and navigated across a variety of devices. But are you yourself optimized for mobile? Does your team have the resources to get work done while on the go?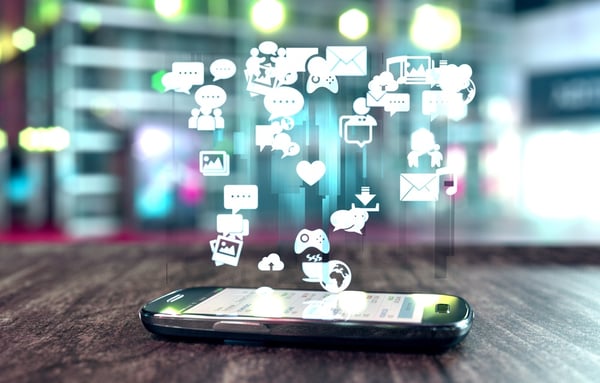 Are you easily able to delegate tasks, review ongoing projects, and stay a step ahead of your to-do list, even when on a business trip or out of the office? If not, then let's get you on the right track. Below are a few of our favorite apps that will help you stay organized and efficient on the go.
Productivity Apps
1. Trello
Well-thought-out project management is crucial for ensuring successful industrial marketing. One of the best apps out there for project management, Trello, is free to use and comes with an interactive manual to help you learn your way around, so there's really no excuse to ignore this resource. It lets you easily set up project "boards" with detailed checklists, dole out tasks to your team, control workflow, and schedule important notifications, all while remaining highly intuitive and easy-to-use.
2. Google Docs
Need to fix that 2 p.m. presentation but stuck on the road all day? Google Docs can help. Compatible with Microsoft Office's Word, Excel, and PowerPoint, Google Docs allows you to create and edit any of these file types. Users can do project work in groups, operate offline, and auto-save work to mobile and desktop devices, as well as the cloud. The best part? Google Docs is completely free to use.
Communication Apps
3. Slack
This group messaging tool is great for enhancing team communication and collaboration in order to better organize workflow. Slack allows you to message your team — either one-on-one or in groups — in order to share and edit files and images, easily discuss projects, and better organize work. This app integrates nicely with Dropbox, Google Drive, Asana, Twitter, and other platforms. You can also try out Slack for free to decide whether it's a good fit for your business and budget. Then, depending on your needs and billing preferences, you can stick with the free version or upgrade, which will cost up to $15 per user, per month.
4. Google Hangouts
Google Hangouts is a popular messaging app for both Android and iPhone users, allowing you to communicate through messages, phone calls, SMS, and video conferences with up to ten people. You can even pinpoint geolocations, allowing users to share their locations with a single tap. Hangouts is free to download and use, so it's a great tool for establishing communication with people outside of your organization, such as clients, suppliers, and third-party partners.
Social Media Apps
5. Buffer
Buffer will help you get all of your social media tactics in order, allowing you to make the most of your social presence across a variety of platforms. Buffer gives you the power to schedule publications in advance, set up auto-posting, and analyze your social media activity across different channels, including Facebook, Twitter, Instagram, LinkedIn, Google+, and Pinterest. This type of marketing automation lets you take advantage of optimal post timing and targeting. Pricing ranges from free to $399 per month.
6. Facebook Pages Manager & Ads Manager
Pages Manager allows users to create and manage Facebook pages from an Android or iPhone device. With this app, you'll be able to quickly and easily publish photos and videos, schedule posts, get push notifications, and assign ad campaigns. Ads Manager, meanwhile, lets you create and track your ads in order to optimize your reach on Facebook and Instagram. You can easily assign campaigns and measure their results without being chained to your desk. The ads themselves may not be free, but their mobile management can be.
7. Brand24
Brand24 lets you monitor and analyze your social media accounts in real-time, allowing you to keep track of conversations about your brand and products while collecting valuable social data from several different sources. With this app, you can get email alerts, infographics, customer insights, analyses of influence, metrics for buzz and sentiment, and PDF reports. After the free two-week trial, expect to pay $49, $99, or $399 per month depending on your specific needs.
Graphic Design Apps
8. Aviary
With Aviary, you can create and edit images in minutes. With this app, you can take photos and upload them from any device, as well as crop images, adjust color and contrast, and use filters and effects to increase the appeal of your visual content. There are in-app purchases available, but the app itself is free.
9. Canva
With millions of stock photographs, a variety of available filters, easy-to-use drag-and-drop features, and an array of professional layouts, this graphic design app gives you everything you need to create stunning presentations and social media graphics. A free version of Canva is available, as well as paid versions for $12.95 per month, per user, and individual pricing options for teams with more than 30 people.
Security App
10. LastPass
Quick! What's the password for your electricity provider account? In today's increasingly digital world, most people have tons of username and password combinations to remember for different applications, making it virtually impossible to hold them all in your head. But LastPass will securely hold all of your password information for you, so you don't have to keep writing it down, relying on memory, and leaving your teammates in a lurch if you're unavailable. After the free trial, plans start at $2 a month per user.
Final Thoughts
In today's digital-driven business landscape, business can happen anytime, anywhere. That means you — and your marketing — need to be operating at their peak at all times.
These apps can certainly help you maximize your personal productivity. However, if you need some help getting more out of your marketing, we can help. Contact Team Thomas today.
Did you find this useful?